Canberra, Australia: 11 Torture Victims Sue China's Former Dictator Jiang Zemin
September 14, 2015
|
By Mu Wenqing in Canberra Australia
(Minghui.org) Eleven practitioners who had been tortured in China in the brutal persecution of Falun Gong filed lawsuits against Jiang Zemin, the former Chinese dictator who started it all. Nine of them protested in front of the Chinese Embassy on August 16, 2015.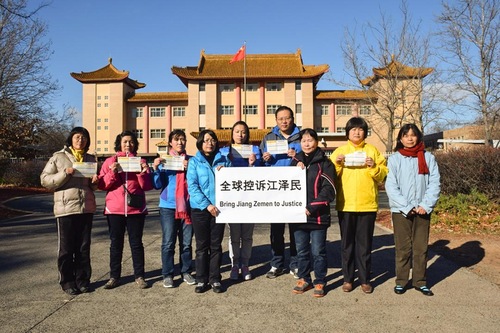 Falun Gong practitioners who have filed criminal complaints against Chinese former dictator Jiang Zemin protest in front of the Chinese Embassy in Canberra, Australia on August 16, 2015.
Ms. Li Min and Mr. Zhang Yong, two of the 11 plaintiffs, both are graduates of Tsinghua University.
Li Min, worked in Beijing Tsinghua Holding Shuimu Construction Engineering Co., Ltd after finished her Masters degree. She was jailed in Beijing Woman's Forced Labor Institute for 2 years, detained many times, house-ransacked and was restrained from business trip abroad. She was injected unknown medicines while in forced labor institute.
Zhang Yong, a student of Electric Engineering department, worked for Dalian City Electronics Research Institute after graduation. He was charged to 2 years of forced labor in 2003 and jailed in Dalian Forced Labor Institute, where he was handcuffed between a high bed and a low bed (see image below) for 24 hours resulting in severe damages to both hands and legs. He has not recovered fully from the tortures after arrived in Australia for years.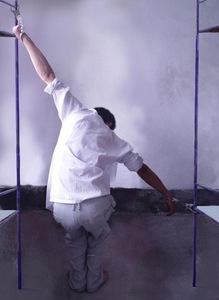 Torture re-enactment: Stretched and forced to stand in awkward position
Zhang's wife Yu Manhua was also charged to 2 years of forced labor in 2003 during which was injected unknown medicines and forced to work 12 hours a day.
Chen Hong, another torture victim of the persecution, had her house ransacked 5 times. She was detained 2 times (once for 40 days and then for 32 days) in Tianjin City. She was jailed in Tianjin City Banqiao Woman's Forced Labor Camp for 1 year where she had to work 14 hours a day sitting on a small stool. Long hours of sitting resulted in cuts in her buttocks, hematochezia, and varicose veins.
A practitioner from Guangdong province, Yang Huici had one rib broken while being beaten at Qianmen Police Substation in Beijing. In 2001, she was handcuffed behind the back with one arm over her shoulder and the other behind her waist until she lost consciousness 3 times.
She was also charged to one and a half years of forced labor in Guangdong Province Woman's Forced Labor Institute.
Chen Guan, a practitioner from Zhaoqing City Guangdong Province, had been jailed in brainwashing institute multiple times in 2001, 2002, and 2004. The longest one was 3 months.
All the 11 torture victims have mailed their complaints to the Supreme Procuratorator and Supreme Court of China in Beijing.