(Minghui.org) The opening ceremony for "The Art of Zhen, Shan, Ren (Truth, Compassion, Tolerance) International Exhibition" was held in the YouCaring Compassion in Action Gallery in downtown San Francisco on August 21. The show will be up for a week.
Because the exhibition hall is in the downtown area, the rental fee is high. But the gallery owner was deeply moved by the artwork and its message and waived the fee.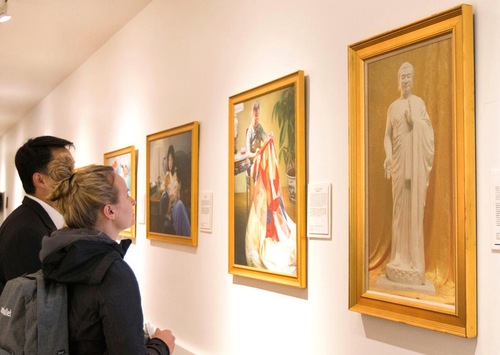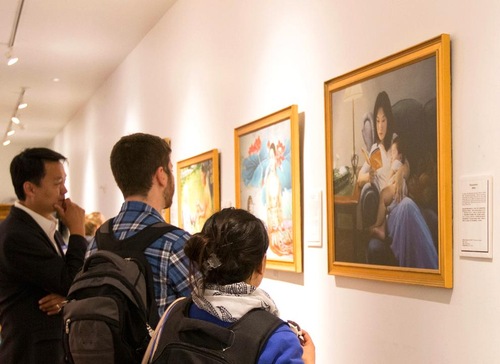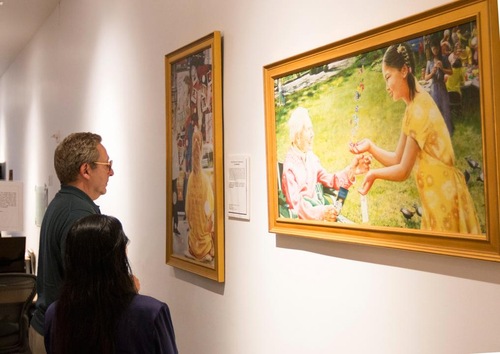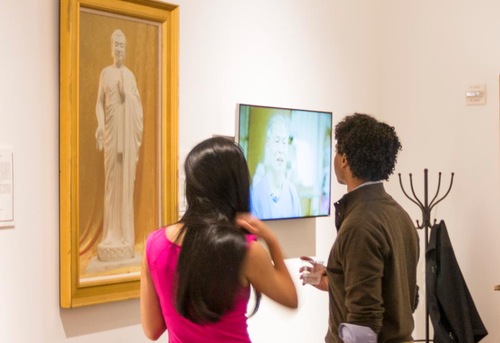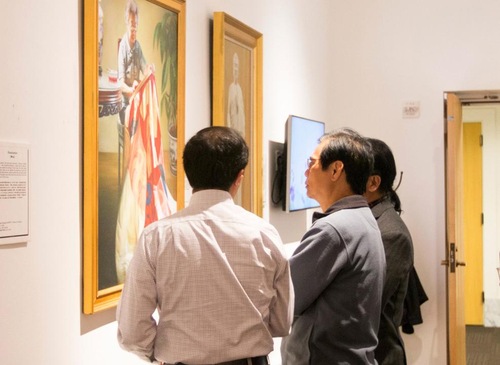 Visitors study the paintings.
"I Sense the Divine [in the Artwork]"
Exhibit visitor Mr. Satnam Nandha, who works at the Federal Reserve Bank, was very impressed by this collection of artwork by Falun Gong practitioners.
"I like all the works. Wonderful. I sense the divine in them," he told the Minghui correspondent.
Mr. Nandha's favorite was the painting "Melting into the Fa."
"The artist must be highly spiritual," he said. "It reflects peace and manifests the inner world of the artist's heart."
The painting shows a mother holding a baby and reading the book Zhuan Falun, the main book of the Falun Gong teachings, under low lamplight.
"If everybody could reach this kind of inner peace, the world would be a wonderful place," he said.
Mr. Nandha also learned about the persecution of Falun Gong in China from some of the paintings. He said he couldn't understand why anyone would persecute such peaceful, kind people.
"I Admire Their Perseverance"
Samantha, a media editor from New York, said the exhibition was not her first encounter with Falun Gong. She said she had learned about the persecution from numerous Falun Gong events in Manhattan.
"I'm glad I got to see this wonderful artwork, which has helped me learn more about Falun Gong," she said. "I admire their [practitioners] perseverance and strong faith in the face of the persecution. I can sense positive energy from the artwork. The peacefulness, kindness, and dignity of the practitioners is remarkable."
The exhibition will continue until August 28.