Rally in Hawaii Supports Lawsuits against Jiang
August 24, 2015
|
By a Falun Gong practitioner in Hawaii
(Minghui.org) The Falun Dafa Association of Hawaii held a rally in Chinatown on August 16, 2015, voicing support for the over 150,000 lawsuits filed against Jiang Zemin, the former head of the Chinese Communist Party (CCP). Jiang is directly responsible for the brutal 16-year persecution of Falun Dafa (also known as Falun Gong). Twelve people in Hawaii have recently filed lawsuits against Jiang, joining more than 150,000 plaintiffs in China. A reporter from local media Civil Beat attended the rally.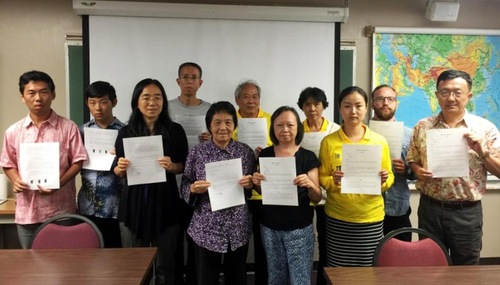 Falun Gong practitioners in Hawaii who have filed lawsuits against Jiang.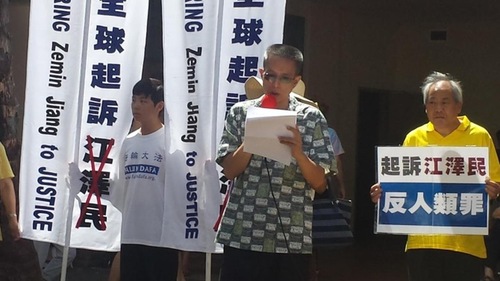 Mr. William Liang, who was imprisoned for 7 years for practicing Falun Gong, speaks at the rally.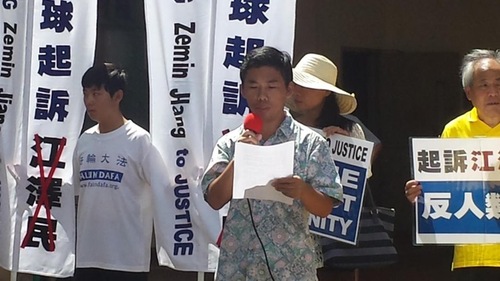 Falun Gong practitioner Mr. Zhang Qingming addresses the rally.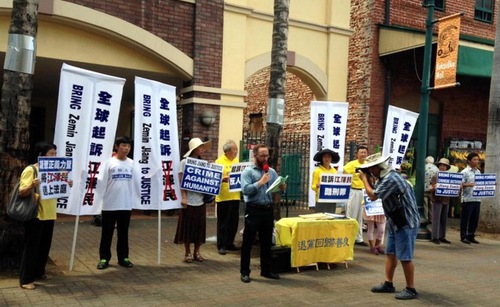 Falun Gong practitioner Mr. Ben Maloney gives a speech.
Mr. William Liang, originally from Shanghai, was thrown into prison for 7 years for practicing Falun Gong when he was in China. He was tortured, verbally abused, shocked with electric baton, and deprived of sleep for extended period of time. Mr. Liang said during his speech, "I'm suing Jiang Zemin, the chief perpetrator responsible for the persecution. I hope that the kind members and officials of the CCP those who had been deceived by the propaganda will choose to quit this evil party, so as not to be burdened by the CCP's bloody debts."
Mr. Zhang Qingming from Heilongjiang Province recounted the persecution he and his family endured while in China. He was fired from his workplace for telling his colleagues about Falun Gong. Because of repeated harassment from the local police, he had to leave his home to avoid persecution. His child and parents were devastated. Mr. Zhang said, "So many Falun Gong practitioners in China have suffered the same persecution that my family and I have experienced. Two of my friends died from the persecution. It was all because of Jiang's genocidal persecution policy. He deserves to be tried and punished."
Jiang Hong, Chair of the Falun Dafa Association of Hawaii, said that the brutal persecution had killed thousands of people. The most appalling crimes is the state-sanctioned organ harvesting from living Falun Gong practitioners for profit. Hong and other practitioners were looking forward to the day that Jiang Zemin is brought to justice and the persecution comes to an end.
Many people, including tourists, stopped by the rally and took flyers to find out more. An elderly Chinese-American told a Falun Gong practitioner, "What you are doing is great! Jiang should be brought to justice." Another Chinese also expressed his anger at the organ harvesting crimes, and said that Jiang was evil. Several Chinese people quit the Chinese Communist Party and its affiliated organizations during the rally.