(Minghui.org) The 7-week-long Toronto Minghui School Summer Camp concluded on August 14. As in previous years, the campers experienced joys and improvement, both in their cultivation and daily lives.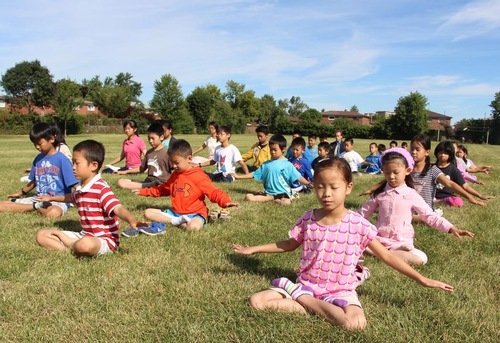 Sitting meditation at the 2015 Minghui School Summer Camp in Toronto
Long-Time Wish Fulfilled
The mother of Emily, a 7-year-old first time camper from the US, said she had read about the camp in the past. "I was often touched by pictures of these kids doing meditation together—it's so lovely. I always hoped for Emily to be one of them."
This year's 6-week stay proved to be a rewarding experience for both Emily and her mother, who commented, "Before the camp, Emily only recognized about 60 Chinese characters, and she only did three of the exercises, skipping 'The Falun Standing Stance' and the sitting meditation. Now she can read part of Zhuan Falun, write several Chinese characters, recite 'On Dafa (Lunyu)' like the other kids, and do all five exercises from beginning to end."
The ancient Chinese stories she learned at camp gave Emily a better understanding of cultivation practice, such as the importance of improving xinxing. "I am so happy for her," said her mother.
"The Best Gift I Can Give You as a Mother"
Ryan Zhou, 10, was a conscientious and modest student. In the beginning he could not read many Chinese words either, but he was not frustrated and did not complain. Instead, he listened attentively and volunteered to help some of the younger campers.
"He always had a positive attitude. If he saw two kids arguing with each other, he would go up and act as a peacemaker. His sincerity and smile are contagious, which often made the two who were at odds laugh," said Echo, Ryan's counselor.
His biggest improvement came in doing the exercises. He used to move around during the meditation and his movements were not accurate. "Now he is able to sit still throughout the meditation—quite amazing for a 10-year-old."
Ryan's parents are always supportive. Once the campers had a homework assignment—to ask their parents why practicing Falun Gong is a good thing to do. When Ryan asked his mother, who drove him to the camp from 40-minutes away in Mississauga every day, the answer was, "It is the best gift I can give you as a mother."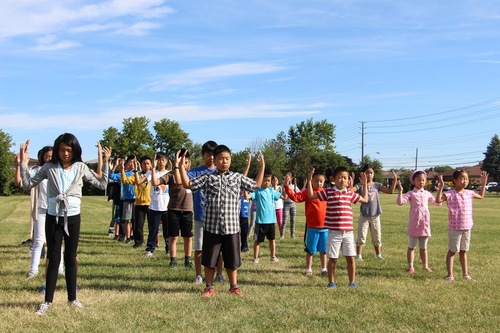 Group exercises at the Minghui School Camp
Learning Perseverance
Perseverance is a positive attribute for children. "Seeing many of these young kids extending their sitting meditation from 30 minutes to an hour, I was so proud of them," said Cathy, another counselor.
One time she saw 5-year-old Eric almost in tears from the pain of sitting with his legs crossed in the lotus position. "I helped him to take down his legs, but he was very determined and put them back himself. That almost moved me to tears," recalled Cathy.
Another example was 7-year-old Ella, who also overcame great difficulty to do the sitting mediation for an hour. "This was not only an excellent group environment for kids to improve together, it is also something that I often reflect on—have we adult practitioners been as diligent as these children in our cultivation?"
Improving Xinxing
Besides enduring physical pain, these young campers also improved their xinxing.
"In the younger age group, each camper conducted a daily self-evaluation to see if they had studied the Falun Gong books, done the exercises, improved their xinxing through looking inward, and helped others." It took some time for them to understand what those last two items meant. "Does it mean I hit somebody and then apologize to them?" asked a child.
"No, that doesn't count," said Cathy. Then she gave an example: "Another child hit 6-year-old Arvin, who did not cry but did fight back. When that child reported to the teacher that Arvin had hurt him, Arvin came and apologized—he kept apologizing, saying it was his fault, never mentioning the other child had hit him in the first place.
"If we are able to be more tolerant of others and take each opportunity to do better ourselves, the world would be a much better place," explained Cathy. As more campers understood this and acted upon it, there were fewer conflicts at camp.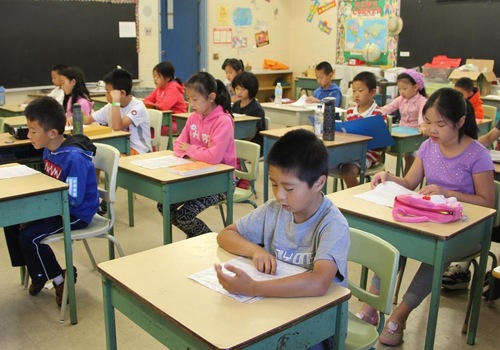 One group of campers reading together
Telling Others about Falun Gong and the Persecution
The last week of camp was residential and held in conjunction with another group of campers from many countries, including China. Qianqian, 15, quickly became popular in the new group and made many friends. She told her new friends about Falun Gong and the persecution.
When they learned about things they had not heard about back in China, five campers from China agreed to quit the Chinese Communist Party's youth organizations, the Youth League and the Young Pioneers.
"Do you know that Qianqian practices Falun Gong? I think it's a cool thing for us, too," said one Chinese camper to another.
Counselor: A Process of Increasing the Capacity of Your Heart
As a first-year counselor, Echo has many stories to tell. "There were 23 campers between the ages of 8 and 11 in my group. Since it was difficult to explain cultivation to them in-depth, we played some audiovisual files from www.minghui-school.org and http://www.mhradio.org. As we continued to show them how a Falun Gong practitioner conducts oneself with a higher standard, these words began to sink in."
"It was always rewarding to see the campers make progress, little by little, day by day. The biggest challenge for me was patience. Occasionally, seeing two dozen kids playing around inside the classroom, I almost lost my temper. But when I reminded myself to consider this a xinxing test and handle it with compassion, the children would miraculously calm down."
Other teachers also felt the same. "One of them has been helping with Minghui School for over 10 years. She once told me, 'The more compassion you have for these kids, the more miracles you will see.' Now I know this is a process of increasing the capacity of your heart."