(Minghui.org) Indonesian practitioners held a candlelight vigil in the capital of Jakarta on April 25, 2015, to commemorate the peaceful demonstration in Beijing 16 years ago.
"More than 3800 practitioners have been confirmed dead due to physical and mental torture in police custody," said Falun Dafa Association coordinator Gatot Machali. "Far more have been arrested and tortured in detention centers, forced labor camps, and prisons."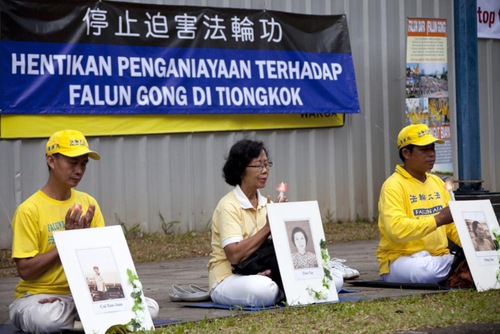 Candlelight vigil in Jakarta, Indonesia, on April 25, 2015. The banner says, "Stop Persecuting Falun Gong."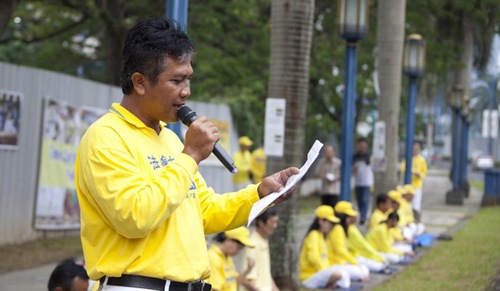 Gatot Machali, coordinator of Falun Dafa Association in Indonesia, speaking at the event.
Chinese officials in Jakarta asked the Indonesian government not to allow any Falun Gong activities from April 19 to 24, when the 60th Commemoration of the Asian-African Conference was to be held in both Bandung and Jakarta.
Although Indonesian officials initially banned all rally and protest requests between April 19 and 25, they did approve the candlelight vigil after hearing about the brutal persecution taking place in China.
The vigil took place without a hitch. Many police and intelligence officers came and asked about the persecution. When they understood that all the practitioners wanted to do was to raise awareness about the suppression in China and call for an end the brutality, they were relieved. Several even took a group picture with practitioners to show their support.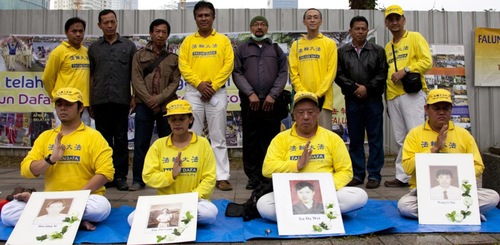 Group picture with police and intelligence officers and practitioners
Also interested in the candlelight vigil, pedestrians were sympathetic when they learned the purpose of the activity. One young man, who had never heard of Falun Gong before, was very supportive: "Good luck with what you are doing. I hope the suppression ends soon."
Another young man, from Zambia, had been a student in Hong Kong. "I have seen Falun Gong activities like this in Hong Kong," he said. "They are very good, because this is important information and people need to know it."