Amnesty International "Urgent Action" Pressures China to Release Li Xiaobo
May 24, 2015
|
By Minghui Corespondent Tang Xiuming
(Minghui.org) Amnesty International (AI) issued an "Urgent Action" appeal on May 19, 2015 calling for China's communist regime to immediately release Li Xiaobo, a Falun Gong practitioner jailed for his belief.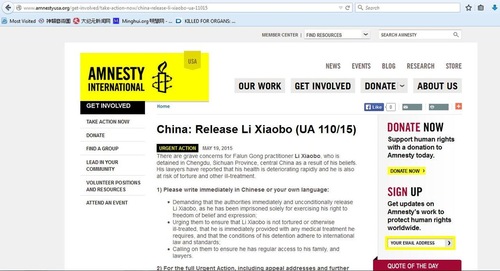 Amnesty International issued an "Urgent Action" appeal for the release of Li Xiaobo, a Falun Gong practitioner jailed for his beliefs, on May 19, 2015.
"There are grave concerns for Falun Gong practitioner Li Xiaobo, who is detained in Chengdu, Sichuan Province, central China as a result of his beliefs. His lawyers have reported that his health is deteriorating rapidly and he is also at risk of torture and other ill-treatment." Stated Amnesty International in the appeal.
Amnesty International asks members of the public to act immediately by writing letters (in Chinese or one's own language):
• Demanding that the authorities immediately and unconditionally release Li Xiaobo, as he has been imprisoned solely for exercising his right to freedom of belief and expression;• Urging them to ensure that Li Xiaobo is not tortured or otherwise ill-treated, that he is immediately provided with any medical treatment he requires, and that the conditions of his detention adhere to international law and standards;• Calling on them to ensure he has regular access to his family, and lawyers.The appeal stated that Mr. Li Xiaobo has been repeatedly subjected to illegal and brutal persecution by the communist regime.
"Li Xiaobo suffers multiple health problems, many of which are thought to result from the torture he suffered during a previous imprisonment. His lawyers visited him at the Longquanyi District Detention Center in the first week of May and said that his condition is clearly worsening and that he is not receiving the treatment he needs. His teeth have deteriorated to the point that he has great difficulty eating, he is blind in one eye and his vision in the other is down to 60 per cent.
"Li Xiaobo was first detained in April 2014 while distributing Falun Gong leaflets with his son, a Canadian citizen who was initially detained but then deported back to Canada. Prior to his trial, he was denied family visits and medical attention. Li Xiaobo was sentenced to eight years in prison by Chengdu Longquanyi District People's Court on 21 April 2015. He was charged with "using a heretical organization to subvert the law" for his continued activities for and practice of Falun Gong. His lawyers reported that they and Li Xiaobo were constantly interrupted during the trial and that the court refused to allow the Canadian Consul General to observe the hearings. Li Xiaobo is appealing the verdict. (Editors' Note: The charge of "using a heretical organization to subvert the law" is very commonly used against those who practice Falun Gong, yet Falun Gong is not on China's official list of "heretical organizations," nor does subvert any law.)
"Li Xiaobo was previously sentenced in 2005 also for "using a heretical organization to subvert the law" and served eight years in prison. He reported being tortured while in detention, including repeated beatings by prison guards and other inmates on orders from the guards, and being forced to stand naked with his bare feet in water for hours at a time during winter."