(Minghui.org) From the northeastern province of Liaoning, to the southwestern province of Guizhou, Falun Dafa practitioners from across China have seized unique opportunities to celebrate World Falun Dafa Day despite the ongoing persecution.
They have been reaching out to the public in their regions with the message of Falun Dafa by putting up banners and posters in residential areas, on the guardrail of bridges, on electricity poles, beside roads, in the parks, and so on.
Below are a selection of pictures taken around May 13, 2015 of some of these banners and posters.
Northeast China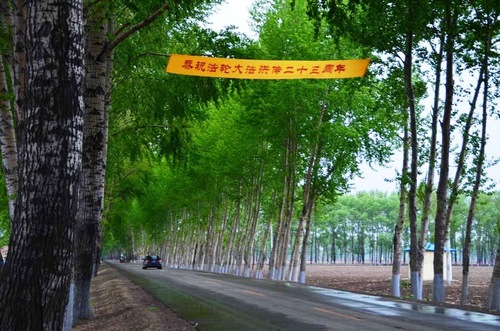 A large banner put up high above the road in a northeastern village, which reads, "Celebrating the 23rd Anniversary of Falun Dafa's Introduction to the Public"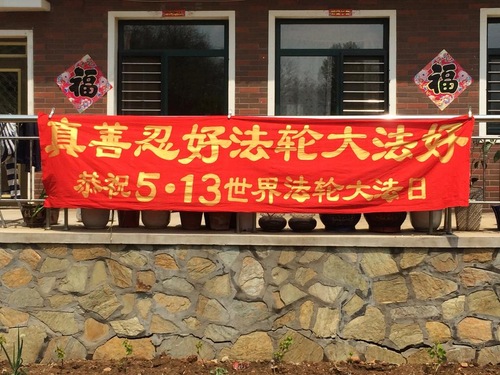 A banner hung on a balcony rail outside a house in Dalian City, Liaoning Province, which reads, "Truthfulness-Compassion-Forbearance is Good, Falun Dafa Is Good, Celebrating May 13 World Falun Dafa Day"
A banner that reads "Falun Dafa Is Good" hanging on a tree beside a small road in a place in the northeast region
North China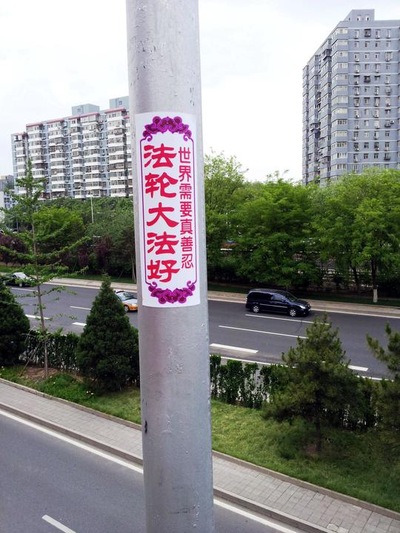 A poster put up on an electricity pole beside a street in Beijing. It reads, "Falun Dafa Is Great; The World Needs Truthfulness-Compassion-Forbearance."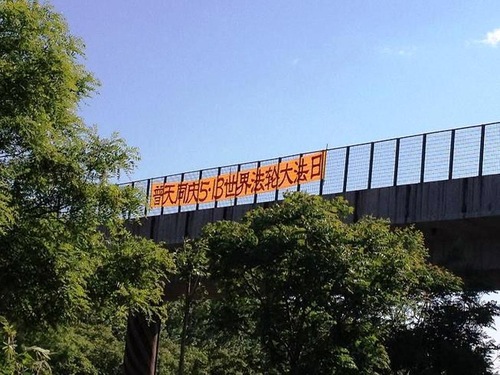 A large banner that reads "Heaven and Earth Celebrating May 13 World Falun Dafa Day" put up on the guardrail of a bridge in Tangshan City, Hebei Province
Posters Displayed in Zhangjiakou City, Hebei Province: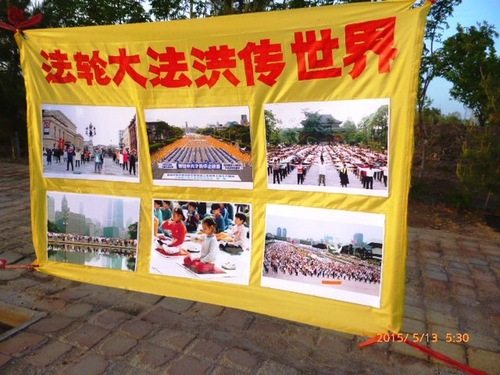 A poster depicting Falun Dafa around the world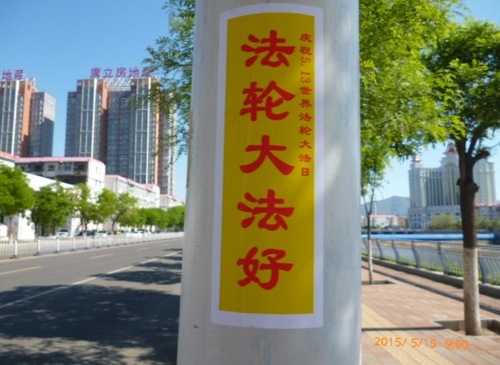 A poster that reads "Falun Dafa Is Good"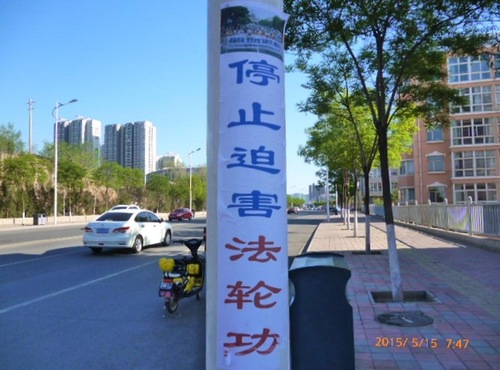 A poster that reads, "Stop the Persecution of Falun Gong" posted on an electricity pole beside a road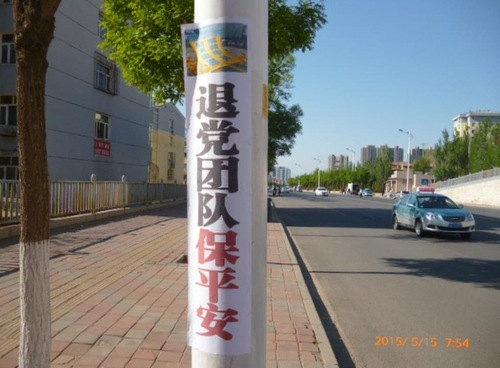 A poster on an electricity pole encourages people to quit the Chinese Communist Party to ensure a good future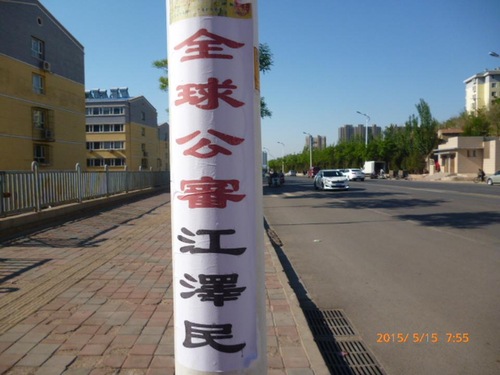 A poster reading "Bringing Jiang Zemin to Justice" on a roadside electricity pole
Banners Appear in Inner Mongolia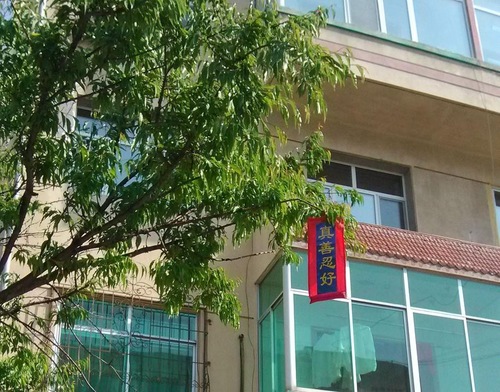 A banner reading "Truthfulness-Compassion-Forbearance Is Good" appeared in a residential area in Inner Mongolia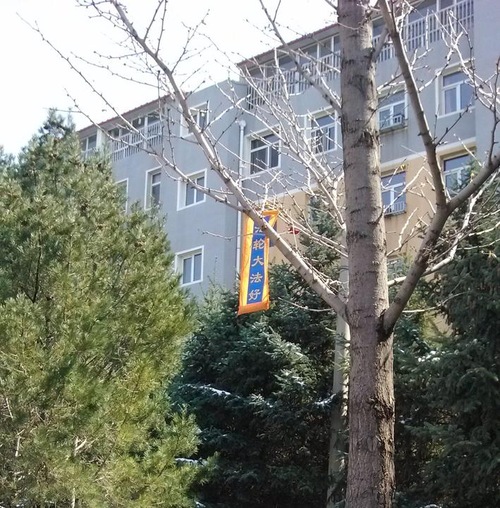 A banner reading "Falun Dafa Is Good" hung on a tree in a residential area in Inner Mongolia
East China
Banners and Posters in Shandong Province
A banner reading "Truthfulness-Compassion-Forbearance is good" hung on a tree branch in a residential area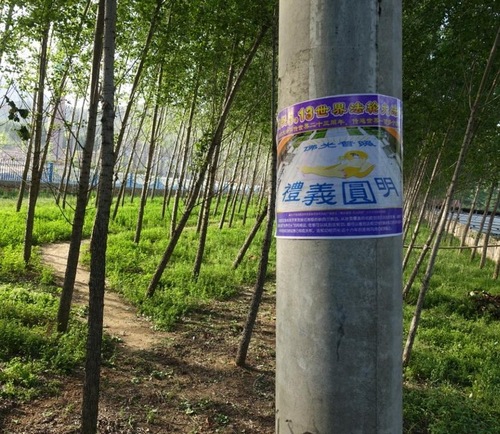 A poster celebrating World Falun Dafa Day put up on an electricity pole in Linyi City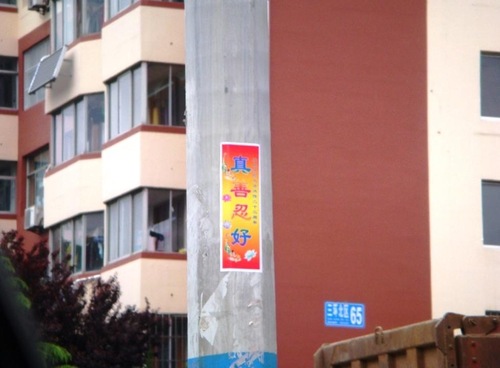 A poster reading "Truthfulness-Compassion-Forbearance Is Good" posted in a residential area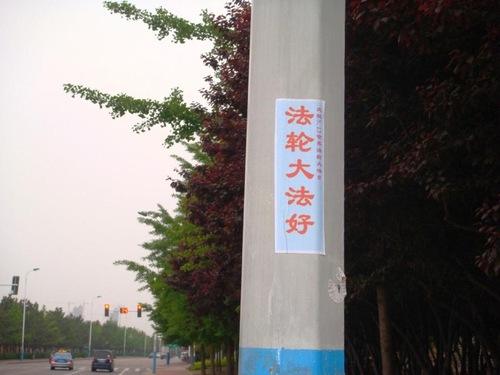 A poster reading "Falun Dafa Is Good" posted on an electricity pole beside a street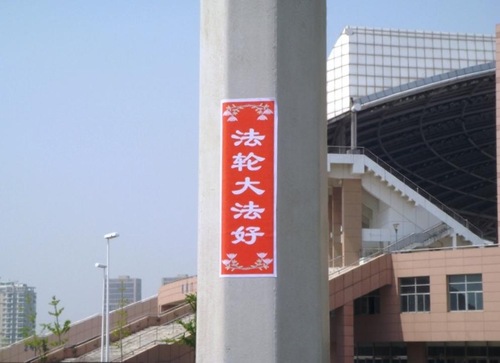 A poster reading "Falun Dafa Is Good" on an electricity pole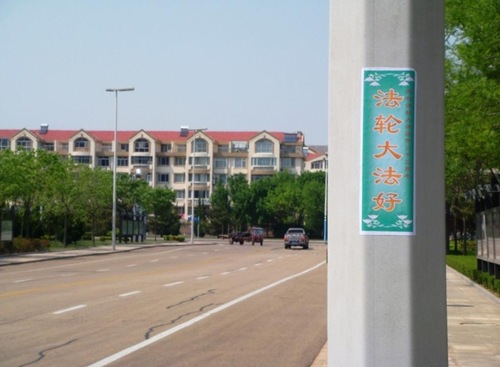 A poster reading, "Falun Dafa Is Good" on an electricity pole besides the road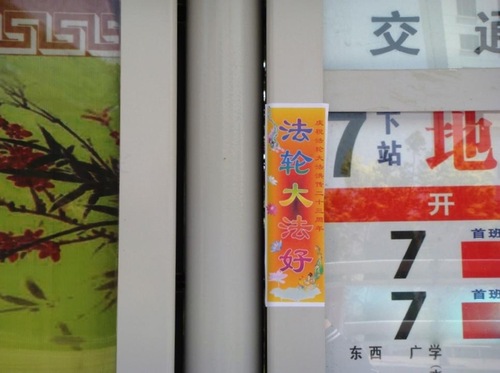 A poster reading "Falun Dafa Is Good" posted at a busy stop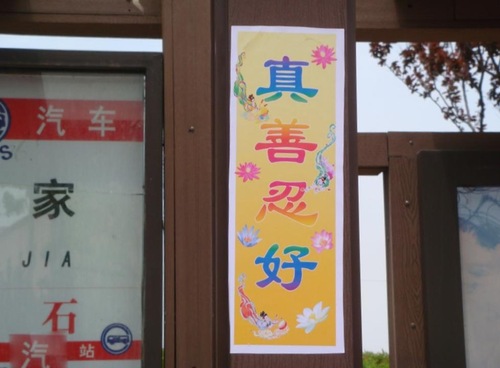 A poster reading, "Truthfulness-Compassion-Forbearance Is Good" at a bus stop
South and Southwest China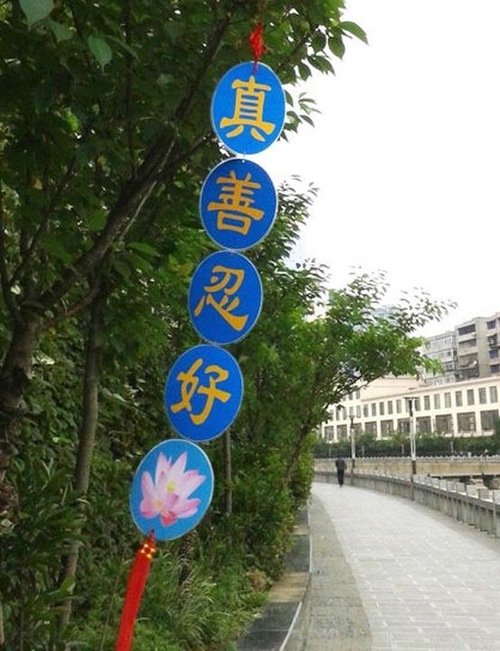 A sign reading,"Truthfulness-Compassion-Forbearance Is Good" appears in Guiyang City, Guizhou Province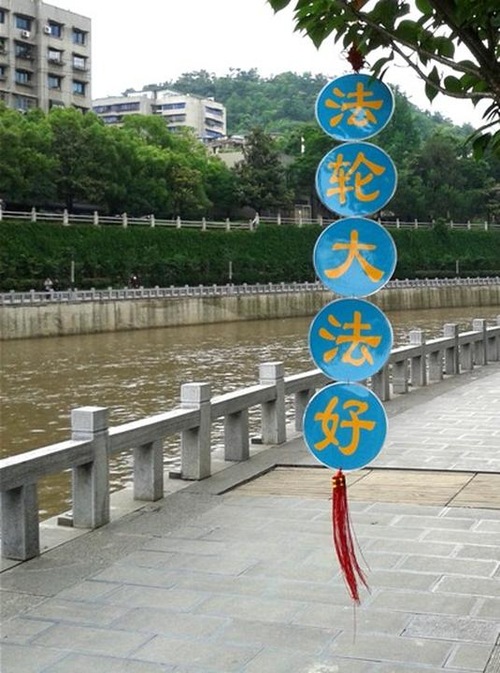 A sign reading, "Falun Dafa Is Good" hung on a tree in Guiyang City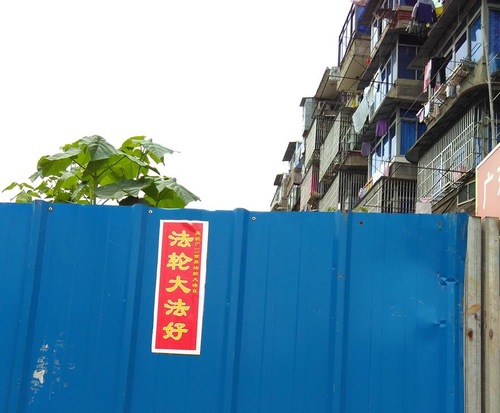 A poster reading, "Falun Dafa Is Good" posted in a residential area in a southern city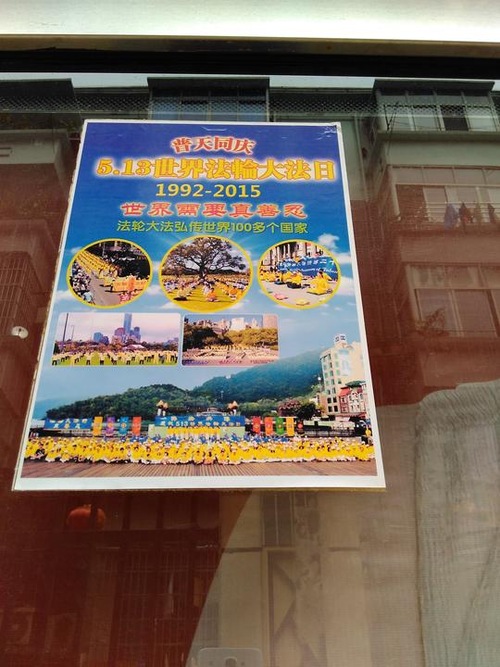 A poster celebrating World Falun Dafa Day appeared in a southern city