Practitioners in Front of Chinese Consulate in Manhattan Protest the CCP's Persecution of Falun Gong
May 19, 2015
|
By Minghui correspondent Hua Qing
(Minghui.org) Falun Gong practitioners gathered on the Hudson River pier across from the Chinese Consulate in Manhattan, New York, every evening from May 12 to 16 to protest the Chinese Communist Party (CCP)'s persecution of Falun Gong.
The practitioners, who hailed from all over the world, came to New York to celebrate the 16th World Falun Dafa Day. They demonstrated the exercises and let people know about the CCP's 16-year-long persecution of Falun Gong.
Falun Gong practitioners hold a sit-in protest in front of the Chinese Embassy to call for an end to the persecution of Falun Gong.
Passersby who saw their activities in New York had praise for the practitioners' uncompromising courage. Some asked for information about future parades and rallies so that they could attend.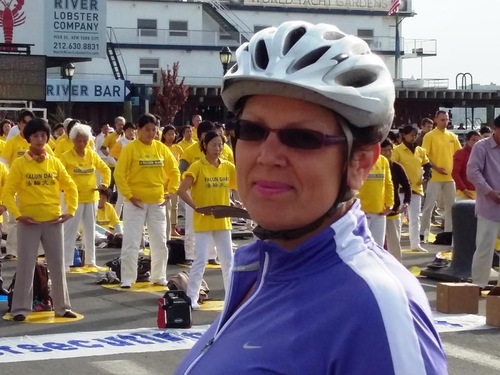 Patta, who was riding her bicycle, stopped to watch the exercises.
Patta, a passerby on her bike, paused to watch the group practice and stayed quite a while. "Do you know Falun Gong?" asked the reporter.
"I know about the persecution of Falun Gong, because I pass by here every day," answered Patta. She was sorry she had missed the parade of more than 8000 practitioners from around the world that day. She asked if there would be any other events over the weekend. She indicated she wanted to learn Falun Gong.
Joe Tandoh, a private helicopter pilot, stopped by the group practice site and asked what was going on. He said he would help to let others know about the persecution after listening to a practitioner's explanation.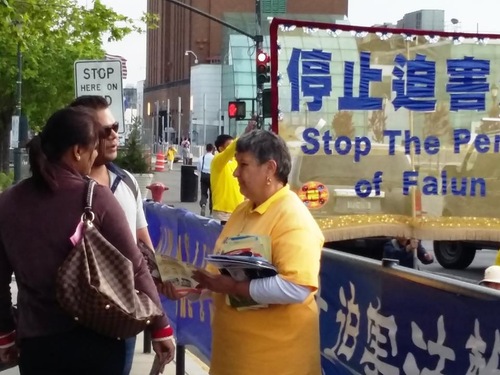 Practitioner Maria (right) from Russia explains the persecution of Falun Gong to Indian tourists Anand and Sampada.
Anand and Sampada, tourists from India, were in disbelief that such a peaceful group as Falun Gong would be persecuted in China. Maria, a practitioner from Russia, explained the situation to them.
"These good people should not be persecuted. They should have the freedom to do what they want as long as they are not harming anyone," said Anand.
They took informational materials and said they would look on the Internet to learn more about Falun Gong.