(Minghui.org) Shen Yun Performing Arts performed twenty-seven shows in Midwestern U.S. from February 5 to February 28. Show-goers from six states enjoyed the profound culture exhibited by Shen Yun's masterful production.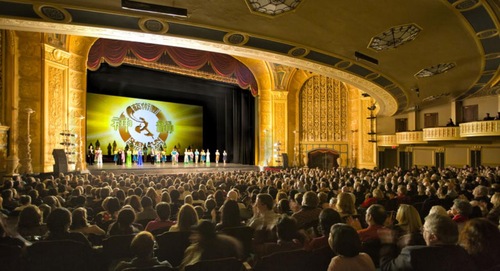 Curtain call at the Detroit Opera House on February 8. All ten shows in Michigan performed to full houses.
Emmy Award Winner: "Fantastic Job of Crossing the Border"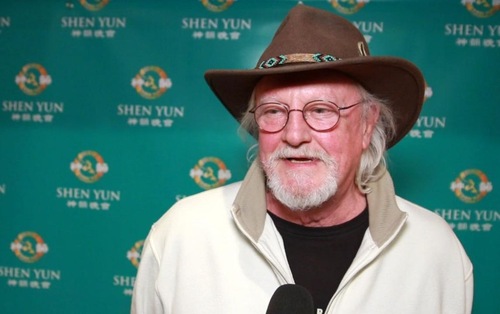 Roger Tallman, seven-time Emmy award winner
Composer Roger Tallman, a seven-time Emmy award winner, lauded the skilled arrangements by Shen Yun's composers after seeing the performance at the DeVos Performance Hall in Michigan on February 14.
"Whoever is doing the arrangements, they did a phenomenal job creating the feelings that the dancers were emoting on stage, and that's a tough job, especially with the composer and an arranger trying to mix metaphors," Mr. Tallman said.
The seamless combination of East and West impressed Mr. Tallman, who thought the orchestra did a "fantastic job of crossing the border" between the cultures.
"I think the idea that [they're] bringing Chinese instruments into the Western orchestra, it's so unique that it has to catch your attention, and I think that's what moved me the most within the music … itself," he explained.
To him, the diverse stories portrayed in Shen Yun "compel people to just learn so much about the culture."
Mr. Tallman also enjoyed the synchronization of the dancers and the digitally animated backdrops. He said it was "something that we don't see here, and that impressed me very much."
"I'm going to have to tell many people about the experience, that's for sure, because it's very unique," he said.
Theater Founding Director: "Inspiring" and "Enjoyable"
Founding general director of Michigan Opera Theatre, David DiChiera.
David DiChiera, founding general director of Michigan Opera Theatre and a composer, was impressed by Shen Yun's production after seeing it on February 6.
"It's excellent. The talents and the skills that they have exhibited are at a very high level. And that's what makes the show so inspiring and so enjoyable for the public," he said, "The production is very well produced and very well coordinated."
He thought the spirituality demonstrated in the performance and by Shen Yun's artists was "very very beautiful." He believed that "everybody involved here has a certain sense of their own spirituality" and one can feel "the peace that is connecting with their art and with their history."
"This is so wonderful when people from different parts of the world can connect and experience other people's cultures to realize that we are all human beings. We all have the same emotions, the same desires, the same need for friendship, for love, and for generosity toward one another. That is what I think is achieved here. People leave the theatre very pleased and inspired," he said.
Government Official: Exhibiting Goodness and Positiveness
Government Official Larry Dawes
Larry Dawes, a government official in Illinois, attended the performance as his second time with his granddaughter. He thought the show was "very good."
He hoped his granddaughter would gain from the show that "there's still lot of goodness in the world...Not everything is negative."
Aware of the sabotage attempts by the Chinese consulate to prevent Shen Yun from performing at the theater, he commented, "The communist government doesn't like the truth, because you know, the truth will set you free...But after nine years of (Shen Yun), it is going to continue, and the truth is getting out."
State Representative: "Beautiful," "Interesting," and "Rich"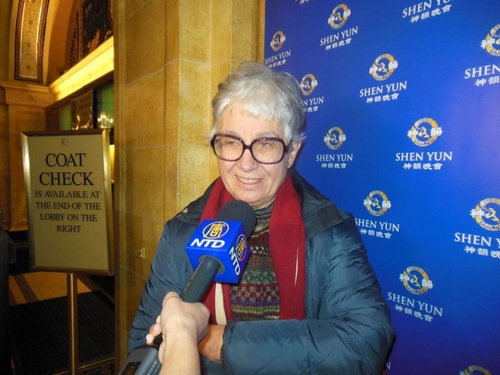 State Representative Phyllis Kahn
"It is just incredible. I have never seen anything like that, except in this show," said State Representative Phyllis Kahn, after watching the performance in Minneapolis.
What impressed Ms. Kahn the most from the performance was the talent and agility that she witnessed from the performers. She was "just incredibly in awe of the talents of the people" on stage.
"I just think it is very beautiful and very interesting and very rich," she said and recommends the show as "an amazing experience, something that everyone should see."
Gospel Singer: "Never Seen Any Show As Beautiful"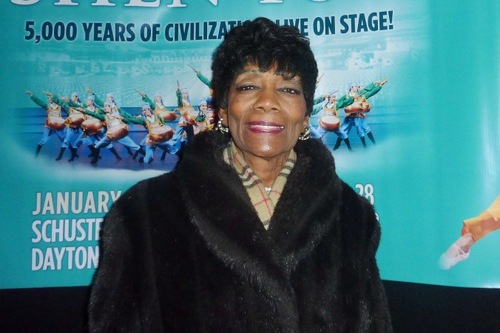 Gospel singer Francis Barksdale

"I've never seen any show as beautiful as this show that I have seen tonight," exclaimed Dr. K. Francis Barksdale, a gospel singer after seeing the performance in Cincinnati on February 28.
Dr. Barksdale see Shen Yun's performance every time it comes to Cincinnati. In fact, she canceled her own show for the evening so that she could attend. "I was so excited; that's why I came," she said.
"I enjoyed it so very much," she said. "We would never see the dancing that [they] perform here, the colors are so colorful."
She said with excitement, "Without my knowledge, [without] thinking that I was going to holler 'Yes!' And I did because she was so great."
Speaking of the erhu performance, Dr. Barksdale said, "It was a quiet type of music, and you could just listen and feel the spirituality within yourself. It's soulful, but it's quiet, and that's what I received from listening."
Dr. Barksdale described her feelings of watching the last dance, The Divine Renaissance Begins. She believes in God who "is the creator of everything. He has created you, me, and all people. It's not about color or where you have come from or where you are, but where you are going. I thoroughly believe that there is a heaven, a better earth, and a new heaven … that we will see one day."
Displaying "the Beauty of God"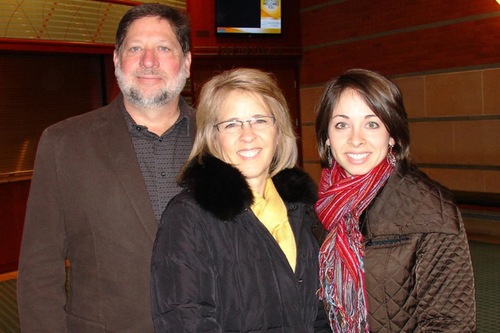 Ray Markley with his wife Catherine and daughter Mary"A great performance… and a great message," said Ray Markley after seeing the performance in Cincinnati with wife Catherine and daughter Mary.
Mr. Markley saw a message about a higher standard of living, involving "a supreme being [and] believing in a supreme God as creator."
This message "makes me rejoice that there are other truths worldwide [where people] believe what I do," he said, "At the same time, that underlying truth is still sowing seeds."
"This is very inspiring," said Mrs. Markley. She was encouraged to see that God, in his role of the founder, is still being carried forward, and that He is still being revealed to people, as this performance made clear.
She was also impressed with "the graceful flow of the music—The physical performance all just flowing together, and my eyes couldn't keep up with the beauty that they displayed."
Mary, who works as a nurse, also shared her thoughts, "Nature is very beautiful to me because it displays the glory of God. The show today displayed much of nature—all the beautiful colors that came together. All of the physical movement was very natural, graceful, and beautiful."
"So, all of that together, just to me, showed me more of the beauty of God," she said.
Shen Yun will continue to perform in the United States in Chicago, IL on March 6 – 8, Denver, CO on March 6 – 8, and Fort Worth, TX on March 10 - 11. For more information on tickets and dates, please visit http://shenyun.com.