Australian MP: Zhen Shan Ren Art Exhibition Brings Hope and Courage
March 31, 2015
|
By a Falun Gong Practitioner in Canberra, Australia
(Minghui.org) The Art of Zhen Shan Ren (Truth, Compassion, Tolerance) International Art Exhibition returned to Canberra, Australia on March 18, 2015. The five-day exhibition was held in Australian Capital Territory (ACT) Legislative Assembly.
At the opening ceremony, MP Shane Rattenbury, MLA Greens Member for Molonglo, and Liberals MLA Alistair Coe praised the exhibition for bringing hope and courage.
The exhibition showcased more than 40 paintings, including 7 new works. The paintings portray the Falun Dafa meditation practice and the persecution experienced by the artists and other Falun Dafa practitioners at the hands of the communist regime in China.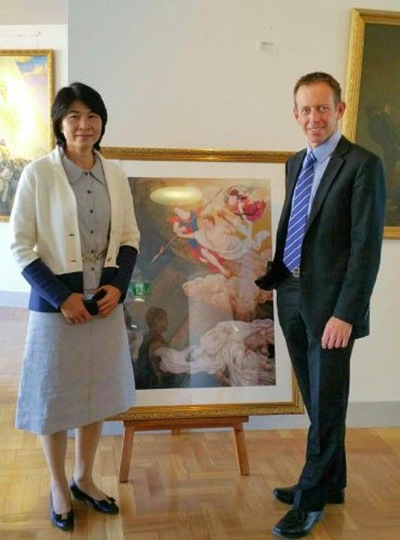 MP Shane Rattenbury MLA Greens Member for Molonglo and exhibition coordinator
Mr. Rattenbury said the artworks "raise themes of hope and courage in the face of injustice and persecution, which is of relevance to people all around the world, people who are persecuted and discriminated against for their religion, their ethnicity or their beliefs."
"The exhibit speaks of the artists' perseverance in continuing to advocate for the universal values of Truth, Compassion and Tolerance. These are values that have been greatly tested with Falun Gong experiencing persecution in their home country. The human rights abuses that continue to be perpetrated in China are well documented." He said he hopes the persecution would receive attention from all circles of society.
Mr. Rattenbury said, "Despite the sadness, and the obvious sadness of some of the works, there is a great deal of energy and hopefulness, as well as a palpable sense of courage that can be drawn from our understanding of our shared human dignity."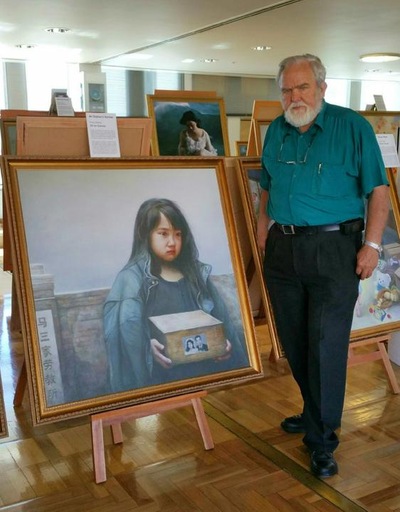 Mr. Dierk Von Behrens
Mr. Dierk Von Behrens of The Greens wrote on the signature book, "The quality of these paintings is spectacular. They should be widely seen and appreciated."
Many visitors wrote how impressed they were by the artworks' artistic quality and how they were moved by the scenes of persecution.
"This is shocking in its truthfulness as to what happens to Falun Dafa practitioners. Keep strong. Paintings are very powerful," another visitor wrote.
Cheryl Pearson wrote, "The struggle to overcome Evil never ceases and the courage of Falun Gong devotees is an example of this."