73-Year-Old Former Principal Repeatedly Detained
March 26, 2015
|
By a Minghui correspondent in Liaoning Province, China
(Minghui.org) Ms. Li Guirong, 73, was again placed in detention, only 15 months after the end of her seven-year prison term.
Ms. Li is a retired primary school principal and was listed as one of the top 10 principals in the Dadong District. Ms. Li was arrested on February 7, 2015, for handing out Falun Gong informational material. Her home was ransacked, and she is now in the Shenyang City Detention Center.
Seven Years in Prison, Steadfast in Her Belief
Ms. Li was arrested on October 17, 2006, for talking to people about Falun Gong. She was illegally sentenced to seven years in prison on May 14, 2007, and tortured in the Liaoning Province Women's Prison.
Ms. Li was forced to squat for several days and nights. She was not allowed to eat or go to the restroom and was deprived of sleep. To make the torture worse, the guards poured cold water on her feet while she squatted. Her legs hurt unbearably, and she could not stand or sit properly.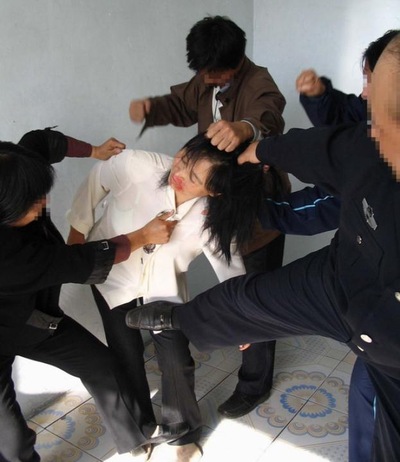 Torture reenactment: Beating
The guards ordered the prisoners to beat and kick her and stomp on her hands. Her face bled, her hands were swollen, and she was covered in black bruises. She was then forced to squat for a long time under a work bench.
Ms. Li was emaciated when she was released on October 17, 2013. Her hair had turned gray, all her teeth had fallen out, and she looked very old. However, she quickly recovered by practicing Falun Gong.
Officers from the 610 Office still made it a point to harass her at home. Now that she is in detention, they are attempting to force her into getting a blood test.