Canadian Ministry of Foreign Affairs Expresses Concerns Over Practitioners Detained in China
February 22, 2015
|
By Minghui Correspondent Zhang Yun in Canada
(Minghui.org) Canadian Ministry of Foreign Affairs recently wrote to relatives of detained Falun Gong practitioners Jiang Yuemei and Zhang Yuliang, expressing its continuing concerns on the persecution of Falun Gong in China.
The letter, dated Jan. 5, 2015 and signed by the then Minister of Foreign Affairs John Baird, stated, "I regret to hear of the recent detention of your relatives Jiang Yuemei and Zhang Yuliang.
"The Government of Canada takes every appropriate opportunity to express its concerns to the Chinese government using bilateral and multilateral channels. Prime Minister Stephen Harper and I have addressed issues of human rights and religious freedom, including with respect to Falun Gong practitioners, directly with our Chinese counterparts during visits to China and in our bilateral meetings.
"In addition, the Prime Minister voiced concerns about the intimidation and repression of Falun Gong and other religious groups in his public announcement on the establishment of the Office of Religious Freedom in February 2013."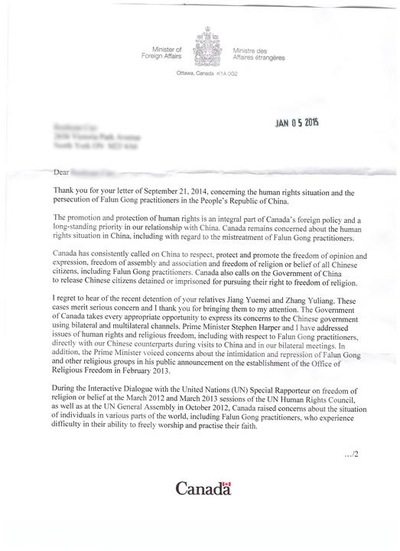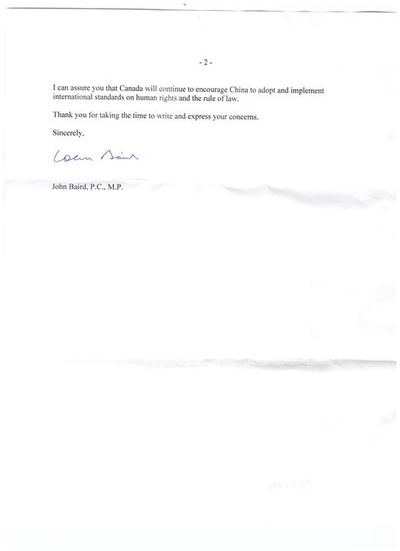 A scanned copy of the letter from Canadian Ministry of Foreign Affairs
Background
Mr. Zhang Yuliang, his wife Mrs. Jiang Yuemei and Ms. Jin Fengying were illegally arrested on September 14, 2014. They distributing materials that exposed the persecution of the practice. The police raided Mr. Zhang's home and confiscated more than ten copies of Falun Gong books, a computer and printer, and some Falun Gong related materials.
Mr. Zhang, in his 70s, was brutally beaten under police custody at Mudanjiang Detention Center in Heilongjiang Province. During the illegal interrogation, policemen Zhu Chenghua slammed Mr. Zhang's ears with both hands and kicked his legs very hard.
Mr. Zhang was arrested in 2001 by officers from Nanshan Police Station for telling people about Falun Gong and the persecution. Officer Miao Qiang beat him, and his internal organs were injured as a result. For a long time after the beating, Mr. Zhang had blood in his urine.
Yangming Court held a trial against him and four other practitioners on December 12, 2001. The trial lasted for five hours. When the attorneys pointed out that the police interrogated the practitioners and forced confessions from them, the judge adjourned the trial, but never resumed it.
Shortly afterward, the court secretly sentenced the practitioners. Mr. Zhang was given a five-year prison term.
Prior to that, his wife Ms. Jiang Yuemei was thrown into labor camp on June 13, 2000, for doing Falun Gong exercises in public.