Taiwan: Thousands of Falun Gong Practitioners Hold Chinese New Year Celebration in Appreciation of Master Li
February 15, 2015
|
By Minghui correspondent Cheng Yuyan
(Minghui.org) Thousands of Falun Gong practitioners held large group practice sessions and activities for the Chinese New Year, in appreciation of Master Li, on Liberty Square in Taipei on February 1, 2015. The 2015 Chinese New Year falls on February 19. Practitioners from Taipei and New Taipei conducted a greeting performance to wish Master Li a happy New Year.
The greeting event began at 2:00 p.m. The Divine Land Marching Band performed the pieces Falun Dafa is Good, Melody, Gratitude to Buddha, and Thanks to Master Li. Thousands practitioners spoke in unison, "Wishing Master a happy New Year!" which could be heard far away. They sang the songs Falun Dafa is Good; Master, Happy New Year; Master, Thank You; and Coming for You in chorus to express their gratitude to Master Li. They then conducted a large group practice session to demonstrate the grace of Falun Dafa.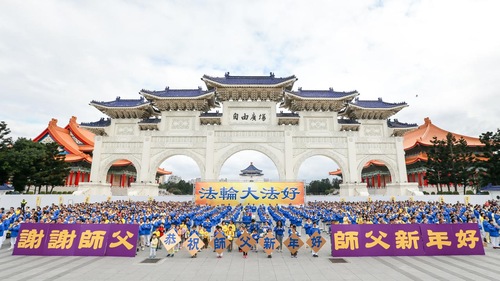 Thousands of Falun Gong practitioners hold a Chinese New Year greeting in appreciation for Master Li on Liberty Square in Taipei on February 1, 2015.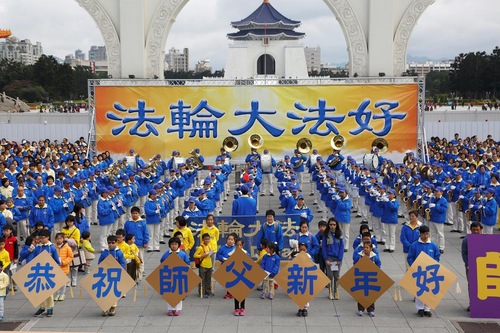 The Divine Land Marching Band performs the musical pieces, Falun Dafa is Great, and Thanks to Master Li.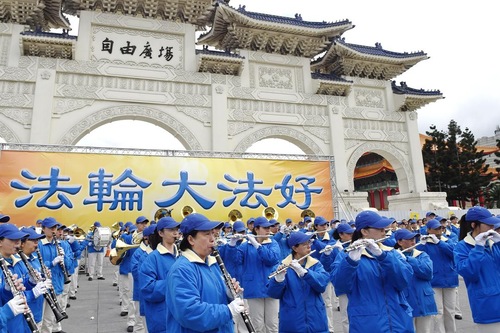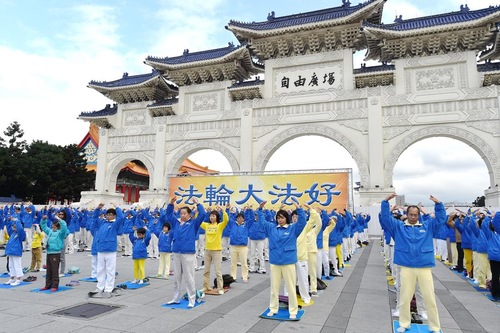 Thousands of Falun Gong practitioners participate in group exercises.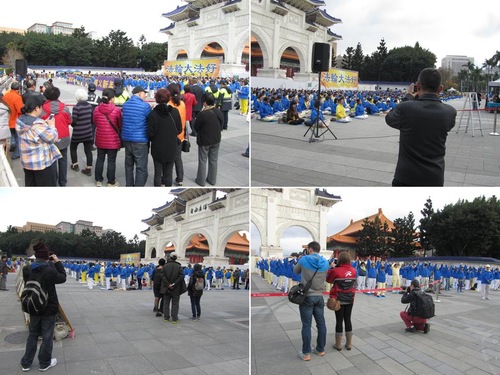 Tourists and passersby pause to watch the group practice, take photos, and learn more about Falun Gong.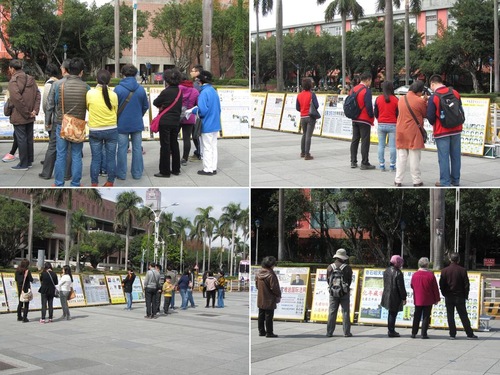 Many people read the poster boards displaying information about Falun Gong and the Chinese Communist Party's persecution.
A tall man in his thirties, who lives and works nearby, saw the group event, and said to a practitioner who was distributing flyers, "I like your band's performance. The music is melodious and touching. I admire you! All of you have strong self-discipline. I have never seen any other groups like you."
Mr. Wang, who works in a medical facility in Taipei, said, "They conduct New Year greetings here to express appreciation. I think it is very good." He said he had heard of Falun Gong, and knew about the Communist Party's persecution and live organ harvesting crimes.
"So many countries around the world accept Falun Gong. Only Chinese Communist Party does not. I know that many foreigners also practice Falun Gong. There is no harm to local governments or the public. China should accept Falun Gong and allow public to practice it."
One motorcycle rider passed by the square and saw the large group practice. He stopped and said he wanted to learn the Falun Gong exercises. He said, "Now Falun Gong is popular in the media. I am so pleased to see such a large gathering. I wish to know more and learn the exercises."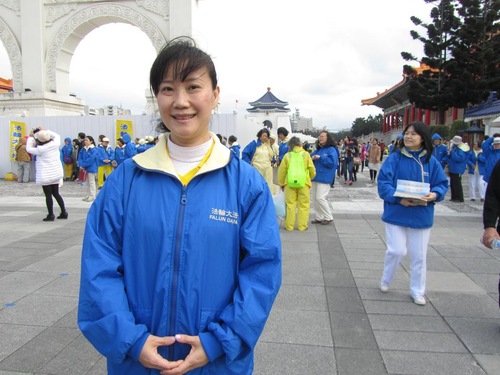 Falun Gong practitioner Guo Shu-hui said, "I appreciate Master Li for teaching me the meaning of life, and helping me have a happy family life. I hope more people will come to learn about Falun Gong."
Practitioner Shuhui, from Tamsui District, New Taipei, is a nurse who works with her husband, Mr. Hsia, a dentist, in the same dental office. Her mother recommended that she read Zhuan Falun in 2002.
Shuhui said, "Initially I thought it was a book to teach people to be good. I experienced a significant change in my mind after reading the book once. From the reading I came to know what cultivation is, and how to practice it in my daily life."
Shuhui has since followed the principles of Truthfulness-Compassion-Forbearance in daily life, and now puts others first. She has become more patient and kind toward others. Dr. Hsia was delighted to see her positive change after practicing Falun Gong, "This is a great cultivation group." He started practicing Falun Gong a few years ago. Now they have a happy family.
"I am fortunate to be a Falun Gong practitioner. I appreciate Master Li for teaching me the meaning of life. I am happy, and feel like I have a new life," said Shuhui. "Nowadays the morality is going downward. Laws cannot change people's hearts. Falun Gong teaches people to be kind from inside their hearts, and truly purifies people's minds. I hope everyone comes to learn about Falun Gong. Society will then become more harmonious."