The Art of Zhen Shan Ren Touched People's Hearts in Munich (Photos)
February 10, 2015
|
By a Falun Gong practitioner in Germany
(Minghui.org) The Art of Zhen Shan Ren International Art Exhibition opened in the Orangerie, next to the Chinese Tower in the English Garden in Munich, Germany, on January 9, 2015.
The ten-day exhibition brought the beauty of ancient cultivation culture in China to Germans who have admired traditional Chinese culture for centuries.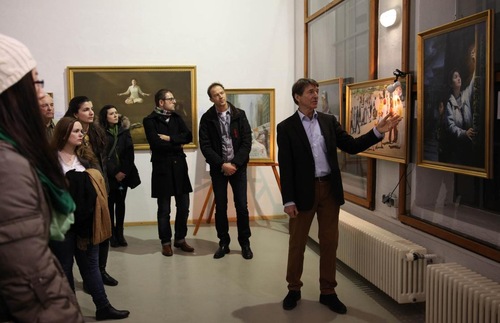 Opening ceremony of the Art of Zhen Shan Ren Exhibition in Germany
The artwork focused on the principles of Falun Dafa, Truthfulness-Compassion-Forbearance, and depicited scenes of the persecution of Falun Gong being carried out by the Chinese Communist Party.
Many visitors expressed their condemnation of the CCP in the guest book. One of them wrote, "A true faith can't be damaged or forbidden. Justice will win out. Peace will come."
Renowned movie director Werner Uschkurat and his wife Sabiner participated in the opening ceremony. Sabiner said it would have been hard to imagine the persecution without seeing the artworks. She noted that, while people often hear that China has a poor human rights record, they don't know how bad it really is until they see something like this exhibition. "The CCP tries to kill people's spirit," she said
Mrs. Uschkurat signs the guest book.
Mr. Uschkurat agreed with his wife. He said the artwork reminded him of his youth in East Germany. When the communists came to power, he felt a huge black substance squeeze into his room and come after him. He couldn't see any hope and eventually escaped to the West.
Mr. Uschkurat said he believed the practitioner artists reflected a high standard of morality and couldn't understand why they were banned in China and not allowed to follow their belief.
The following are some comments from the guest book:
"The exhibition made me think about the significance of life. No other exhibition ever touched me so much!"
"The value of life and respect for others as described in the German Constitution is almost invisible in Chinese politics.
"I'm shocked by the lack of human rights in China. I hope more will become aware of it and support the victims with positive energy!"
"Love, understanding, and tolerance are essential. I salute to these people (Falun Gong practitioners). Let peace and love return to the world."