Over 380,000 in South Korea Sign Petition Urging Prosecution of Former Chinese Leader Jiang Zemin
December 13, 2015
|
By a Falun Gong practitioner in South Korea
(Minghui.org) A press conference named "One Million People Sign Petition to Report the Crimes of Perpetrator Jiang Zemin" was held on Gwanghwamun Plaza in Seoul, South Korea on December 10, 2015, World Human Rights Day. The South Korea Falun Dafa Association sponsored the event and announced that more than one million people in Asia, including over 380,000 in South Korea, had signed the petition calling to prosecute Jiang Zemin, former head of the Chinese Communist Party (CCP).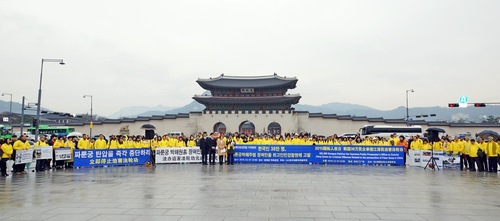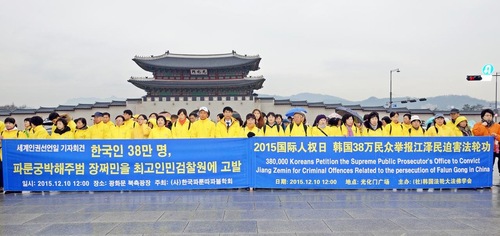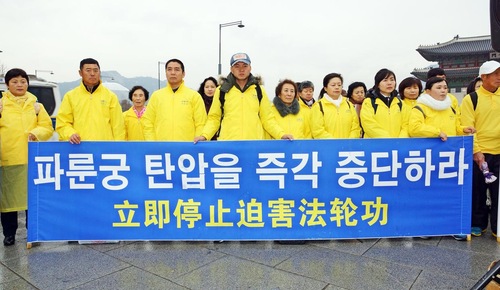 Falun Gong practitioners in South Korea hold a press conference on World Human Rights Day.
Spokesperson Dr. Wu Shilie announced at the press conference that 1,009,784 people from Japan, South Korea, Malaysia, Singapore, Indonesia, Hong Kong, and Macau had signed the petition between July 1 and December 7, 2015. Among them were 466,775 from Taiwan, 381,561 from South Korea, and 63,682 from Japan.
Dr. Wu said that the campaign is meaningful in helping to stop the persecution of Falun Gong by the Chinese regime, and to urge China's Supreme People's Court and Supreme People's Procuratorate to bring Jiang to justice for his role in ordering the violent campaign against Falun Gong.
South Korean International Association on Ethical Organ Transplant Supports Lawsuit Against Jiang
Dr. Li Shengyuan, director of the International Association on Ethical Organ Transplant (IAEOT), a non-governmental organization in South Korea aiming to eliminate illegal organ trafficking, said at the press conference that live organ harvesting from prisoners of conscience had never stopped in China. The association conducted an investigation along with human rights organizations in Canada and other countries.
Dr. Li said, "IAEOT and Doctors Against Forced Organ Harvesting (DAFOH) have worked together since 2013... We collected signatures to appeal to the UN to urge China to immediately stop live organ harvesting [from prisoners of conscience]. We have signatures of 385,405 people in South Korea, including 7,142 doctors. The campaign is ongoing."
The day before, the newspaper South Korea News published a report entitled "South Korean Falun Dafa Association Will Announce Reporting Jiang Zemin's Crimes to China's Supreme People's Procuratorate." The article discussed Falun Gong, the Chinese regime's torture of Falun Gong practitioners, and the wave of criminal charges being filed against Jiang Zemin in China by victims of the persecution.
Background
In 1999, Jiang Zemin, as head of the Chinese Communist Party, overrode other Politburo standing committee members and launched the violent suppression of Falun Gong.
The persecution has led to the deaths of many Falun Gong practitioners in the past 16 years. More have been tortured for their belief and even killed for their organs. Jiang Zemin is directly responsible for the inception and continuation of the brutal persecution.
Under his personal direction, the Chinese Communist Party established an extralegal security organ, the "610 Office," on June 10, 1999. The organization overrides police forces and the judicial system in carrying out Jiang's directive regarding Falun Gong: to ruin their reputations, cut off their financial resources, and destroy them physically.
Chinese law allows for citizens to be plaintiffs in criminal cases, and many practitioners are now exercising that right to file criminal complaints against the former dictator.