(Minghui.org) Before its international and European premiere at Film Casino in Vienna, Austria on October 27, the award-winning film Hard to Believe is driving more attention to its theme: China's killing of prisoners of conscience for their organs.
The film is being broadcast on various PBS (Public Broadcasting Service) stations in the United States. "Hard To Believe" has already won six prestigious awards from The Accolade Global Film Competition.
The Daily Beast website published a report on organ harvesting in China on September 29. The online edition of Daily Mirror and Daily Mail in Britain also ran stories on the issue on October 3.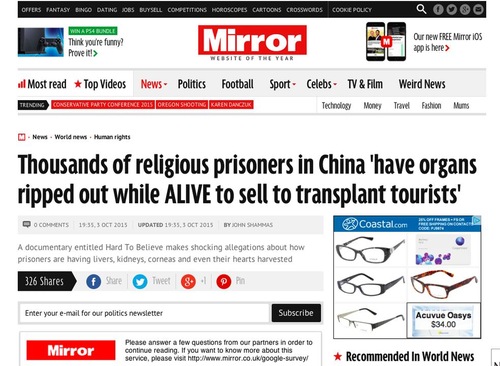 Screenshot of the Daily Mirror online article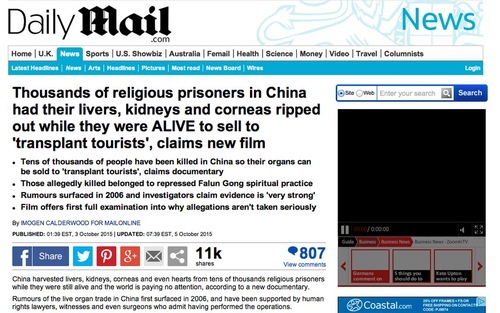 Screenshot of the Daily Mail online article
Director Ken Stone, a two-time Emmy Award winner for documentary work, chose to highlight the significance of bystanders' choices – a different approach from previous documentaries on the subject.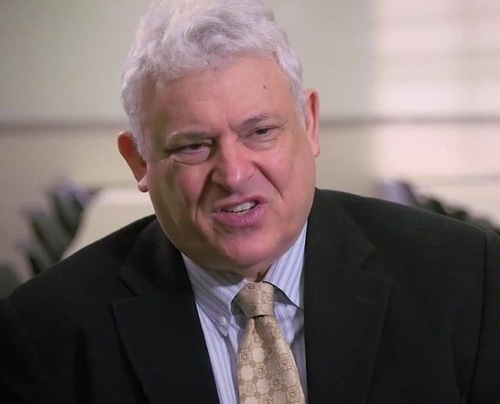 Dr. Arthur Caplan, leading U.S. medical ethicist
"In the U.S., in Europe, you have to be dead first in order to be an organ donor. In China, they make you dead," Dr. Arthur Caplan, head of the Division of Medical Ethics at New York University, was quoted in the documentary. "It's not up for discussion as to whether murder for parts is taking place. It's now just a question of whether we're going to continue to put up with it."
Killing on Demand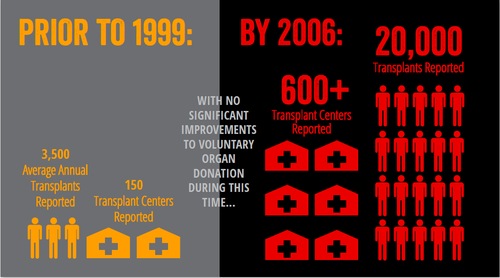 A comparison of the booming organ transplant industry in China – before and after the persecution of Falun Gong began in 1999 without significant improvements to voluntary organ donations (Source: Swoop Films)
According to journalist and researcher Ethan Gutmann, over one million Falun Gong practitioners were incarcerated in labor camps, detention centers, psychiatric facilities, and black jails by end of 2000, a year after the persecution began in 1999.
"By the end of 2005, China's transplant apparatus had increased so dramatically that a tissue-matched organ could be located within two weeks for any foreign organ tourist with cash," said Mr. Gutmann at a September hearing hosted by the Congressional-Executive Commission on China (CECC) on Capitol Hill.
"While the execution of death-row prisoners – hardened criminals – supplied some of the organs, the majority were extracted from Falun Gong practitioners – a fact that wasn't even being kept all that secret from the prisoner population, visiting foreign surgeons, or potential customers," he added.
State Actions and Military Involvement
It was initially hard to believe for a lot of Falun Gong practitioners as well when the news of forced organ harvesting broke in 2006.
In addition to the findings of independent investigators, practitioners gathered information and pieced together evidence on the comprehensive physical examinations they were put through while in detention: why would the Chinese communist regime conduct these checkups and torture the practitioners at the same time to force them to abandon their beliefs? The aim of such examinations was for their "retail" organs, and such actions were being carried out by the state.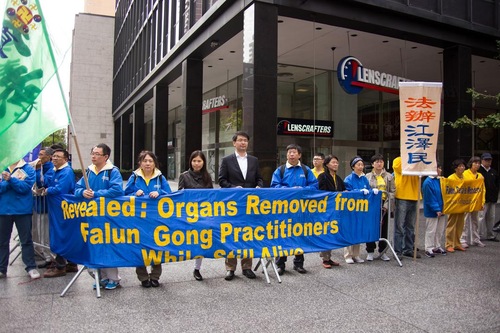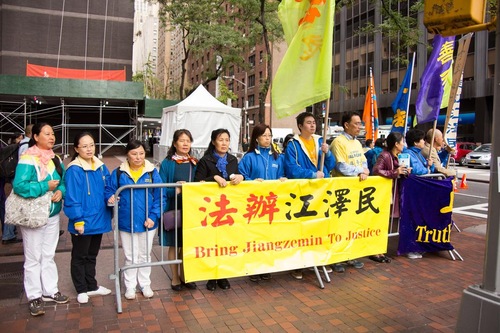 On September 27, as on all other days of Chinese President Xi Jinping's visit to New York, Falun Gong practitioners held up banners and placards near the Waldorf Astoria and along roadways to the United Nations. The banners demanded an end to the persecution of Falun Gong and urged China's top official to bring Jiang Zemin to to justice.
An investigative phone call to former Defense Minister Liang Guanglie in May 2012 revealed that the Chinese Communist Party's Central Military Commission had held meetings to discuss forced organ harvesting. The call was conducted and recorded by WOIPFG (the World Organization for Investigating the Persecution of Falun Gong).
In a July 2007 phone conversation with a WOIPFG investigator posing as a potential customer, Chen Qiang, a kidney broker for the PLA No. 307 Hospital in Beijing, admitted that Chinese Communist Party (CCP) officials, police, and prison authorities orchestrate and trade practitioners' organs, and that they could even provide identification information proving that the source of the organs were indeed Falun Gong practitioners.
When the former head of the CCP Jiang Zemin launched the persecution in 1999, his directives were to: ruin Falun Gong practitioners' reputation, cut off their finances, and extinguish them physically. Organ harvesting fits the third directive while making money for the Party. Mr. Gutmann estimates about $200,000 per person.
The European Parliament passed a resolution in December 2013, "expressing deep concern" over "credible reports of systematic, state-sanctioned organ harvesting from non-consenting prisoners of conscience."
Hard to Believe is produced by Swoop Films and available on DVD in addition to screenings. Visit its official website hardtobelievemovie.com for more information.