(Minghui.org) Practitioners in Toronto held a march on October 10 to support recent lawsuits against Jiang Zemin for his role in the persecution Falun Gong in China. Starting from Clarence Square in downtown Toronto, the march continued through Chinatown, past City Hall, and through several major intersections.
Led by the Divine Land March Band, the two-hour-long march was comprised of several sections: "Bring Jiang to Justice", "Falun Dafa Is Great", "Stop the Persecution", and "Quit the Chinese Communist Party (CCP)". Many people signed petitions of support.
Jiang Zemin is a former head of China and more than 188,000 criminal complaints have been filed against him since May.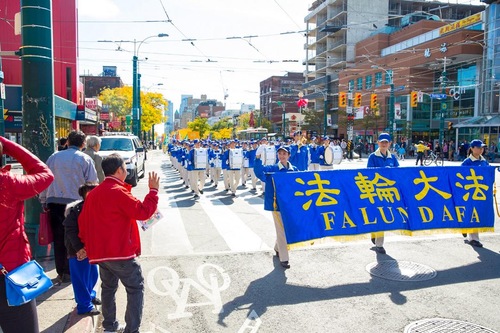 Divine Land Marching Band leads march through downtown Toronto on October 10, 2015.
Anyone Can Look up Jiang's Crimes on the Internet
Ali and Kevin took pictures with the marching practitioners. Ali said she heard about Falun Gong from the Facebook page of a friend in Alberta, "She was detained in China for her belief, which is a sad to me." She said the march is very important because it highlighted the key perpetrator. For example, anyone can look up Jiang's crimes on the internet.
Kevin agreed with her, "This march tells us what is good and what is evil. It is important for everyone."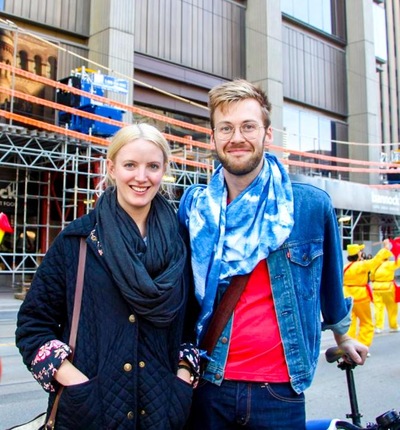 Toronto residents Ali and Kevin said they liked the march.
Val Feutrier has been working as a technician at CBC for 23 years. Working in a major news agency, he is familiar with China's human rights violations, especially on depriving freedom of belief from Chinese people.
"Nobody should mistreated like this for their beliefs," Feutrier said in tears, "They should have a happy life with their family."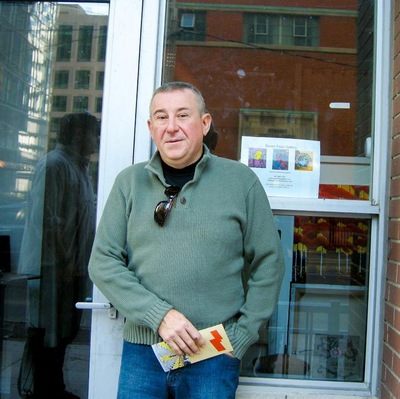 Val Feutrier has been working at CBC for 23 years.
Sixteen Years Is Too Long
Mr. and Ms. London are American tourists from Columbia, South Carolina. They discussed the march as practitioners walked past. Mr. London said the march sent a clear message. That is, freedom of belief should exist everywhere and it should not be controlled by a government.
"When a government loses its people, it has no future. And the key criminals need to be held responsible," he added.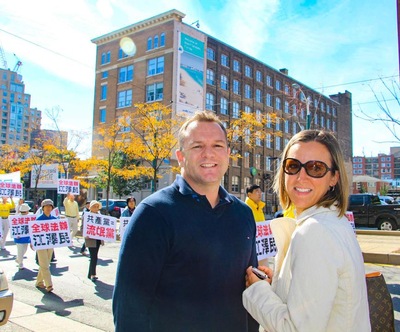 Mr. and Ms. London are tourists from the US
Irene and her husband are immigrants from Indonesia. She said she knew about the suppression in China. "Our hearts are together with you," She said, "Sixteen years is too long. It needs to stop."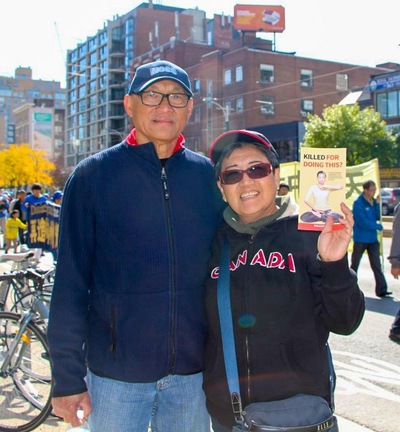 Irene and her husband said they support efforts to end the persecution.
It Is Important to Raise Awareness
David from the US and Marina from Russia watched the entire march. "The band performance was awesome," David commended. He said the entire march was very touching because persecution should not exist anywhere in the world.
Marina said it is important to raise awareness like this. "More people need to know this and get involved. This atrocity must come to an end."
David and Marina said the suppression in China should stop.
Richard, a local resident in Toronto said he was happy to see the march. He said once the public knows about the persecution, they can pressure the Chinese government, through government officials or the United Nations.
"This is too tragic—God might be in tears over this," he said.
Response from Chinese
Mr. Ye, a tourist from China, has stayed in Toronto for four days. He said he is familiar with the totalitarian regime of the CCP. "In China, it is not moral degeneration, but moral collapse." He said all the chaos in China was caused by the CCP, especially Jiang.
He was thankful to a practitioner for telling him the story of Falun Gong and the persecution, because he knew very little in the past. "It is wrong for a government to judge Falun Gong. The voice should come from people." He said the regime has no hope after persecuting people like innocent Falun Gong practitioners.
Ms. Tong and her friend were also impressed by the march. "We like it because we definitely cannot see something like this in China." After talking with a practitioner for a long time, Ms. Tong remarked that many people, herself included, did not know the real story about Falun Gong because of the false propaganda spread about the practice in China over the last sixteen years.
In the end, both of them decided to quit the Party and its affiliates. "Truthfulness-Compassion-Forbearance is good. I will stand with you," said Ms. Tong.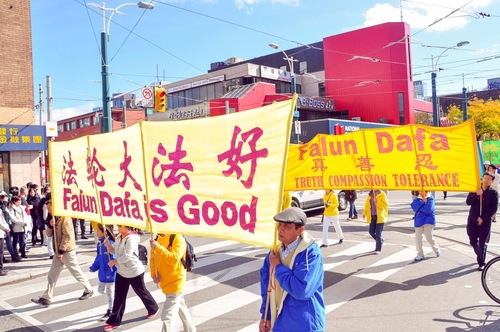 One banner in the march.