(Minghui.org) Falun Gong practitioners in Denmark held a protest in front of the Chinese Embassy in Copenhagen, requesting the release of Ms. Wei Zaihui and Ms. Wei Zaixiu, two practitioners in Sichuan Province. The protest was led by Ms. Wei's sister, Ms. Wei Zaiqun, who read a letter to the Chinese government at the protest.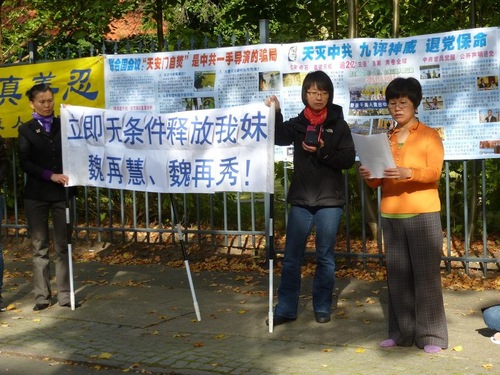 Ms. Wei Zaiqun reading her letter to the Chinese government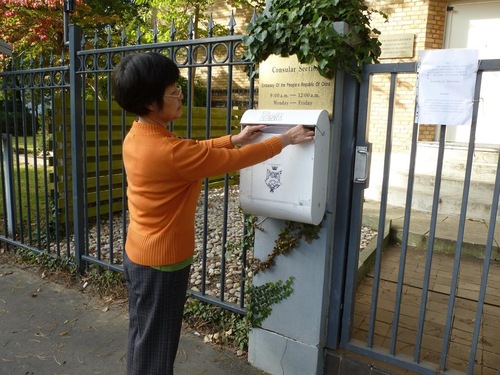 Ms. Wei Zaiqun mailing her letter at the Chinese Embassy.
Ms. Wei's sisters were arrested on May 27, 2015. Twenty policemen from Huayang District, Chengdu City, Sichuan Province, broke into Ms. Wei Zaixiu's house, arrested her and her husband Chen Guangzhong, and took away her computer, printers, and 30,000 yuan (about $5,000).
Ms. Wei Zaixiu and Ms. Wei Zaihui were detained in the Shuangliu Detention Center, where they were beaten by guards, and their families were not allowed to visit them.
According to Ms. Wei Zaiqun, her sister Ms. Wei Zaixiu was arrested twice previously because she practices Falun Gong.
Ms. Wei Zaiqun explained in the letter what Falun Gong is and how severe the persecution has been. She also wrote about the recent flood of lawsuits against the former communist head Jiang Zemin for launching and directing the persecution.
Ms. Wei said in the letter: "Since May, more than 180,000 Falun Gong practitioners have filed criminal complaints against Jiang Zemin. Many high ranking officials, who have been involved in the persecution, were brought to justice. There is an old Chinese saying that good meets with good, and evil will be punished by heaven. I hope that you will stop persecuting my sisters and other Falun Gong practitioners in Chengdu. This is for the good of your future."