Hong Kong Falun Gong Practitioners Express Gratitude on New Year's Day
January 03, 2015
|
By a Minghui correspondent in Hong Kong
(Minghui.org) On the first day of 2015, Falun Gong practitioners in Hong Kong celebrated with a band and waist drum performance, a group greeting, and songs, to express their gratitude to Master Li Hongzhi, and wish Master a happy New Year.
A large parade was held in the afternoon to introduce Falun Gong to the public and expose the persecution of Falun Gong by the Chinese Communist Party (CCP). The spectators applauded and took photos and videos.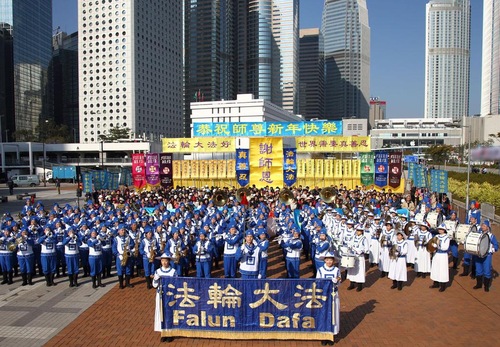 The Divine Land Marching Band performs at the New Year celebration.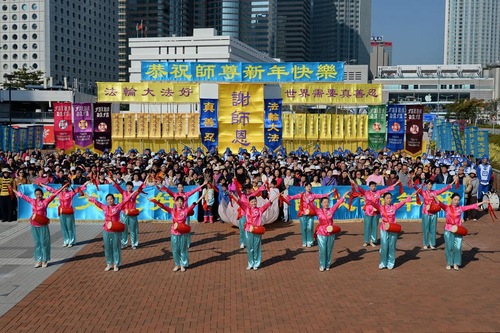 Waist drum performance in Hong Kong on January 1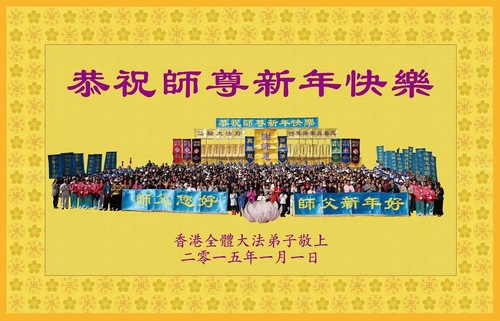 A greeting card to Master from Hong Kong Falun Gong practitioners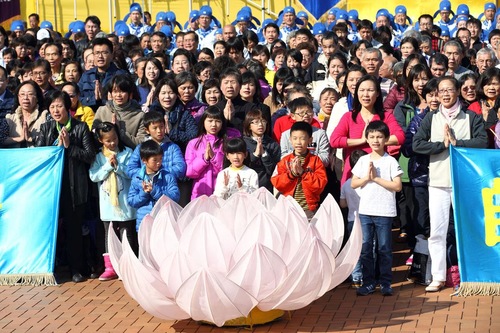 Young practitioners wish Master a happy New Year.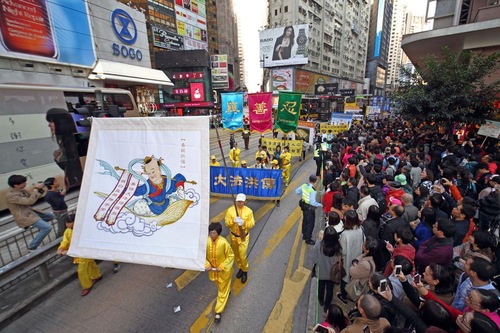 Many spectators viewed the practitioners' large posters and banners.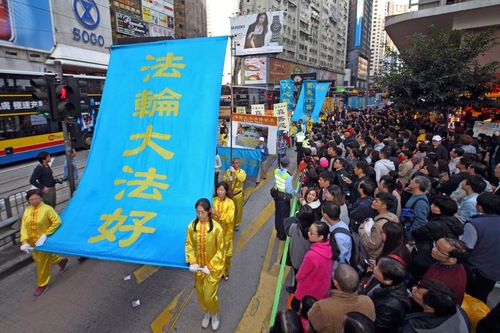 The parade in Hong Kong highlighted the benefits of Falun Gong.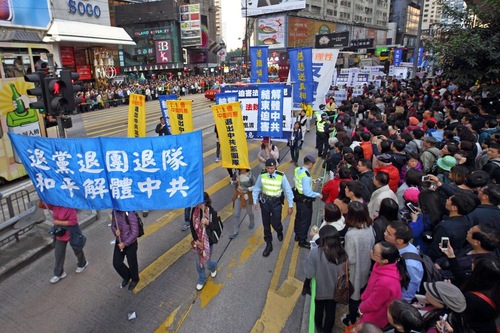 The parade also encouraged people to quit the Chinese Communist Party and its affiliated organizations.
The Divine Land Marching Band
Falun Gong practitioners from Hong Kong, Taiwan, and other regions gathered in front of Hong Kong City Hall at Edinburgh Place on the morning of January 1. After the Divine Land Marching Band and the waist drum team performed, the practitioners pressed their palms together in a gesture of respect, and said in unison, "Hello, Master! We wish you a happy New Year! Thank you, Master!"
They also sang Falun Dafa songs praising the benefits of the practice. Young practitioners sang "Falun Dafa Is Good." Older practitioners also participated in the activities.
Practitioners who came from China and were participating in such a celebration for the first time were moved to tears.
Many tourists from China took pictures of the activities. Mr. Wu from Shenzhen was astounded--it was the first time he had ever seen Falun Gong activities outside of China. He had lived in Communist China for 25 years, and all he had heard about Falun Gong was the CCP's propaganda lies. Through conversations with Hong Kong practitioners, he learned that the "self-immolation on Tiananmen Square" had been staged. He decided then and there to quit the Youth League and Young Pioneers.
Jacky from China recorded the parade, which really impressed him. He said, "We support their peaceful expression. An activity like this would be impossible in China."
Ms. An from Shenzhen was surprised by the parade. She said she supported Falun Gong's principles of Truthfulness-Compassion-Forbearance. "It would be great if everyone could follow these principles."
Falun Gong practitioners distributed introductory materials along the parade route. Many tourists from China asked for a copy, and read it right away. According to practitioners, the Chinese people know what the CCP is really like, and many readily agree to quit.