Little Rock, Arkansas, U.S.A.: Introducing Falun Dafa at 8th Annual Civil Rights Summit and Community Festival (Photos)
September 29, 2014
|
By a Falun Dafa practitioner in Little Rock, Arkansas
(Minghui.org) Situated on the Arkansas River, Little Rock is the Capital of the State of Arkansas. With a population of nearly 800,000, Little Rock has more than 15 miles of scenic riverfront and many bicycle trails along the river. Local Falun Dafa practitioners have regularly attended many community events in the area, to introduce this ancient mind and body cultivation practice. Many Arkansas residents have learned the exercises and some have taken up Dafa cultivation practice.
On September 20, the Falun Dafa Association was invited to the 8th Annual Civil Rights Summit and Community Festival held on the square beside the Willie L. Hinton Neighborhood Resource Center. The practitioners were also invited to demonstrate the Falun Gong exercises on the stage in the afternoon. Many people took photos and video footage of the exercise demonstration.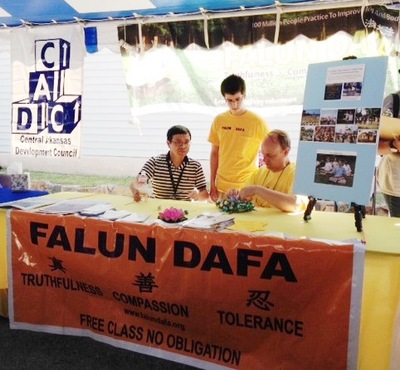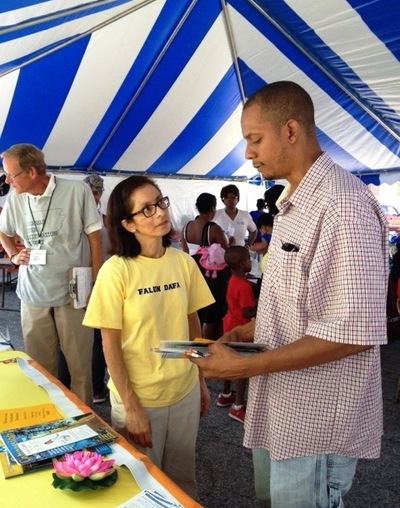 Talking about the benefits of Falun Gong and of the ongoing brutal persecution in China at the 2014 Civil Rights Summit and Community Festival in Little Rock, Arkansas.
A middle-aged man came up to the practitioners' booth and said that he had often seen them doing the exercises in a park in the morning. He said that he found the exercise movements elegant and the music very pleasant. He couldn't believe that the exercises were always taught for free and that all Dafa materials can be download from the Internet for free. When a practitioner told him that it is because Dafa is "priceless," he nodded with an understanding smile. Before leaving, the gentleman verified the location of the group exercise practice site and indicated that he planned to join them.
A teenaged girl visited the booth several times and took a beautiful paper lotus flower each time. She said that the flowers were so pretty and colorful that she wanted to take a few more for her friends who hadn't come to the festival. A practitioner taught her how to pronounce the Chinese characters "Falun Dafa" and "Truthfulness, Compassion, Forbearance" printed on the little bookmark hanging below the flower, and explained to her the meaning of the words. The young woman was very happy to learn and said that she would hang the flower in her car.
A young man from Indonesia carefully read all the display boards one by one. When he saw that the Chinese Communist Party (CCP) forcibly harvests organs from jailed Falun Gong practitioners on demand for transplant surgeries, he approached a practitioner and asked if such evil behavior was still happening in China. When he heard that it was indeed still taking place, he was very angry and wondered aloud why the governments of the rest of the world kept silent concerning the CCP's atrocity. He said that there were a lot of Falun Gong practitioners in Indonesia, too.