Three Practitioners Arrested for Distributing Informational Materials, Police Plan for Heavy Sentencing
September 26, 2014
|
By a Minghui correspondent from Heilongjiang Province, China
(Minghui.org) Falun Gong practitioners Mr. Zhang Yuliang (张玉良), his wife Ms. Jiang Yuemei (姜月梅) and Ms. Jin Fengying (金凤英) were illegally arrested on September 14, 2014. They distributing materials that exposed the persecution of the practice. The police raided Mr. Zhang's home and confiscated more than ten Falun Gong books, a computer and printer and some Falun Gong related materials.
Through multiple channels, Mr. Zhang's family learned that the practitioners are now detained at Mudanjiang Detention Center. It was also learned that the police are fabricating charges against Mr. Zhang in attempt to heavily sentence him for his efforts to raise awareness about the persecution.
Illegally Sentenced to Five Years in 2001
Mr. Zhang was arrested in 2001 by officers from Nanshan Police Station for telling people about Falun Gong and the persecution. Officer Miao Qiang beat him and injured his internal organs. For a long time after the beating, Mr. Zhang had blood in his urine.
Yangming Court held a trial against him and four other practitioners on December 12, 2001. The trial lasted for five hours. When the attorneys pointed out that the police interrogated the practitioners and forced confessions from them, the judge adjourned the trial, but never resumed it.
Shortly afterward, the court secretly sentenced the practitioners. Mr. Zhang was given a five-year prison term.
Prior to that, his wife Ms. Jiang Yuemei was illegally sentenced to one year in prison on June 13, 2000, for doing Falun Gong exercises in public.
Tortured at Harbin No. 3 Prison
At Harbin No. 3 Prison, Mr. Zhang was tortured for not giving up Falun Gong.
The guards forced him to do hard labor and extensive workouts during the day. At night, the guards let him sit on a small stool from 6 p.m. until midnight. If he moved or adjusted his position, he was beaten by the inmates.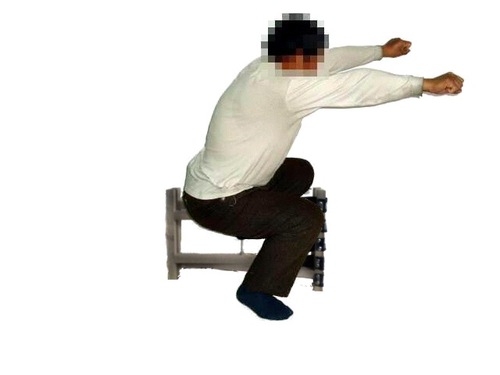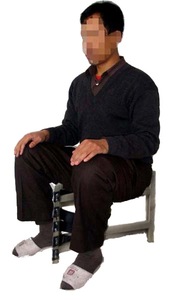 Torture reenactment: Sitting on small stool and not allowed to move
Mr. Zhang was also detained in the solitary confinement cell. The inmates savagely beat him and broke his wrists.
He was released in 2005.
Parties involved:Zhu Chenghua (朱澄华), deputy police head of Tieling Town, responsible for the case: +86-15504532073Mudanjiang City Detention Center: +86-453-6481006