Lawyers Demand Police Drop Allegations against Four Falun Gong Practitioners
September 25, 2014
|
By a Minghui correspondent from Hebei Province, China
(Minghui.org) Following their arrest on April 22 this year, four practitioners in Sanhe City were charged with sending mass text messages to expose the persecution of Falun Gong. Though the police had every intention of getting the three men and one woman convicted, the local procuratorate returned the case in late August, citing insufficient evidence.
After learning of the dismissal on September 1, the practitioners' defense lawyers filed a formal request on September 9, demanding that the police drop all allegations against their clients. They stated, "The practitioners' constitutional rights have been violated at every step of the process."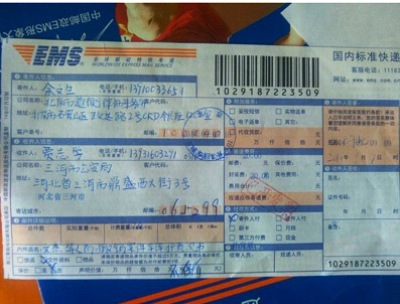 Four Falun Gong practitioners' lawyers mailed their requestto Sanhe Domestic Security Division on September 9, 2014, demanding they drop the allegation against their clients
Rights to Freedom of Belief and Freedom to Disseminate Information Violated
According to the lawyers, the arrest and detention infringed upon the practitioners' rights to freedom of belief and freedom to disseminate information about their practice. There is no law in China that bans Falun Gong; hence, practitioners have every right to inform others of the persecution of Falun Gong through different mediums, including text messages.
Right to Legal Counsel Compromised
The four practitioners' right to legal presentation has also been compromised throughout the process. Not only were their lawyers denied timely access to the case documents, but they were also prevented from meeting with their clients as needed.
Ms. Wen Jie (文杰), in particular, didn't get to see her lawyers for the first time until the day the lawyers learned the case had been dismissed.
When her lawyer, Wang Yu, went to visit her at Langfang Brainwashing Center on June 18, she was turned away, because the guards prohibited anyone from seeing Ms. Wen. Ms. Wen retained a second lawyer, Yu Wensheng, a month later, but both lawyers were denied their right to visit her when they tried to see her at Sanhe Detention Center on July 19.
Her lawyers didn't give up. After finding out the case had been dismissed on September 1, they went straight to the detention center, determined to see her.
The guard told them, "No one is allowed to see her! You need to get permission from the Domestic Security Division in order to visit her."
The guard called Jia Zhixue, the deputy head of the Domestic Security Division, who showed up in a short while. Lawyer Wang Yu said to him, "If you can't provide legal documentation to explain why you won't allow us to see her, we will sue you."
After two hours of wrangling, Jia finally let the lawyers see Ms. Wen, the first time in four months of detention.
The lawyers talked to her for two hours. Ms. Wen told them that Jia Zhixue had interrogated her nine times after she was transferred to Sanhe Detention Center on July 19.
Brief Summary of the Practitioners' Case
Mr. Ma Weishan (马维山), 73, and Mr. Kang Jingtai (康景泰) developed health problems while in detention. They were both released on medical parole. The police harassed them several times after they were released.
Mr. Wang Zhanqing (王占清) and Ms. Wen Jie remain incarcerated at Sanhe Detention Center.
Ms. Wen is a 50-year-old middle school teacher from Qiqihar, Heilongjiang. She left home and moved to Sanhe to avoid further persecution shortly after she was released from a nine-year prison term in 2011.
Related article: Authorities in Sanhe City Harass Falun Gong Practitioner's Family and Interfere with Defense Attorney
Parties Responsible for Persecuting Them:
Shi Liandong (石连东), Domestic Security Division head: +86-316-3115636 (Home), +86-13832669588 (Cell)Jia Zhixue (贾志学), deputy head of Domestic Security Division: +86-316-3226297, +86-316-3212291 (Home), +86-13931603291 (Cell)Guo Lichen (国立臣), director of the 610 Office: +86-316-3175808 (Office), +86-316-3132359 (Home), +86-13603260114 (Cell), +86-15831606988 (Cell)Wang Haibi (王海滨), deputy director of the 610 Office: +86-316-3210182 (Home)Wang Chaohe (王朝河), director of Sanhe City Detention Center: +86-13833616158 (Cell)Fu Lijun (付立军), head of the police department: +86-316-8335999 (Home), +86-13931680999 (Cell)