Business Executive Hung up and Beaten for Upholding Her Belief
September 25, 2014
|
By a Minghui correspondent in Hebei Province
(Minghui.org) Ms. Wei Jingmin (魏静敏), a general manager with a diverse background in finance and sales, lost her position shortly after the persecution of Falun Gong started in July 1999. She was held in detention centers and tortured for refusing to give up her belief.
Ms. Wei entered the workforce in 1972 and was certified as an assistant accountant in 1987. She became the general manager of the Dongda Daily Chemical Co., Ltd. in 1998, after serving various managerial positions in finance, sales, and brand management.
Below is her personal account:
I began practicing Falun Gong in June 1997. The practice taught me to be a good person and an ethical executive.
A vendor visited me at home and gave me a gift worth 5,000 yuan. I refused it and stopped accepting gifts once and for all. I organized all the past gifts at the end of 1998 and donated them to charity.
Demoted for Practicing Falun Gong
I was removed from my position as general manager shortly after the persecution began on July 20, 1999. The personnel department told me that no Falun Gong practitioners were allowed to lead a state-owned enterprise as the number one decision maker. They also told me to assume the position of Chinese Communist Party (CCP) secretary at another company. I refused.
A Month of Forced Labor at Botou Detention Center
I was arrested on November 23, 2005, for posting Falun Gong informational materials in the city. Four policemen took me to the Botou City Detention Center. I was forced to do hard labor there for a month.
I had to get up at 6 a.m. and work every day, wrapping match boxes. We were given a daily quota and had to work like robots.
My husband took me home on December 24. I found out that my family had been forced to give the police 8,000 yuan to secure my release.
Hung up and Whipped at Nanpi Detention Center
I was arrested again in the winter of 2009 for distributing brochures with facts about the persecution of Falun Gong in the villages in Nanpi with another practitioner. The police took us to the Nanpi Detention Center.
We were hung up by handcuffs and whipped almost daily for refusing to wear the detention center uniform. I was once handcuffed to the window for an entire night.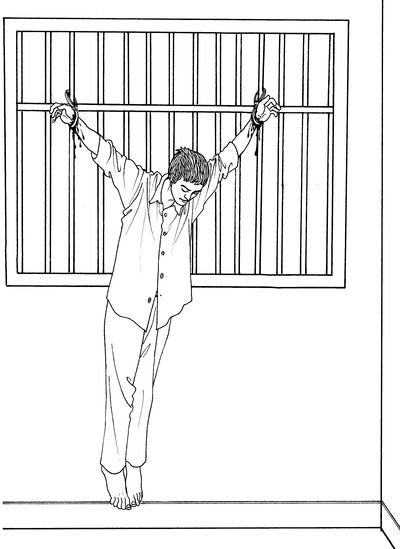 Torture illustration: Hung up
The guards at the Nanpi Detention Center claimed that killing people and setting fires are just "internal struggles," a communist term that categorizes the nature of group conflict, and may be forgivable. But Falun Gong is viewed as an "external enemy" of the CCP, prompting the ongoing campaign to try to eradicate it.
My family took me home after I suffered there for 10 days.