(Minghui.org) The Art of Zhen, Shan, Ren International Exhibition arrived in the Romanian city of Drobeta Turnu Severin on August 3, 2014, and remained on display at the Severin Shopping Center until August 10.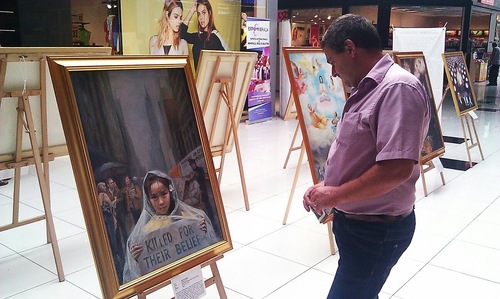 Volunteers distributed invitations for the exhibition, which depicts the brutal persecution of Falun Dafa and its peaceful practitioners.
Locals visiting the gallery were often taken aback by the aesthetic quality of the paintings, and the moving realism of the persecution scenes.
Some of the painters themselves had been tortured by the regime in China. Such episodes are represented in great detail, and with accuracy and expression.
One of the visitors commented that the paintings by Zhiping Wang really "impact your conscience."
An elderly retired lady admired not only the high quality of the works and their expressiveness, but also the dominance of spiritual values evident in the paintings. She rightfully called the Falun Dafa prisoners of conscience "martyrs" and "saints." Hearing the real-life story behind the painting "Freed by Faith" by Xiaoping Chen, the lady said with emotion, "I feel shivers all over. I feel that we are talking about a real saint. Only the holy can have such spiritual power."
Another visitor was a Christian priest who took his time to contemplate the images, photographed nearly all of them, and compared the persecution taking place in China with similar persecutions from times past carried out by communist regimes.
Several people also commented on the striking resemblance of the suppression of Falun Dafa to that of the Christians 2,000 years ago during the Roman Empire.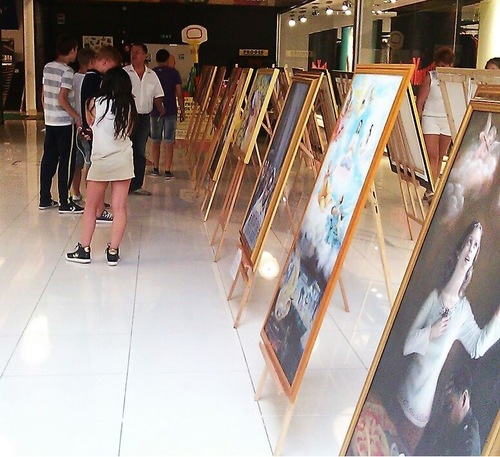 Other visitors commented on the profoundly anti-spiritual and atheistic nature of the Chinese Communist Party, and mentioned other cases of spiritual persecution in contemporary China, namely, those against Christians and Tibetan Buddhists.
The Art of Zhen, Shan, Ren International Exhibition has been a spiritual oasis in the middle of hectic, everyday life in Severin. It has provided visitors a few moments of detachment and aesthetic pleasure, and also widened their horizons. The exhibit made known to these people the tragedy of the persecution of Falun Dafa.