(Minghui.org) At least 10 judges from Qingyuan Count Court in Fushun City have been arrested, pending further investigation on corruption charges. Those arrested include associate president Zhang Yongyi and Wang Weixian, court chief Tang Xitong, Yu Xiuwen, Liu Junjie, Gao Wei, Zhao Jukun, You Hongwei, Liu Xiangjun, and others. Lin Kejun, another associate president, has escaped.
Qingyuan County is a small county in China. The corruption there is no worse than other counties in China, so why it is being investigated? Many people believe that the fate the arrested judges will face is a direct result of the wrong deeds they have committed in their communities, particularly with respect to the persecution of Falun Gong.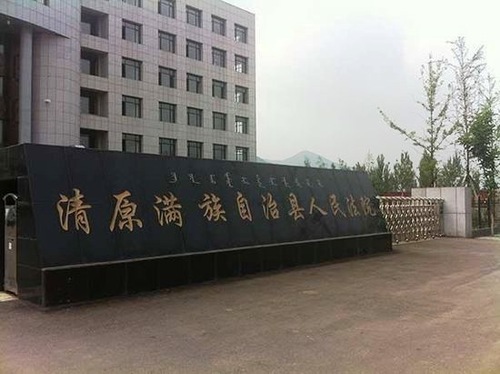 Qingyuan County Court in Fushun City (Internet photo)
Overview of the Persecution in Qingyuan County
Since 1999, Qingyuan County Court has actively cooperated with the political judiciary committee and 610 Office and participated in persecuting Falun Gong practitioners. At least 39 practitioners were sentenced to imprisonment through Qingyuan County Court. The judges' criminal actions has hurt practitioners, their families and relatives, especially their children. Practitioners Xu Dawei, Lu Huanglin, Zhang Youjin, Liu Qinchun and Yi Long have been tortured to death.
At least 22 practitioners in Qingyuan County have died as a direct result of persecution. More than 250 practitioners haven been sent to forced labor camps, and more than 39 practitioners have been imprisoned. Six perfectly healthy practitioners were sent to mental hospitals and authorities have extorted illegal bribes (so-called "fines") from countless practitioners.
The 39 practitioners who have been sent to prison are: Zhang Jinsheng (13 years), Lu Guanglin (13 years), Chu Defu (12 years and six months), Han Guiping (10 years), Zang Yuyun (13 years), Lv Yan (13 years), Wang Hongwei (10 years), Wang Guilan (9 years), Dai Shouting (9 years), Xu Dawei (8 years), Ma Desheng (8 years), Gai Xiuqin (8 years), Liu Guiying (7 years), Zhang Zhiqin (7 years), Li Wensong (6 years), Zhou Yuren (6 years), Wang Fajun (5 years), Sun Hongchang (5 years), Yi Long (5 years), Liang Shujuan (4 years and six months), Gao Guilan (4 years and six months), Yu Shiquan (4 years and six months), Gei Weidong (4 years and six months), Liu Qinchun (4 years), Yu Jun (4 years), Wang Youcai (4 years), Du Jinling (4 years), Gao Cai (4 years), Qu Jinxia (4 years), Zhang Youjin (3 years and six months), Gao Shan (3 years and six months), Sui Yinghua (3 years and six months), Zheng Hongying (4 years), Wang Yaping (4 years), Liu Li (4 years), Liu Haitao (4 years), Liu Liying (3 years and 10 months), and Gai Yongjie (4 years).
Below is a brief summary of what happened to some of them.
Mr. Zhang Jinsheng sentenced to 13 years in jail, still in detention
Mr. Zhang Jinsheng, is a practitioner from Qingyuan Town. He was arrested on April 25, 2004 by police from No. 1 Section of Fushun City Police Department. On September 6, 2004, Qingyuan County Court tried Mr. Zhang. Prosecutor Cao Jixing and Fan Dongfeng fabricated crimes to charge him with. The court sentenced him to imprisonment for 8 years because he showed others how to browse Minghui.org. When Mr. Zhang loudly said, "Falun Dafa is good" the judge became angry and added another 5 years to the sentence. On November 5, 2004, he was sent to Dabei Prison in Shenyang City. He is now being held in No. 1 Prison in Shenyang City.
Lu Guanglin sentenced to 13 years, but tortured to death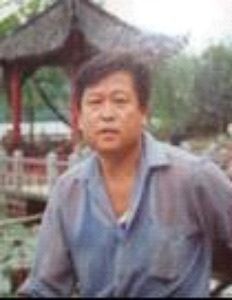 Mr. Lu Guanglin
Mr. Lu Guanglin, about 60 years old, worked at Food Warehouse in Qingyuan County. At 5:00 p.m. on March 15, 2005, over 10 officers from No. 1 Section of Fushun City Police Department arrested him, his wife and other three practitioners. On March 22, he was sent to Fushun City No.1 Detention Center, and sentenced to 13 years of imprisonment. At Panjin Prison, he was shocked with electric batons. In February 2009, he went on a hunger strike to protest the persecution, and as punishment he was tortured even more severely. His teeth were knocked out when he was brutally beaten, and there were burns all over his body.
Ms. Zheng Hongying sentenced to 4 years
Ms. Zheng Hongying, 71 years old, from Gengjiabao Village, Nankouqian Town, Qingyuan County, was sentenced 4 years of imprisonment by court chief Yu Xiuwen and Liu Junjie.
On September 6, 2011, Ms. Zheng went to Wangjiabao Village in Nankouqian Town to clarify the truth. She was reported by Li Guohua, and arrested by officers from the local police station.
On November 18, Qingyuan County Court tried Ms. Zheng. Her family hired lawyer Wang to defend for her. Mr. Wang pointed out that Ms. Zheng benefited a lot from practicing Falun Gong both physically and mentally, all her illness were gone. She shared her experience with others. Everything she did: clarifying the truth or distributing truth-clarifying materials about Falun Gong were individual activities which comply with the constitution. She didn't hurt anyone or break any laws. The lawyer said that prosecutor Li Jing's accusation against Ms. Zheng, according to Criminal Law, was not valid, thus he requested the court to release Ms. Zheng unconditionally.
However, prosecutor Li Jing insisted on charging Ms. Zheng and the court secretly sentenced her to 4 years of imprisonment.
The deputy president of Qingyuan County Court Zhang Yongyi, Wang Weixian and Gao Wei (members of the "collegiate bench", the special court body that was established to handle such issues) and chief judge Yu Xiuwen, clerk Liu Junjie were all involved in sentencing Ms. Zheng.
Ms. Zheng's relatives later learned that the testimony used by prosecutor Li Jing against her was fabricated by police. Ms. Zheng's relatives and some other practitioners went to Qingyuan County Court and told judge Liu Junjie what really happened but the court officials didn't listen. Instead, they called the domestic security team and Yaozhan Police Station and instructed them to arrest three practitioners: Wang Nanfang, Guan Yan and Chen Shuhua. Chen Shuhua was detained for 15 days, and Wang Nanfang and Guan Yan were sent to forced labor camp.
Deputy court president Lin Kejun persecuted practitioners in order to be promoted
Lin Kejun who eluded being investigated, was the chief of Ying'emen Town in Qingyuan County. In 1999 he was 34 years old. In order to get promoted, he actively follow the CCP and and persecuted Falun Gong practitioners.
At that time there were around 40 practitioners in Ying'emen Town. The town government gathered all practitioners to the brainwashing center and attempted to force them to give up their belief. 1000 yuan was extorted from each practitioner. Practitioners were deprived of sleep and beaten with thick batons. They were beaten so hard that some of the batons broke. Practitioners Liu Mingcai, Liu Guangyan, teacher Pan, and teacher Chen were tortured. Some practitioners were forced to leave their homes to avoid persecution. Many practitioners were "transformed" (forced to quit practicing cultivation).
Lin Kejun spread his order to each village. He not only forced practitioners to give up their beliefs but also demanded that the head of each village confiscate all Dafa books. He sent personnel to each village to collect the books. There were over 10 practitioners in Zhangjiabao Village, and all of them were forced to hand over their Dafa books.
Lin Kejun also went to each village to monitor and urge the village leaders to persecute practitioners. He even went to practitioners' homes to force them to give up their belief.