British Columbia, Canada: Falun Dafa Highlighted at the 67th Penticton Peach Festival
August 13, 2014
|
By a Minghui correspondent in Canada
(Minghui.org) Falun Dafa practitioners participated in the Penticton Peach Festival parade on August 9, 2014. "This is great! Super!" Were some of the excited comments that were heard coming from the crowd as they watched the colorful lotus float pass by.
One attendee, Patrick, said he felt very happy looking at the beautiful costumes. "They look so nice and I really like the words Truthfulness-Compassion-Tolerance. They made me happy for the entire day!" he said.
The 67th annual festival was held on August 6-10, 2014. Hailed as British Columbia's biggest inland parade, nearly 80 groups joined the parade on August 9, and the Falun Dafa entry attracted a great deal of attention. Led by a banner with the words, "Falun Dafa is Good," practitioners demonstrated the exercises, and presented a huge lotus flower float and waist drum team.
Practitioners' parade group led by a banner reading, "Falun Dafa is Good"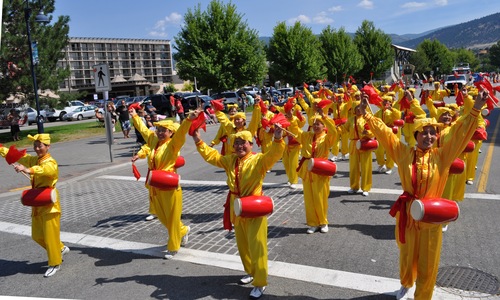 Waist drum team participates in the parade
The graceful movements, beautiful colors, and uplifting drum beat were well received by both local residents and tourists. Many people took pictures and warmly applauded with many positive comments. As one gentleman watched the practitioners pass by, he became so interested that he began to imitate their exercise movements.
Some people hadn't yet heard about Falun Dafa, and inquired as to what it was. When they were told it was an ancient self-improvement system that has benefited over 100 million people in more than 100 countries, many gave a thumbs-up to show their support and said, "Excellent!"
Mayor Garry Litke and other city staff members watched the parade. They warmly waved to practitioners as they passed in front of city hall. After he was elected last year, Mayor Litke issued proclamations to congratulate and thank Falun Dafa. He has also proclaimed May as Falun Dafa Month for two consecutive years.