(Minghui.org) Falun Gong practitioners held a rally in front of Chinese Embassy in Ottawa at noon on July 17 to commemorate the 15th anniversary of the Chinese Communist Party (CCP)'s persecution of Falun Gong. They called on the Party to stop this unprecedented and inhumane campaign of persecution.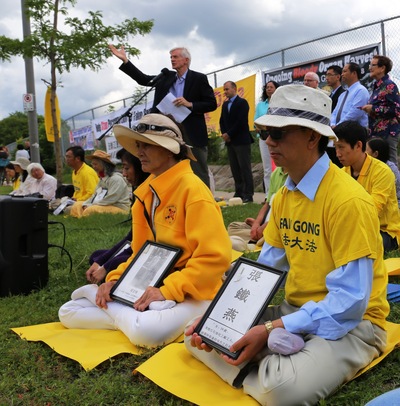 Former MP David Kilgour speaks at a rally against the persecution in Ottawa
Appealing for a Father's Release
Paul Li, a Canadian citizen and Toronto resident who is a practitioner of Falun Gong, spoke at the event to tell a personal story about his father's firsthand experience of the benefits of practicing Falun Gong as well as the brutality and injustice of the persecution.
It was part of his efforts to seek help from the Canadian government to free his father, Li Xiaobo, who is currently being held in a detention center in Sichuan, China.
Li told of how his father's temper and overall health improved after he started to practice Falun Gong in 1996. Guided by the practice's teachings of Truth, Compassion, Forbearance, his father gave up smoking and other bad habits and endeavored to put others' interest above his own.
One of Li's father's colleagues once told him, "Your father is the most virtuous man I have ever met," he said.
After the persecution began in 1999, amid a massive propaganda campaign to incite hatred against Falun Gong in mainland China, Li Xiaobo began to write articles to clarify the facts to the public.
He was arrested, and in a secret trial in 2005 that lasted less than half an hour, he was sentenced to eight years in prison. Due to the harsh conditions and severe torture he suffered in custody, by the time he was released in the spring of 2012, he had lost most of his teeth and was almost blind in one eye.
"The guards do not allow practitioners to cry out while being beaten, so they brutally hit the practitioners' throat, stomach, or belly," Li said.
Li said that in the winter his father was forced to stand naked with his bare feet immersed in cold water, and in the summer he was forced to stand still in a dark and damp space full of bugs, flies, and mosquitoes. "If he scratched a mosquito bite, he would be beaten," he said.
In April this year, Li Xiaobo was rearrested, and his son fears for his safety. Li said, "My father is still being held at a local detention center and his health is declining."
Secretary General of Amnesty International Canada: The Persecution Should not Happen.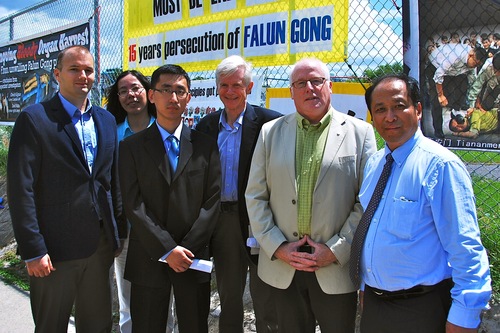 Alex Neve (second from right), Secretary General of Amnesty International Canada, and David Kilgour (third from right), former Secretary of State for Asia-Pacific, support the rally in person.
Alex Neve, Secretary General of Amnesty International Canada, who also spoke at the gathering, noted that the occasion was indeed a somber one. "Anniversaries can be celebratory triumphant moments and anniversaries can be very somber sorrowful moments. If only we could be gathering today for the former," he said.
"So many different times and so many places, on Parliament Hill, here in front of the Chinese embassy, and in communities across Canada, we have gathered because this is a sorrowful and somber time. This has now become 15 years of unrelenting human rights violations experienced by countless Falun Gong practitioners throughout China. 15 years of repression and suppression. 15 years of arbitrary arrest and illegal imprisonment. 15 years of widespread torture. And 15 years of women and men and young people dying as a result of torture in custody in China.
"One day of those abuses would be disgraceful and unacceptable. 15 years of those abuses is a full blowing crisis, which is a source of shame and embarrassment for people all over the world who care about human rights. That's why we're here today to once again convey a very strong message to the Chinese government that this persecution must end. This crackdown that should never have begun 15 years ago now must come to an end."
He continued, "We are obviously particularly concerned as Canadians because this is not only a story that is playing out halfway around the world. It is a story that throughout the course of these 15 years has had direct implications and ramifications, very personal, sorrowful implications for Canadian citizens and Canadian residents. We know that over these 15 years there are Canadians who have been imprisoned, who have been tortured. I think very powerfully of my first introduction really to the Canadian fate to this persecution. I met professor Kunlun Zhang when he was released and finally able to return to Canada. He shared his terrible stories of persecution, repression, and torture."
"We know there are family members of Canadian citizens and permanent residents who are suffering right now. Paul Li, a Canadian citizen, continues to feel great anguish and worry about the plight of his father imprisoned in China because of his adherence to Falun Gong."
"Amnesty International and human rights organizations around the world stand with you in that very simple message. It is time for the repression and for the crackdown to end. It is now time for human rights to prevail. It becomes the time from which the human rights of all people across China who practice Falun Gong, not to be violated, but to be respected and upheld and protected at every turn and in every way. All of our voices must remain united towards that common goal."
David Kilgour: Forced Organ Procurement in China Is Unprecedented
David Kilgour, Canada's former Secretary of State for Asia-Pacific, and David Matas, a renowned human right lawyer, conducted an independent investigation of organ harvesting allegations in China. Mr. Kilgour came to support the rally and said, "Forced organ procurement in China is unprecedented across the world because organs are sourced from prisoners whose lives are actively terminated to obtain their vital organs for commerce. As Doctors Against Forced Organ Harvesting (DAFOH) have pointed out many times, 'The practice shakes the very foundation of medical ethics. It provokes the question: Can one intentionally take a life to save a life?"
He continued, "Many around the world have joined DAFOH in this campaign. In November of last year, for example, 1.5 million persons from 50 countries signed the DAFOH petition to the U.N. High Commissioner for Human Rights, calling for an end to forced organ pillaging. In March of this year, the European Economic and Social Committee aligned with the European Parliament in condemning China's 'scandalous' organ procurement practices.
"In April, the Transplantation Society and the Declaration of Istanbul Custodian Group sent an open letter to China's Xi Jinping concerning 'corrupt practices of doctors and officials who obtain organs from executed prisoners illegally for sale to wealthy foreign patients from around the world.'"
He concluded, "What we are doing today is supported by men and women of conscience in China and around the world."