USA: 35 State Legislators Express Concern Over Organ Harvesting in China and Its Impact in Minnesota
June 08, 2014
|
By a Falun Gong practitioner in the state of Minnesota, USA
(Minghui.org) "We are greatly troubled by the possibility that any of these organs might be used by hospitals or healthcare providers in the State of Minnesota," stated State Representative Phyllis Kahn and other 34 members of the Minnesota House in a co-signed letter to Commissioner Ed Ehlinger of the Minnesota Department of Health, and Commissioner Larry Pogemiller of the Minnesota Office of Higher Education.
In this letter dated March 31, 2014, the state legislators expressed concerns over "persistent and credible reports of organ harvesting from criminal detainees and prisoners of conscience in the People's Republic of China, including from large numbers of Falun Gong practitioners imprisoned for their religious beliefs."
They wrote the letter to request that the above-mentioned state agencies investigate the origins of any foreign-sourced organ donations in Minnesota. In addition, they also wished to ensure that none of the organs obtained through organ harvesting in China are used for medical research at any publicly-funded medical research institution in the state.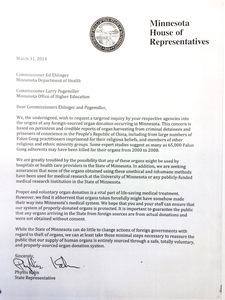 The letter co-signed by 35 members of Minnesota House of Representatives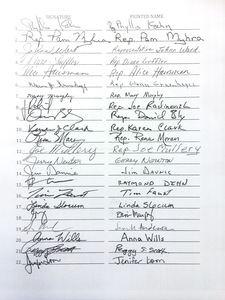 Signature page one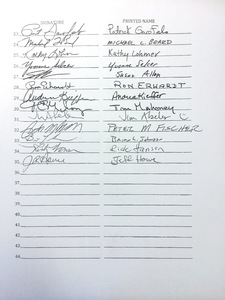 Signature page two
The crime of organ harvesting was first exposed in 2006.
Prominent human rights lawyer David Matas, along with David Kilgour, former Secretary of State (Asia-Pacific) for Canada and crown prosecutor, conducted independent investigations, and concluded that state-sanctioned organ harvesting from non-consenting Falun Gong practitioners existed and was still going on in China.
They estimated that tens of thousands of Falun Gong practitioners may have been killed for their organs. Journalist Ethan Gutmann estimates that approximately 65,000 Falun Gong practitioners may have been killed for their organs between 2000 and 2008.
Many politicians and medical professionals have found the study convincing. More and more people are condemning the atrocity and helping to stop it. The European Union passed a resolution in December 2013, condemning the state-sanctioned organ harvesting crime in China.