Lanzhou Gallery Owner Sentenced for Seven Years a Second Time
June 05, 2014
|
By a Minghui correspondent from Gansu Province, China
(Minghui.org) Chen Zhikai and his underlings from the Domestic Security Division in Chenguan District didn't bother to present an arrest warrant when they broke into the gallery store of He Jianzhong in October 26, 2013. No one could identify them as police since they wore no uniform.
Security agents in China think nothing of stealing from honest citizens who practice Falun Gong. Chen took the keys to the store and stole cash—lots of cash. The agents took 11,000 yuan from the lock box Mr. He kept for his rent payments, and two bankbooks totaling 10,000 yuan. Not content with the cash, they also took on-hold well-known paintings of He's clients.
Chen did not make a list of what he stole, even though he was required to do so by law. When they broke in, a customer came to retrieve his painting. Chen handcuffed Mr. He and arrested them both.
Chen took Mr. He to Gongjiawan Brainwashing Center, and then to No. 2 Detention Center in Lanzhou.
In 2003 the Qitaihe District Court convicted Mr. He, in his fifties, on some spurious charge related to Falun Gong. Mr. He managed return home after serving six years out of his seven-year illegal sentence. However, Chen caused additional difficulties to his life by withholding the release paperwork.
Tried and Sentenced Illegally a Second Time
Once again, Mr. He stood trial this time at Qilihe District Court in Lanzhou, Gansu Province on March 26, 2014.
The state charged Mr. He with "using an evil cult against law enforcement."
The prosecutor did not identify the cult, Mr. He's position in the cult, how he used the cult, who he directed, or what orders he sent out. The prosecutor gave no evidence of the time or place Mr. He had purportedly committed this crime. The prosecutor presented no law Mr. He had broken.
Mr. He's attorney argued that his client had breached no laws, should be released, and all charges dropped.
However, the rule of law did not prevail in this court. The judge secretly sentenced Mr. He to seven years in prison. The court later notified Mr. He's attorney, but not the family. The family was not allowed to see the verdict. Mr. He has appealed.
Six Years of Torture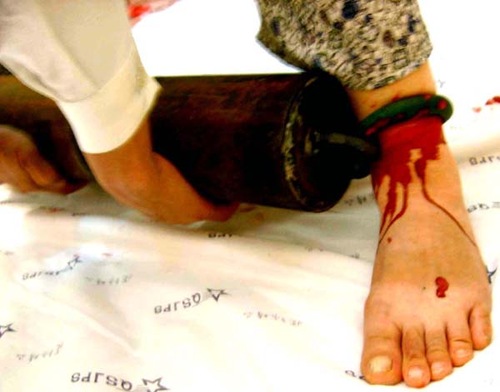 Torture re-enactment: Shackles
Mr. He suffered continuous torture during his first imprisonment from 2003 to 2008 in Lanzhou Prison, also known as Dashaping Prison. He was kept in solitary confinement for a month in May 2003 and forced to wear shackles. The shackles weighed 18 kg and were 4 meters long. Shackled by his hands and feet, he could not sit upright.
He was kept handcuffed when eating. No chopsticks were given to him, so he could only scoop food to his mouth using his hands.
The shackles caused the muscles in his feet to atrophy. The heavy iron square on the shackle was capable of fracturing a bone.
Mr. He embarked on a hunger strike for seven days to protest having to wear shackles.
At the end of a month he was released from solitary. At first, he could not walk without assistance. For long afterwards, he used a stick cane to get around.
Mr. He has no access to his court documents, which Chen refuses to release to him or his family. They are necessary for his appeal.
Related article:Defense Attorney Demands Acquittal of Mr. He Jianzhong in Lanzhou City CourtMr. He Jianzhong Detained More Than a Year, His Grieving Father Dies