Shandong No. 1 Prison Tries to Cover Up Their Crime by Not Allowing Family to Visit
May 05, 2014
|
By a Minghui correspondent in Shandong Province, China
(Minghui.org) Falun Gong practitioner Mr. Liu Ruping has been held in Shandong No. 1 Prison and tortured for his belief since his seven-year prison sentence began in 2010. He was so severely injured in November 2013 that the prison authorities refused to allow him any visitors in order to cover up their crime.
Tortured in Prison; Family Not Allowed to Visit
The guards searched every practitioner's belongings and found Falun Gong teachings that belonged to two practitioners on November 28, 2013. The pages were used to justify putting the two practitioners and Mr. Liu in the "Strict Management Team."
Inmate Xie Tao once went through practitioners' things without their permission. When Mr. Liu refused to cooperate with him, Xie and other inmates dragged him to a meeting room and began to curse at him. When he tried to leave the room, Xie pushed him so hard onto a sofa that the bottom of the sofa came apart and injured Mr. Liu's back. Afterwards, he couldn't bend over or squat down.
His family tried to visit him on December 17, 2013, but were told by prison officials that he wasn't allowed any visitors because he had violated prison regulations by passing along Falun Gong writings.
They tried to visit him again on December 31, 2013, but to no avail.
Repeatedly Persecuted
Mr. Liu is 51 years old. He is an attorney with Shuntan Law Firm in Jinan City, and was a former teacher at Jinan City Changqing District Party School. He has been illegally arrested multiple times, sent to a forced labor camp once, and sent to a brainwashing center twice.
He was sentenced to seven years in prison by the Changqing District Court. He once went on a hunger strike to protest the persecution and was punitively force fed for more than 20 days in May 2012.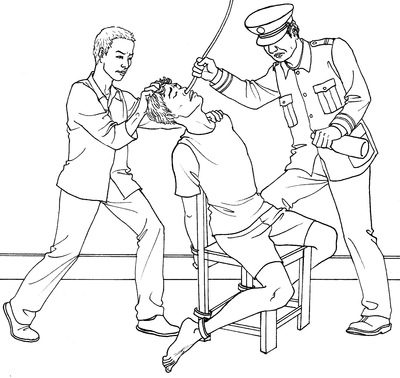 Torture Illustration: Force-feeding
Additional Persecution in Shandong No. 1 Prison
Practitioners Mr. Liu Ruping, Mr. Wang Zhansuo, and Mr. Tang Peiwu were forced to sit on small stools for a long time every day for two months. The guard drew a circle on the ground and ordered Mr. Liu to stay inside it.
Guards found copies of Falun Gong teachings in Mr. Zhao Weidong's belongings on February 5, 2014, and put him in solitary confinement. He went on a hunger strike to protest. He was in critical condition and had to be taken to the prison hospital on February 14, 2014. Prison officials later notified his family that he was sent to the police hospital for emergency treatment.
There are about 55 male practitioners in Shandong No. 1 Prison. Those who continue practicing Falun Gong are put in Ward 11, which has a Special Management Team and three "Steadfast Belief 'Transformation' Teams" comprised of inmates. These teams specialize in persecuting practitioners.
The Steadfast Belief Teams are specifically aimed at firm practitioners or those who have started practicing Falun Gong again.
Parties Involved in Persecuting These Men:
Qi Xiaoguang (齐晓光), director of Shandong No. 1 Prison: +86-531-87075546 (Office), +86-531-870772888 (Home), +86-13708926571 (Cell) Zhan Huacehn (战化程), deputy director of Shandong No. 1 Prison: +86-531-87075536 (Office), +86-531-85688833 (Home), +86-13705406300 (Cell) Zhang Chuanlin (张传林), political commissar of Shandong No. 1 Prison: +86-531-87075566 (Office), +86-531-87072688 (Home), +86-13853166298 (Cell) Li Wei (李伟), Ward 11 warden at Shandong No. 1 Prison: +86-531-87075280 (Office), +86-531-87075767 (Home), +86-15806668899 (Cell)