Four Female Practitioners Secretly Tried
May 29, 2014
|
By a Minghui correspondent from Shaanxi Province, China
(Minghui.org) Officials from the Hanzhong City Court in Shaanxi Province secretly tried four Falun Gong practitioners one day before their scheduled trial date. The trial was held on April 9, 2014, without notifying the practitioners' attorneys or their families. They only found out about the trial a week later, after they received a letter from the practitioners.
The four practitioners defended themselves and pleaded "not guilty." Ms. Du Shuhui had symptoms of epilepsy and had difficulty speaking during the trial.
The four practitioners Ms. Zhang Liping, Ms. Wang Xinlian, Ms. Du Shuhui and Ms. Du Shuming were illegally arrested on September 25 and 26, 2013. Officials from the Hanzhong City Court notified their families that their trial was scheduled for April 10, 2014.
Ms. Du Shuhui Tortured
Ms. Du Shuhui was tortured on an iron chair many times when she was held at the local detention center. Officer Hu Jianjun from the domestic security division tortured her to extract a confession, which caused her to suffer seizures.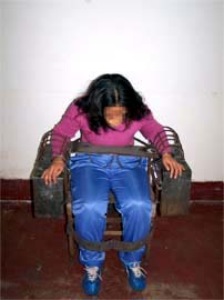 Torture re-enactment: Iron chair
Ms. Du's cholecystitis and gallstones returned, resulting in chest and back pain. She couldn't sleep or take care of herself. During this period, she wasn't allowed any visitors.
Ms. Du was later taken to the Central Hospital for emergency treatment. The doctor said that she needed an operation, so her family and lawyer requested that she be released to receive medical treatment, but to no avail.
Ms. Du's family has continued to request her release on medical parole. They have also appealed to the Mian County Police Department, the Procuratorate, and the court to investigate the crimes committed by officer Hu Jianjun.
Parties Involved in the Persecution:
He Yuning (何玉宁), chief judge of Mian County Court in Hanzhong City: +86-916-3212877, +86-916-3239318, +86-916-3239304Li Mingyue (李明月), presiding judge of the Criminal Court in Mian County: +86-13186307658 (Cell)Quan Yu'an (全玉安), chief procurator of Mian County Procuratorate in Hanzhong City: +86-916-3212718, +86-916-3232000Yang Yi (杨熠), deputy chief procurator of Mian County Procuratorate: +86- 13038465380 (Cell)Ren Yuping (任玉平), director of Hanzhong 610 Office: +86-916-2626511, +86-13309161169 (Cell)
Earlier report:Victims Denied Counsel in Mian County, Shaanxi Province