Practitioners Showcase Falun Gong at Sweden's Largest Mind and Body Expo
April 01, 2014
|
By a Minghui correspondent in Sweden
(Minghui.org) Practitioners in Sweden showcased the mind and body benefits of practicing Falun Gong at Harmony Expo, Sweden's largest well-being event, during March 29 and 30, 2014. The event in Solna, a city north of Stockholm, attracted over 300 exhibitors.
With pictures, posters, and video presentations, practitioners introduced the Falun Gong exercises and principles of Truthfulness-Compassion-Forbearance. Many visitors were interested in the exercises and followed the practitioners' movements during exercise demonstrations.
Upon learning of the brutal persecution against Falun Gong in China, especially live organ harvesting, many attendees signed a petition to support the practitioners. Many were also interested when practitioners showed them how to fold paper lotus flowers, a symbol of peace and purity.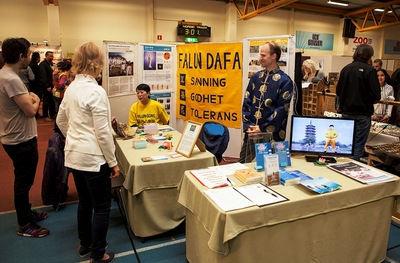 Practitioners' booth at Harmony Expo, Sweden's largest alternative well-being trade show, during March 29 and 30, 2014.
Event attendees read materials and learned about Falun Gong from a practitioner.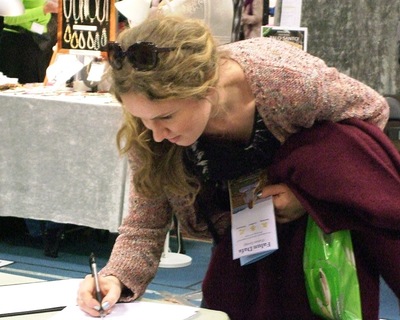 A woman signs a petition to call for an end to the persecution in China.
Lina, a teacher from Skåne, asked a number of questions and was delighted to know about Falun Gong: "Your booth is special. Here I get the feeling of peace and serenity. I will give a seminar soon and will include Falun Gong in my talk."
A former television program host for a US-based science channel and current Swedish reporter was curious about the facts covered up by the Chinese Communist propaganda, especially the staged Tiananmen Square self-immolation in early 2001. He expressed interest in watching the movie Free China: The Courage to Believe to gain more insight into this topic and attend a local practice site to learn the exercises.
Five tourists from Finland were excited to obtain contact information for Finnish practice sites and said that they would try it out upon returning to Finland. They took a copy of all available materials before leaving the booth.
Visitors from other Swedish cities such as Uppsala and Linköping were pleased to find out that practitioners offer free classes, which they planned to attend to learn the exercises.
A Chinese student who used to have a negative impression of Falun Gong due to the communist propaganda stopped by the booth. She shared that she met some practitioners and found out about the persecution after coming to Sweden five years ago. She said that her practitioner friends helped her emerge from depression. She was thankful for Falun Gong.
Tuula, a Western practitioner, has attended the exhibition every year. She was very happy to see more interest from the attendees. "At least 40 people have left their contact information in these two days and wanted to learn the exercises. Many more signed their names calling for the Swedish government to support Falun Gong and end the 15-year-long persecution," she shared.
"They hope that the government could do something to stop the brutality," said Tuula, "because nobody wants innocent people to be harmed."