Court Cancels Associate Professor's Trial on the Morning It Was Scheduled
March 14, 2014
|
By a Minghui correspondent from Sichuan Province, China
(Minghui.org) Early in the morning on March 4, 2014, the Jiangyang District Court announced to Dr. Li Yanjun's family that his trial, scheduled for 9:30 a.m. that day, had been canceled and would be rescheduled.
Family members who had traveled a long way to arrive on time were at a loss, and potential spectators asked why.
According to Dr. Li's defense attorney, the official notice of the trial initially stated 9:30 a.m. on either March 4 or 5, an uncertainty that he had never in his career seen before. He confirmed the March 4 date when the court called on February 28.
Shortly after the announcement, two police cars arrived, and scores of officers ran into the courthouse. Local 610 Office staff members videotaped everyone near the courthouse and brought along community officers to identify practitioners from their areas.
Dr. Li Yanjun and his students
Dr. Li is now having heart problems from being tortured in Luzhou Detention Center, where he is currently detained. His arrest and detention have left his graduate students without an adviser and his research grants were canceled.
Dr. Li Tortured in Xinjin Brainwashing Center
An associate professor at Southwest Petroleum University, Dr. Li Yanjun was taken to Xinjin Brainwashing Center shortly after his arrest on June 26, 2013. His family was able to speak to him there on July 17, 2013, despite the fact that the Jiangyang Police Department had said he was not there.
His family didn't give up and walked along the outside wall of the center, calling his name. Dr. Li answered from the second floor. He told his family that there were three beds in the room where he was detained and two men in their 60s were watching him around the clock.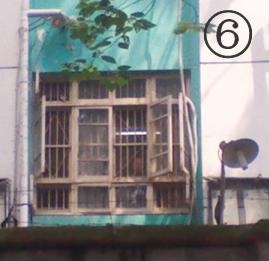 The window on the second floor at the Xinjin Brainwashing Center, from which Dr. Li spoke with his family
Dr. Li was on a business trip to Luzhou City on June 26, 2013, when Jiangyang Police Department officers in Luzhou arrested him for having a copy of a Falun Dafa book and an USB disk with Falun Dafa information. They illegally retained his Nissan SUV.
Officer Du called Dr. Li's wife on the afternoon of July 25, 2013, telling her that Tan Yi from the Xindu Domestic Security Division and Jiang Tao from the University Security Section had processed Dr. Li's case for "house arrest."
When he did not return home, his wife, accompanied by legal counsel, went to the Xindu Domestic Security Division to inquire about his whereabouts on July 26. She finally learned that Dr. Li had been transferred to Xinjin Brainwashing Center.
Dr. Li is the chief editor of the award-winning textbook Oil Reservoir Geology . The university gave him the Outstanding Teacher Award in 2011. He handles scientific research projects at both national and provincial levels.
Related Article in English:
Dr. Li Yanjun Arrested and Taken to Xinjin Brainwashing Center - Police Lied to His Family
Related Articles in Chinese:
http://www.minghui.org/mh/articles/2013/10/1/成都市"法制教育中心"的罪恶内幕-280562.html
http://www.minghui.org/mh/articles/2014/3/3/西南石油大学副教授李延钧面临非法开庭-288308.html