(Minghui.org) A Falun Gong practitioner who worked a professor at a Teaching University for Foreign Languages was arrested by police two years ago, and taken to a forced labor camp to be persecuted. The following is her story, which describes attempts to send her to a forced labor camp seven times.
Arrest of Professor Dr. Zhang Yuhua
Dr. Zhang Yuhua, 50, was a professor and director for the Department of Russian Language at Nanjing Teaching University. The Chinese communist regime started persecuting Falun Gong in July 1999, and Dr. Zhang was fired from her job at the college in 2002. Her qualification as deputy of the Twelfth National People's Congress was also terminated.
Dr. Zhang was arrested on November 16, 2011 at 1:00 p.m., when she was walking near the Yangzhuangbei Village neighborhood in Dachang District, Nanjing City. She was taken to the Xiejiadian Police Station by officer Zhou Guoyi. Zhou forcibly removed her glasses and threw them into the back of his car. Because Dr. Zhang had poor vision, she couldn't see to walk without her glasses.
When they arrived at the police station, Zhou started searching Dr. Zhang's bag. Upon finding nothing of interest in it, he pushed her into the office, and ordered two women who claimed to be from the Street and Residential Committee to take off her clothes. Zhou subsequently ordered two male officers to come to the office and hold Dr. Zhang's arms, while the two women unbuttoned her bra and pants.
Forced Labor Camp Refused to Take in Dr. Zhang
After she had been searched, the officers ordered Dr. Zhang to sit on a stool and wait for further orders. After awhile, one of the officers came in, and without saying a word, started slapping her face. He lifted her from the stool and threw her onto the ground. Ms Zhang was taken to the Detention Center of Nanjing at about 10:00 p.m., where doctors from the local police hospital examined her and discovered that she had high blood pressure and a uterine tumor. However, the police ordered the doctors not to record the truth about her health condition.
A guard at the detention center handed Dr. Zhang a blank document entitled "Re-education Through Labor" on December 16, 2011, and wanted her to sign it (her family was not provided with a copy of this document). Dr. Zhang was taken to the Women's Forced Labor Camp of Jiangsu Province on December 27, 2011, which is also known as the Judong Forced Labor Camp. Officials at the labor camp refused to take her in, because she had hypertension.
Police officer Xiao Ningjian from the Domestic Security Division of Nanjing again took Dr. Zhang to the forced labor camp on January 5, 2012. Labor camp officials rejected her for the same reason (hypertension).
Shen Xiaohua ordered the captain of the Domestic Security Division of Nanjing, Zhou Guoyi, to take Dr. Zhang to the Dachang Hospital on January 7, 2012.
Zhao Junjiang, the captain of the Domestic Security Division of the Yanjiang Police Department, along with Zhou Guoyi, attempted to take Dr. Zhang to a forced labor camp for the third time on January 9, 2012. Officials at that labor camp also refused to accept her due to her hypertension.
Forced Injection and Forced Feeding Before Being Sent to Labor Camp
On the night of January 10, 2012, Zhao Junjiang and Zhou Guoyi ordered Wang Ping and Li Hongwei, doctors at the Dachang Hospital, to force-feed Dr. Zhang with drugs. They tied her hands and legs to a bed, firmly pinched her cheek in order to force her mouth open, and force-fed her. Before being force-fed her, she was injected with an unknown drug, which caused numbness of her tongue, stiffness of her limbs, and convulsions. Shen Xiaohua, the head of the Nanjing Public Security Branch Bureau, oversaw and was in charge of this force-feeding torture session.
Even though Dr. Zhang was in critical condition due to being force-fed, Shen didn't spare her. He continued to give orders to Zhao Junjiang and Zhou Guoyi via the telephone.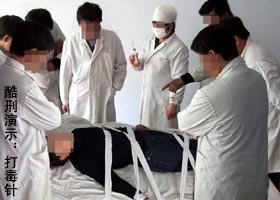 Torture re-enactment: Drug injection
The next morning, officers from the Domestic Security Division again tied Dr. Zhang's hands and legs to the bed and continued to force-feed her with an unknown drug through her nose. Zhou Guoyi firmly pressed Dr. Zhang's head against the bed, inserted the tube through her nose into her stomach, and poured a few tubes of (unknown) drugs into her stomach. The tube remained inserted in her nose even after the force-feeding.
About 30 minutes after the drugs were administered, Dr. Zhang started to feel dizzy, palpitated, was nauseous, and experienced twitching and muscle pain. The twitching was accompanied by bouts of throat spasms and facial muscle tautness. She couldn't open her mouth and had difficulty breathing. Her heartbeat was racing as though she was about to die. Her fingers were stretching uncontrollably and her legs were stiff. Her arm muscles ached and her leg muscles cramped. She experienced excruciating pain and lost consciousness.
Seeing this frightening condition, one of the officers rushed to find a doctor. Li Hongwei, the prison doctor, came in and said that such symptoms were expected. He said he had various treatment options to deal with her condition.
Without knowing how much time had passed, Dr. Zhang regained consciousness, and felt she had just gone through the "gates of hell." Just when she came back to life, with the tube still inserted in her nose and her hands still handcuffed behind her back, she was thrown into a police car and taken away.
Dr. Zhang was taken to a forced labor camp for the fourth time on January 11, 2012. Prison doctor Li Hongwei and two nurses accompanied her in the car. About four miles before arriving at the labor camp, Li and the nurses again force-fed her with a sticky substance. As soon as the sticky substance entered her stomach, Dr. Zhang started to cramp up. Coupled with the violent incubation, the pain was so bad that she felt she would rather die than live.
Within the span of a just a few hours, she was force-fed twice. The driver pulled the car near the main entrance of the labor camp. The prison doctor and nurses checked her blood pressure, to make sure it had achieved the desired effect they wanted, opened her handcuffs, and pulled the tube out of her nose.
Dr. Zhang described to the doctor how she had been force-fed on the way there, and when he heard that the labor camp doctor said to Zhou Guoyi and Zhao Junjiang, "Although her blood pressure is very high and her heartbeat is accelerated, I have no idea what kind of drug you have administered. We can't take her in." Zhou Guoyi ran to the management office and spoke with the supervisor, who finally agreed to keep her. She was observed during the second and third day, and her blood pressure started to rise again. A labor camp official couldn't do anything but phone Zhou Guoyi to take her back. When Dr. Zhang arrived in Nanjing, Zhou took her to the emergency room of the Jiangbei Hospital.
Sent to a Labor Camp Twice in One Day
Zhou Guoyi, Zhao Junjiang, and Li Hongwei (a doctor at the Dachang Hospital) attempted to take Dr. Zhang to the labor camp for the fifth time on January 18, 2012. This time, they took a prison doctor with them. After she was refused, they took her to the labor camp again in the afternoon, for the sixth time. Once again, officials of the labor camp refused to accept her. They had no choice but to take her back to Nanjing.
Dr. Zhang was taken directly to the emergency room of the Jiangbei Hospital in Nanjing. While there, the doctors checked her blood pressure once a day, and sometimes twice and three times a day.
The seventh attempt to take Dr. Zhang to the labor camp was to be on February 1, 2012, but they were forced to abandon this attempt due to her hypertension. After February 5, however, the doctors stopped checking her blood pressure.
Through Bribery, Dr. Zhang Was Sent to a Labor Camp the Seventh Time
On the morning of February 6, 2012, the police packed up Dr. Zhang's luggage as though they were preparing to take her to the labor camp for the seventh time. This time, the police cleaned up the room thoroughly, as if they knew that she wouldn't be returning.
After Chen Haixia, the director of labor camp hospital, finished checking her blood pressure, he took Zhao Junjiang and other police officers to his office, and agreed to accept her. Prior to this incident, a police officer from the Domestic Security Division had taken Chen out for dinner (to bribe him).
While being held in the labor camp, Dr. Zhang's blood pressure didn't come down. Afraid of being held responsible, labor camp officials granted Dr. Zhang outside medical treatment. They notified the Domestic Security Division of Nanjing to come and pick her up, but no one came.
Dr. Zhang was kept in the labor camp with a uterine tumor and life threatening hypertension until her term was over. When she was released from the labor camp, officers from the Domestic Security Division of Nanjing came and took her directly to a brainwashing center for continued persecution.
Summary of Key Persecution Facts:
Name: Zhang Yuhua (张玉华)
Gender: Female
Age: About 53
Address: Nanjing City, Jiangsu Province
Occupation: Director of the Russian-Language Department at Nanjing Teaching University
Date of Most Recent Arrest: November 12, 2011
Most Recent Place of Detention: Nanjing City Detention Center (南京市看守所)
City: Nanjing
Province: Jiangsu
Persecution Suffered: Electric shocks, sleep deprivation, forced labor, brainwashing, illegal sentencing, beatings, hanging by handcuffs, imprisonment, solitary confinement, torture, fired from workplace, home ransacked, detention, denial of restroom use, forced long-term standing, forced injections/drug administration.
Related articles:
Former Department Chair Ms. Zhang Yuhua of Nanjing Normal University Subjected to Forced Labor Again
Ms. Zhang Yuhua Tortured in Forced Labor Camp
Former Russian Language Department Director Zhang Yuhua of Nanjing Normal University Arrested Again
University Professor Relentlessly Persecuted in Forced Labor Camp, Prison and Brainwashing Center