Mr. Zhang Hongwei Taken Away by 610 Office as He Is Released from 13-Year Prison Term (Photo)
February 19, 2014
|
By a Minghui correspondent from Jilin Province, China
(Minghui.org) Falun Gong practitioner Mr. Zhang Hongwei, 45, from Tonghua City, Jilin Province, was released on January 19, 2014, after being held in the Jilin Prison for 13 years. Mr. Zhang's family arrived at 7:30 a.m. to take him home, but they were told by prison officials that the Tonghua City 610 Office took him away not long before they arrived.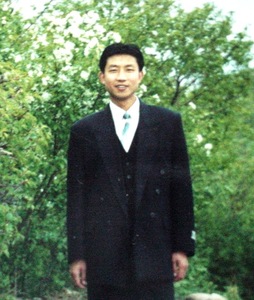 Mr. Zhang Hongwei
Wang Libo, chief of the re-education section of the prison, gave the family the runaround when they asked for his immediate release. Wang told Sun Yanke, chief of the Inspection Section, to call the Tonghua 610 Office for an explanation.
The 610 Office claimed that they had done their best in contacting the family about Mr. Zhang. "We tried to notify his family," one official said. "We did not reach his wife, but we got the consent of his elder sister to pick him up. His sister is now waiting to see him in Tonghua."
The truth is that Mr. Zhang's elder sister had not received any calls from the 610 Office. Instead, she received a call from Mr. Zhang himself at about 6:30 a.m. on January 19. He had anxiously told her that prison guards were about to put him into a police car and take him to Tonghua, despite him having heart trouble. He asked his sister when the family would arrive to take him home.
Mr. Zhang refused to get into the car, but after resisting for 10 minutes, he was taken away. His family arrived only 15-20 minutes after that, according to the prison.
The sudden transfer was carried out by Wang Yuanchun, an officer from the prison's Re-education Section, in cooperation with the Tonghua 610 Office. The officials took him to a brainwashing session, where they attempted to transform him and force him to renounce Falun Gong.
Tortured in Jilin Prison
Mr. Zhang, a former employee of the Tonghua Steel Corporation of Jilin Province, was fired after the Chinese Communist Party (CCP) began its persecution of Falun Gong in July 1999. He was arrested on January 20, 2001, and later sentenced to 13 years in prison.
During his imprisonment, he was tortured in different ways for refusing to renounce Falun Gong. He was put on a "stretching bed," tied to a death bed, burned with hot water, stabbed with needles, and brutally beaten. He was once held in solitary confinement for 29 months and only released when he was in critical condition. While in prison, he also came down with many illnesses including tuberculosis in both lungs (type III), abdominal edema, and pleurisy, for which he was hospitalized in the prison hospital.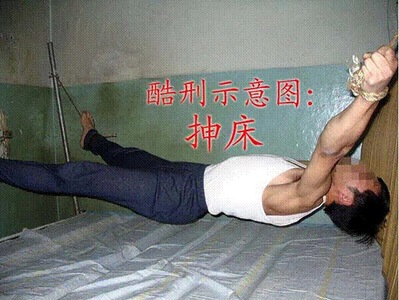 Torture Re-enactment: Suspended in the air above a bed
Upwards of 20 Falun Gong practitioners have died from torture in the Jilin Prison since the onset of the persecution.
Further details about Mr. Zhang available at: Zhang Hongwei Confined Again by Jilin Prison Guards