Teacher and Two Power Plant Workers Tried in Detention Center for Practicing Falun Gong
November 08, 2014
|
By a Minghui correspondent from Inner Mongolia, China
(Minghui.org)
As the first two defendants (both power plant workers) walked into the make-shift courtroom, they looked tired and thin. The third, a former teacher, had to be carried in by two court bailiffs, as she was too weak to walk under her own power.
The teacher's head was wrapped in gauze, and one side of her face was bandaged. She complained about numbness in her hands and asked to have her handcuffs removed several times. The judge refused to allow it.
All three were accused of practicing and spreading information about Falun Gong, a self-cultivation system being persecuted by the Chinese Communist Party. They were arrested together on July 26, 2014, when Ms. Wang Ying (王颖) and Ms. Ding Liyan (丁力砚) went to visit Mr. Zhou Jinpeng (周金鹏) at his newly rented apartment. The police took Mr. Zhou's computer, cell phone, Falun Gong books, and his brand new electric bike worth 4,000 yuan.
The trial took place on October 31 in a conference room at Tongliao City Detention Center. Ms. Wang's lawyer pleaded not guilty on her behalf and argued for the legality of Falun Gong and Ms. Wang' constitutional right to believe in Falun Gong.
Ms. Wang, 40, has been on a hunger strike since her July arrest, and the resulting daily force-feeding, coupled with other torture, left her unable to stand up straight and walk on her own. The detention center guards sometimes pulled her hands behind her back and handcuffed them to a board. They also kept her feet shackled to further restrain her. That meant she had to remain in a sitting position and could not down to sleep.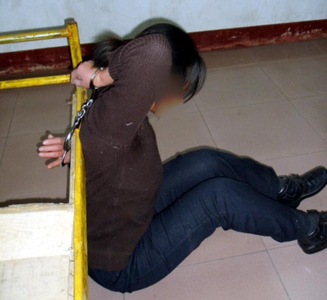 Torture re-enactment: Hands pulled back and restrained
Prior to her most recent arrest, Ms. Wang was arrested a total of seven times and served three years in a forced labor camp. She also lost her job as a teacher at Tongliao Experimental Elementary School and saw her home ransacked multiple times. During each detention, she was subjected to various kinds of physical and mental abuse.
Both Mr. Zhou and Ms. Ding worked for Tongliao Power Plant, but they were fired for practicing Falun Gong. Mr. Zhou was detained twice in Hexi Detention Center in Tongliao for a total of 11 months. After the second detention, he was sentenced to seven years and transferred to Chifeng Prison on June 9, 2005. He wasn't released until September 2, 2011. To avoid further arrest, he left home and moved often for about three years.
Ms. Ding was arrested multiple times before this most recent July arrest. She almost died as a result of force-feeding while detained in Hexi Detention Center in 2002. She still walks with a limp as a result of torture-induced injuries.
Ke District Court, Tongliao, Inner Mongolia:Judge Li Hailiang(李海亮) +86-475-8237734Court clerk Li Lili (刘丽丽)