Indonesians Support Falun Gong Activities
November 29, 2014
|
By a Minghui correspondent in Indonesia
(Minghui.org) Falun Gong practitioners from Indonesia and other southeast Asian countries held a rally in front of the Chinese Embassy in Jakarta and did the exercises across the street from the Bundaran Hotel on November 22, 2014, just before the 2014 Indonesian Falun Dafa Experience Sharing Conference.
They protested the Chinese Communist Party's (CCP) persecution of Falun Gong that has now lasted for 15 years and demanded that it end immediately. Their activities received great public support and attention.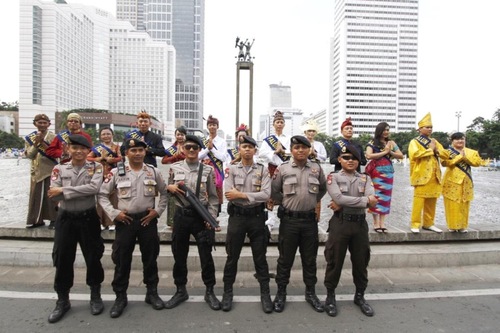 Police officers have their photos taken with practitioners in traditional Indonesian dress.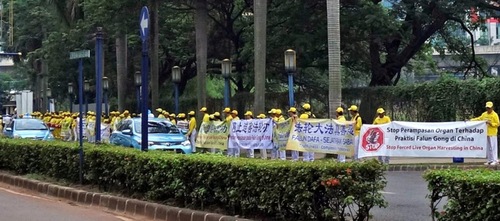 Practitioners' rally in downtown Jakarta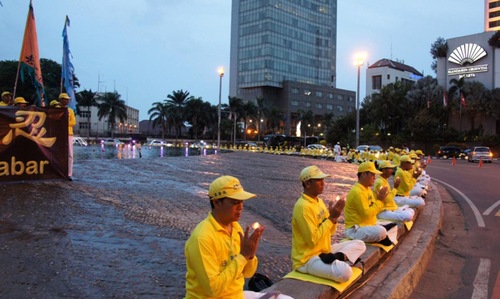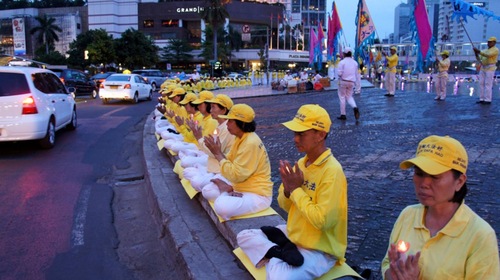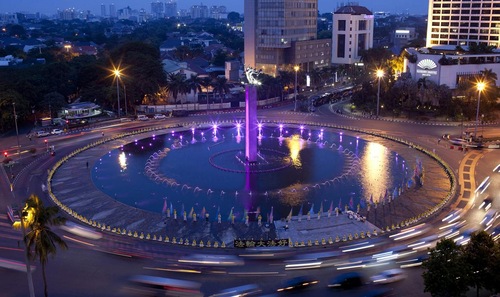 Practitioners' rally across the street from Bundaran Hotel in Jakarta
Protest in Front of the Chinese Embassy
More than 400 Falun Gong practitioners from Indonesia, Singapore, Malaysia, and other countries gathered in front of the Chinese Embassy on the afternoon of November 22 to protest the CCP persecution of Falun Gong. Their banners read: "Falun Dafa Is Good," "Stop Persecuting Falun Gong," and "Stop Organ Harvesting from Living Falun Gong Practitioners," in Chinese, English, and Indonesian.
The Divine Land Marching Band, composed of close to 100 practitioners, performed. A waist-drum troupe of dozens of practitioners gave a drum and dance performance. Spectators took pictures of the rally and performance, asked for information about Falun Gong, and were handed beautiful paper lotus flowers by practitioners.
Doing the Exercises Together
Practitioners gathered to do the exercises together at the busiest spot in Jakarta, the fountain across from the Bundaran Hotel, where thousands of cars pass by every day.
Under huge banners that read "Falun Dafa Is Good" and "The World Needs Truthfulness Compassion Forbearance," practitioners did the exercises to the tranquil music. Drivers slowed down and stopped to get informational flyers and gave practitioners their "thumbs-up" to show their support.
Indonesian MP Tantowi Yahya approached practitioners twice for information. One practitioner told him how her heart disease disappeared after practicing Falun Gong. Mr. Yahya was amazed and gave practitioners a thumbs-up. He also took several brochures.
One man stopped his car and rolled down his window to talk to the practitioners. He said he was from Shanghai and was greatly moved by the spectacular Falun Gong activities. He and his friends were pleased with the introductory materials practitioners handed them.
After sunset, practitioners held a candlelight vigil in remembrance of the victims of the persecution in China.