Canada: Dafa Practitioners Participate in Winnipeg Santa Claus Parade (Photos)
November 24, 2014
|
By a practitioner in Canada
(Minghui.org) Falun Dafa practitioners brought a special Eastern flavor to Winnipeg's annual Santa Claus parade on November 15. Spectators showed their appreciation for the beautifully decorated Falun Dafa float, cheering and waving as the Dafa procession marched past. Some people even bowed and pressed their palms together in front of their chest in the traditional Chinese manner.
The annual Winnipeg Santa Claus Parade is the city's largest parade and has a 105-year history. The parade draws about 60,000 people to downtown Winnipeg every holiday season. This year, Falun Dafa practitioners joined more than 100 other decorated floats in the evening parade, which stepped off at dusk.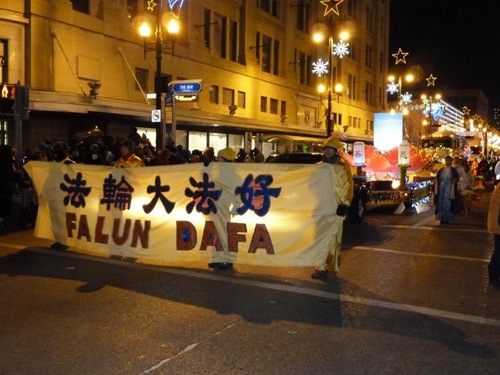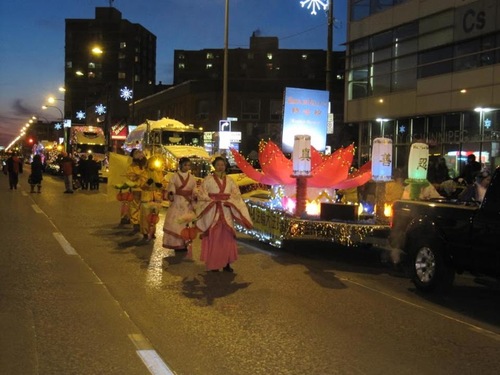 Falun Dafa practitioners participated in the annual Winnipeg Santa Claus Parade.
The Dafa Association float had a model of the book Zhuan Falun and three large lanterns emblazoned with the Chinese characters "Zhen, Shan, Ren" (Truthfulness, Compassion and Forbearance). Surrounding the float were beautiful lotus flower blossoms and blue and white clouds.
The temperature was at least ten degrees lower than it was at last year's parade, but the cold did not dampen the spectators' festive spirit. Many families came to downtown Winnipeg a few hours before the parade, bringing camp chairs, blankets and hot chocolate.
As the Falun Dafa float went by, many spectators called out, "Beautiful!"