National Taiwan University: Falun Gong Group Highlighted at 86th Anniversary Celebration
November 21, 2014
|
By Liu Wenxin, a Minghui correspondent in Taipei, Taiwan
(Minghui.org) National Taiwan University, one of the most prestigious universities in Taiwan, held its 86th anniversary celebration on November 16, 2014. Falun Gong practitioners made their mark at the celebration. The Divine Land Marching Band performed, as did fairy dancers, and there was a Falun Gong exercise demonstration. Many students and faculty members said they enjoyed these performances very much. Many people stopped at the booth asking for more information about Falun Gong.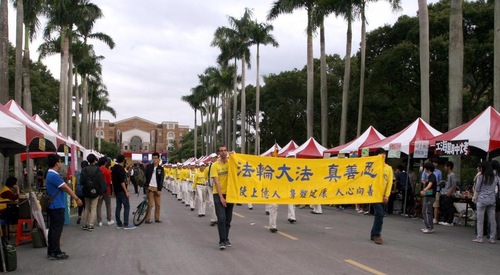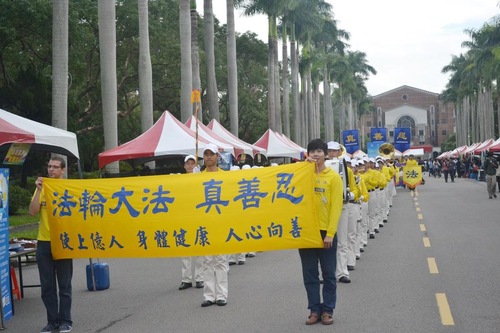 Divine Land Marching Band performs
One of the event hosts said he was very impressed by the Divine Land Marching Band's performance last year, "That's why we were happy to invite them again this year." Dressed in yellow t-shirts with the words "Falun Dafa is Good," the band members received warm applause from the spectators. During the two marches, one at 10:00 a.m. and one at 3:00 p.m., many people applauded the great performance and accepted materials to read about the band as well as Falun Gong. Many people took pictures.
"We Benefited A Lot from This Practice, and We Would Like to Recommend It to More People"
Many professors, staff members, and students at the National Taiwan University have become Falun Gong practitioners in recent years. Through solid cultivation, they improved their moral character, giving people a good impression of Falun Gong. After a Falun Gong club was established at the university several years ago, practitioners held seminars and events regularly to introduce the practice to more people.
Shen Caibei, a student in the college of medicine, came to help at the Falun Gong booth during the celebration, "We have benefited a lot from this practice, and we would like to recommend it to more people."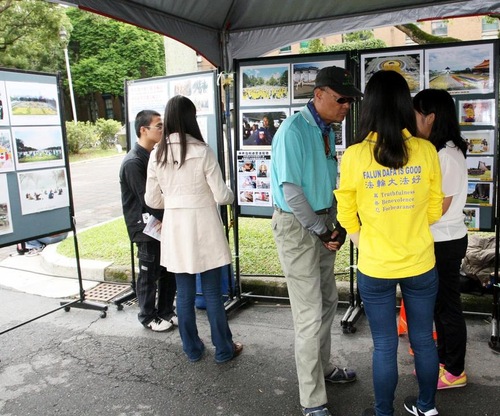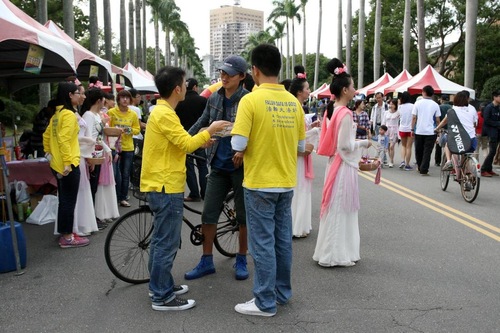 Many students, faculty and staff members, and parents stopped at the booth for more information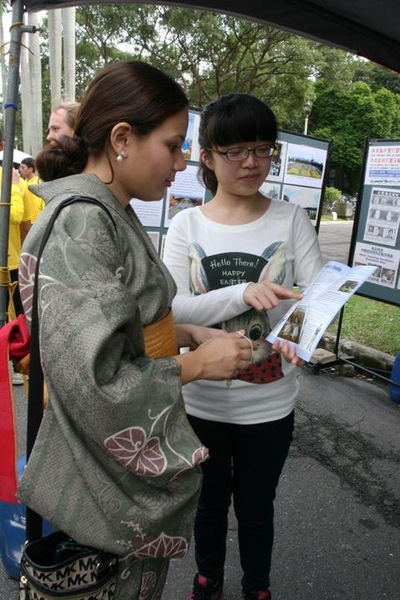 A Western student asks about Falun Gong
After watching the exercise demonstration, many people expressed interest in the practice, and asked how to get started. Among them was a sophomore named Gao, who was excited to learn that Falun Gong was practiced in over 100 nations, "From the poster, I saw people practicing in China, Taiwan, the United States, Canada, and many more countries. It must be very good."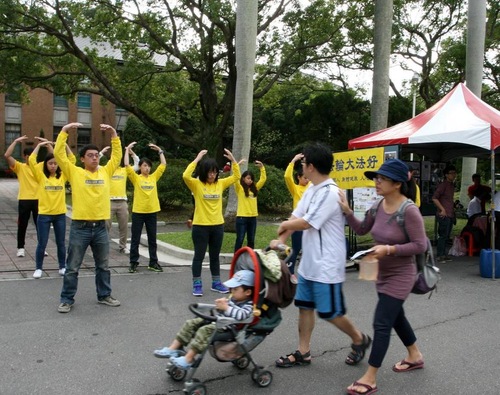 Exercise demonstration draws the attention of passersby.
The Power of Truthfulness-Compassion-Forbearance
"We were drawn to Falun Gong because it emphasizes the improvement of one's moral character, guiding people to change for the better," explained Lin Xuanyu, an alumnus of the university's graduate school.
Lin experienced a big change from practicing. "After practicing Falun Gong my mentality changed. Rather than showing off or pursuing something, I now try to be a better person by following the principles of Truthfulness-Compassion-Forbearance. With this guidance in my life, things have become smoother for me."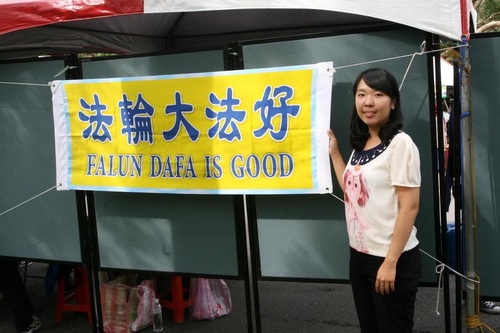 Lin Xuanyu, an alumnus of the university's graduate school, says she always tries to be a better person by following Falun Gong's principles
The Falun Gong books have made a profound impact on her, "The books are very profound and enlightening. I learned so much from them."
Fang Qiyuan, an English language student from Fu Jen Catholic University, started practicing Falun Gong with her mother when she was three years old. "Teenage rebellion is a common problem for many kids and their parents. Luckily, as a Falun Gong practitioner, I was able to calm down and have good conversations with my family and friends." By looking within, she discovered that she had a strong ego and was arrogant, but was able to improve upon these points after practicing.
"Young people nowadays can have many bad habits or wrong perceptions, such as relations between a man and a woman. For me, I am clear what is appropriate and what is not. Following the trend and drifting downward is not something we practitioners should do."