(Minghui.org) Just like his predecessors, who always encountered Falun Gong protestors in their oversea trips, Xi Jinping, head of the Chinese Communist Party (CCP), saw Falun Gong practitioners calling for justice when he visited Canberra, Australia on November 16, 2014, and Auckland, New Zealand on November 19.
Following events at the G20 Summit at Brisbane that raised awareness of the persecution against Falun Gong in China, practitioners from Australian and New Zealand continued activities asking that the murderers be brought to justice. When Xi, the head of the CCP, and other delegate members arrived at the Hyatt Hotel in Canberra and Skycity Hotel in Auckland, practitioners displayed banners reading "Falun Dafa Is Good," "Bring Key Perpetrators (Jiang Zemin) to Justice," and "Stop Organ Harvesting from Falun Gong Practitioners."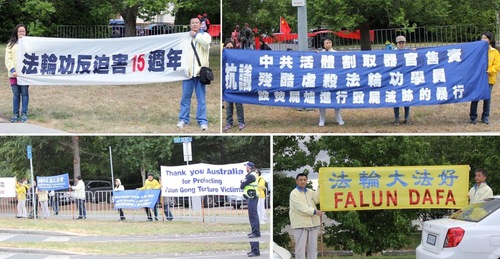 Practitioners hold banners outside Hyatt Hotel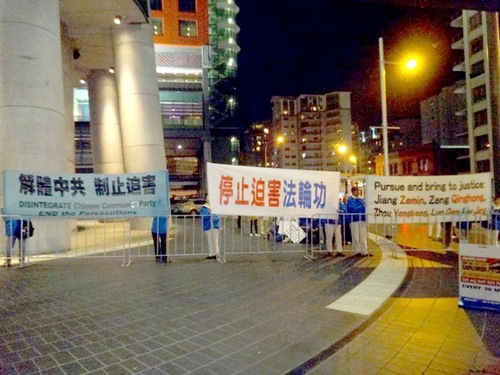 Protest outside of Skycity Hotel in Auckland, New Zealand
Although Chinese Consulate officers tried many times to organize students to block the Falun Gong banners, their efforts were stopped by police. After learning what had happened, many passersby expressed support for the practitioners, and hope that the persecution would end soon.
Police Stop Interference from Pro-communist Chinese Students
After hearing that practitioners had banners outside the Hyatt hotel, the Chinese consulate in Canberra organized about 200 students to try to put up banners and flags. Forcibly standing between Falun Gong banners and the barricades, these students blocked Falun Gong banners with their physical bodies and flags. As a result, the practitioners had to move their banners to the side.
Several police officers came in the afternoon, and told students not to tie their flags together to block the Falun Gong banners. Some students refused to listen. One police officer untied their flags and put them aside, making Falun Gong banners completely visible from the street.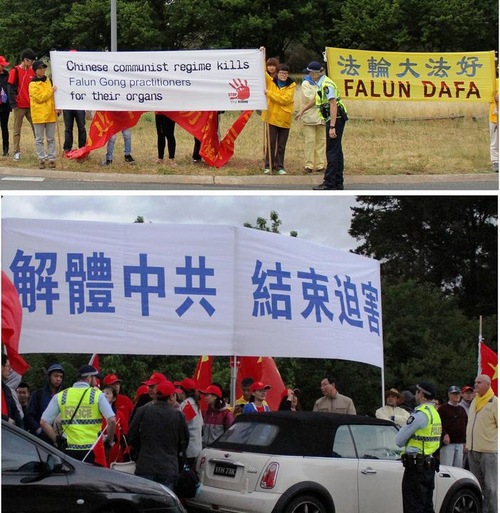 Police officers stop pro-communist Chinese students from interfering with practitioners' banners.
As Xi's motorcade approached the Hyatt Hotel at 9:30 p.m., one police officer stood behind the barricades, between the practitioners and students. A few Chinese students intentionally pushed practitioners as the motorcade was passing by, and dragged away Falun Gong banners. The officer stopped them. When three students attempted to block Falun Gong banners with their flags, the officer took away the flags and discarded them on the grass.
This way, a banner with the words of "Stop Persecuting Falun Gong," in both Chinese and English, was displayed right in front of the hotel entrance.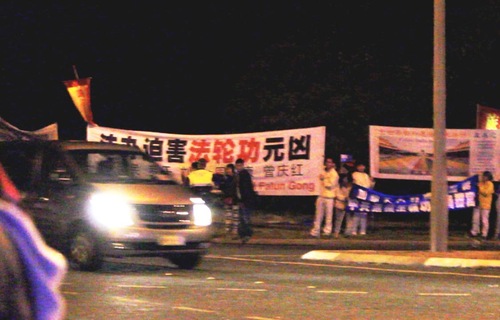 Xi's motorcade passes banners held by practitioners.
Practitioners were holding several highly visible banners near another hotel entrance. A few students arrived there in the early afternoon and tried to block the practitioners' banners with a longer banner. A practitioner peacefully explained to them the facts about Falun Gong, but the interference continued. Two patrol officers came by, asked what happened, and ordered the students to back off, but the students ignored them. One policewoman took the students' banner and put it aside. The students left after a while.
Practitioners also had a large banner nearby with the words of "Disintegrate the CCP, End Persecution." Instructed by Chinese consulate officials, some students with high-volume speakers tried to stand in front of the banner. Two police officers came up and stopped them. They did not walk away until the students left.
Similar interference was condemned in Auckland. Ms. Wang, a local practitioner, was walking home after the protest, when a car with two Chinese students drove by and stopped in front of her, blocking her way outside the Skycity Hotel. Ms. Wang tried to get around behind the car, and the Chinese driver suddenly backed the car at a high speed, almost knocking down Ms. Wang.
A hotel security guard witnessed this. He yelled at the driver, and stopped him. The guard then angrily condemned the Chinese students.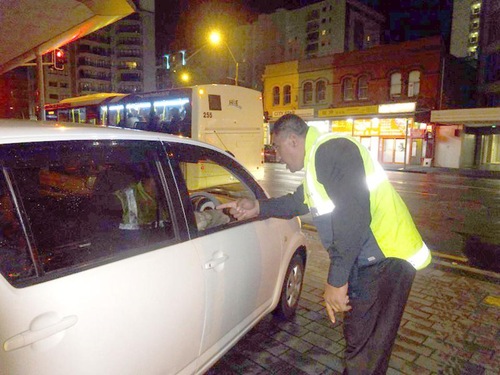 A security guard condemns the Chinese driver outside the Skycity Hotel.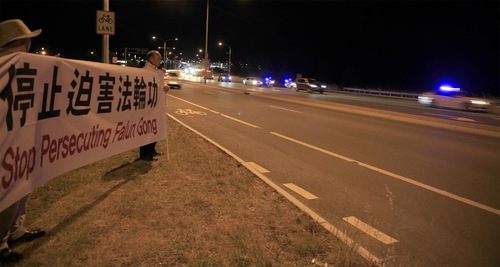 Practitioners hold banners near the airport.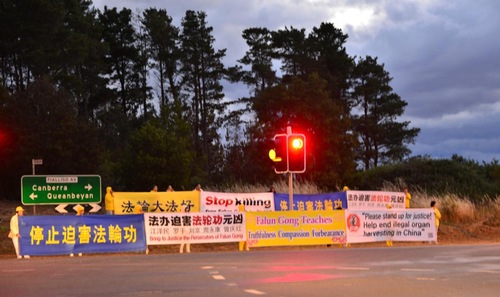 Practitioners hold banners on the way to the hotel.
Support from Residents
Bryce Miller, a local Canberrian, saw practitioners' banners outside the Hyatt Hotel, and stopped to find out more. He had lived in Shanghai for a few years and knew the current situation in China. "Keep up the good work! My heart is on your side. I hope the suppression will come to an end soon," he said to a Minghui correspondent.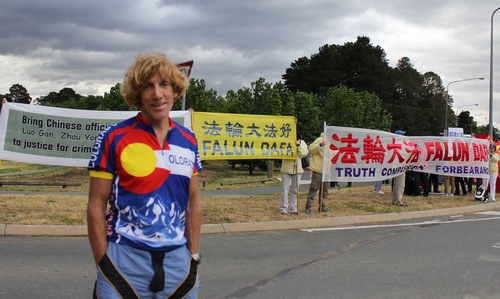 Bryce Miller
Lisa Crossley, a landscape architect who was walking by with a camera, talked with a young woman practitioner from Melbourne, and said she was lucky to live in Australia. "Here we often take human rights for granted and do not think much about it. Now seeing what you have been through, I realize how precious these basic rights are."
Pointing to the Australian flag on the top of the Parliament House nearby, she said that she didn't like the design initially. "But then I had a chance to learn the story behind the design. That is, it is people who represent the nation, and government actually works for the people. I accepted that idea and began to like the design."
Crossley said she was still a high school student when the Tiananmen Square massacre occurred in 1989. "Back then I could not understand why things like that would happen—because here we have never understood what life would be like without basic human rights." She understood things now and said to the practitioner, "Please continue your efforts and I support you. I hope the suppression will be over soon and you can reunite with your family in China."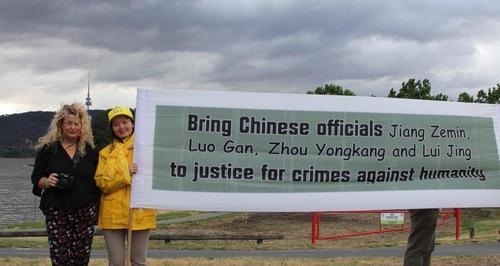 Lisa Crossley, a landscape architect, talked with a practitioner and said she supported Falun Gong.
In Auckland, practitioners also received strong support. A group of police officers talked to the practitioners for a long time, and learned the facts of the persecution in China. The officers said to Wendy, a practitioner, that their activity was meaningful, and that many people had seen their banners, accepted flyers, and heard their voice.
The police officers asked Wendy for her card, and told her that they would appeal to their supervisor for Falun Gong, so that practitioners will get a better spot for their activity next time.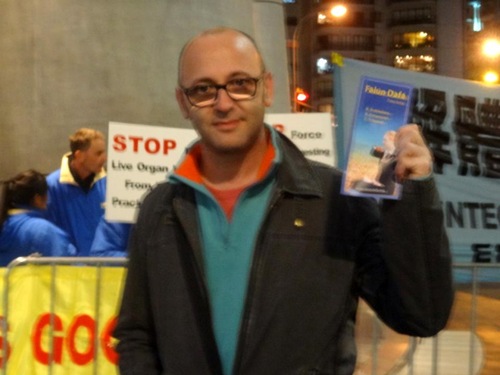 Eduard, a student from Barcelona studying in Auckland
Eduard was shocked by the facts about the persecution that he learned outside the Skycity Hotel. "It is so evil and brutal. I support you, and wish you success," he said to practitioners. He wanted to learn more about Falun Gong.
Related article in Chinese language:
http://www.minghui.org/mh/articles/2014/11/20/新西兰法轮功学员要求法办迫害元凶-300537.html