Missouri: Raising Awareness About Falun Gong at Several Fall Events (Video)
October 05, 2014
|
By a practitioner in Missouri
(Minghui.org) Practitioners in Missouri participated in community events every weekend in September. Fall in Missouri is a great time for outdoor activities. Various community events including art, education, food, recreation or diverse culture are held in many cities. Many local residents participate in such events.
Video: Raising awareness about Falun Gong at community events in Missouri
Clayton Art Fair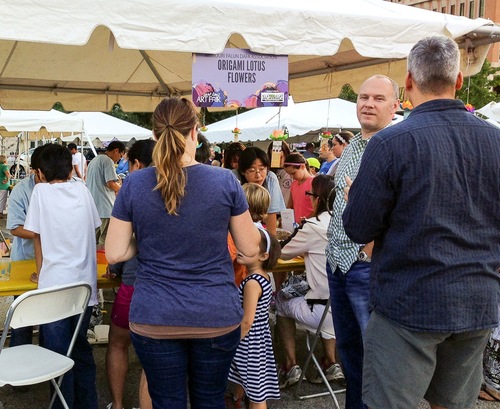 Crowds of visitors in front of Falun Gong booth at Clayton Art Fair.
The annual Clayton Art Fair was held from September 5 to 7. It was a big event for local art community. Falun Gong practitioners has participated in this event for the past few consecutive years. They introduced Falun Gong and taught people how to fold paper lotus flowers. Many visitors came to Falun Gong booth this year. Many condemned the persecution faced by innocent practitioners in China.
Green Tree Festival in Kirkwood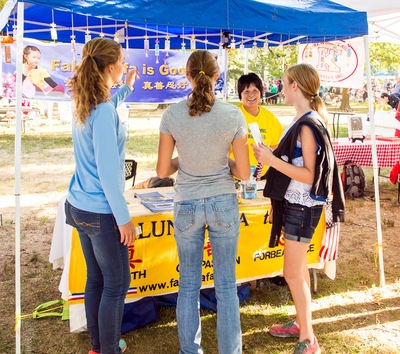 Introducing Falun Gong at the Green Tree Festival in Kirkwood
Practitioners participated in Green Tree Festival in Kirkwood from September 12 to 14. Many local people have seen Falun Gong at local parades and festivals over the past years. This year many people signed the petition against organ harvesting atrocities in China.
The practitioners also participated in the U City Fair at University City on September 13. Many Chinese people were in attendance. A couple from Henan Province passed by the Falun Gong stand at the beginning of the event. They said they knew about the persecution of Falun Gong in China. They withdrew their membership from the CCP and its affiliated organizations with their true names after talking with the practitioners.
Celebrate St. Peters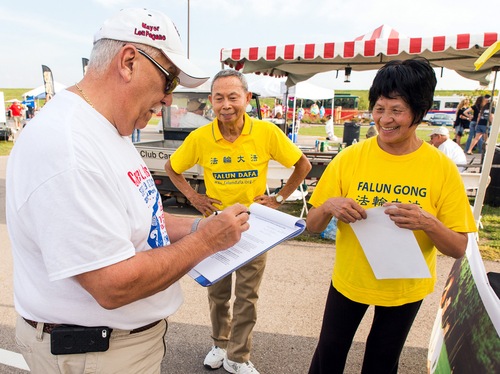 The Mayor of St. Peters signs the petition condemning the CCP's live organ harvesting in Celebrate St. Peters.
Celebrate St. Peters was held in the St. Peters, Missouri, on September 19 and 20. The Mayor said he was happy to meet with Falun Gong practitioners like seeing old friends when he visited Falun Gong stand. He signed the petition condemning the CCP's live organ harvesting and had a group photo with the practitioners on site. Many people signed the petition and got the information about learning the practice.
Augusta Harvest Festival
Augusta Harvest Festival was held in Augusta on September 20. The city is located about one hour drive from St. Louis. Local people were pleased to meet with the practitioners. One lady came said, "I came last year and was interested in Falun Gong. I went to a practice site to learn Falun Gong a week after the event even though it was an hour's drive away."
Many people became to know more about Falun Gong and persecution it faces in China through these community events, and practitioners will continue to attend more in the future.