(Minghui.org) Falun Gong practitioners traveled 130 kilometers (about 80 miles) from the Toronto area to help local people celebrate the annual Niagara Wine Festival Parade in St. Catharines, Ontario.
Host Glen Kotyk announced, "Let's welcome the Divine Land Marching Band from Toronto. They always bring us a great performance and have made a huge contribution to our community" as the band passed the stage. The host continued, "The band was founded in 2006 and now consists of more than 160 members. All are Falun Gong practitioners, ranging from 10 to 66 years of age."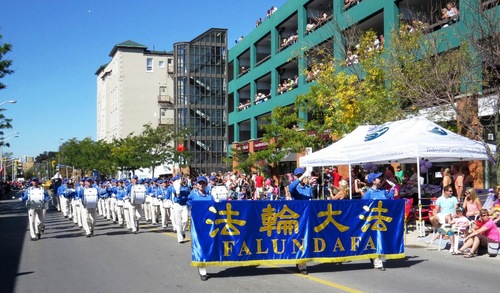 Falun Gong participates in the Niagara Wine Festival Parade on September 27, 2014
Applauded by Event Attendees
The host then announced the Waist Drum Group—also comprised of Falun Gong practitioners—for their bright color and synchronized walking pace. Both bands drew waves of applause from the parade attendees.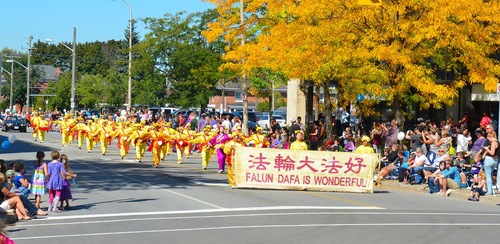 Waist Drum performance
Among them were Cathy and her friend Iggy. "Fantastic! This is amazing! I love them!" Cathy could not stop expressing her excitement over the performance. Iggy felt the same way, "It's awesome! I saw this marching band every year and I really like it. The music is so wonderful."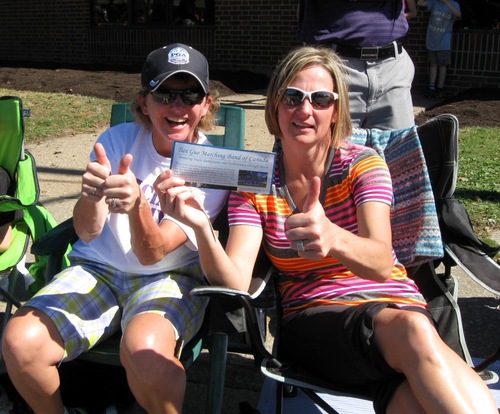 Cathy (left) and Iggy (right) enjoyed the parade
More than 200,000 people usually line the streets to watch the parade each year. Many more see it on TV. Known as one of the largest parades in Canada, it consists of floats, marching bands, brass bands, go-karts, and more.
Dan Gray, who came watching the parade together with his daughter and grandson, was excited, "We are very happy today. The music is really energizing and the marching band looks gorgeous. I haven't touched my guitar for a long time; now I want to take it out and play it again. Thank you very much for coming."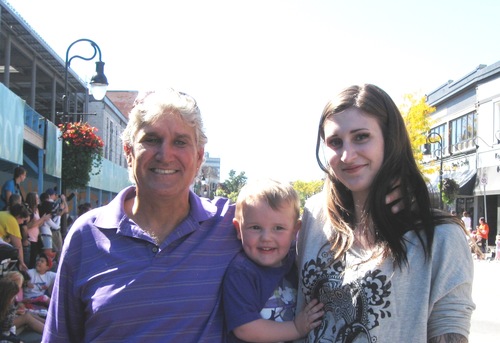 Dan Gray watches the parade with his daughter and grandson
Chinese Learned More about Falun Gong
Another Chinese group, all dressed in Chinese ethnic costumes, also joined the parade. Two members of the group came up and chatted with practitioner Ms. Li. After Ms. Li explained to them the bad deeds the Chinese Communist Party (CCP) has committed and that one would gain a better future by separating from the organization.
She said to one of the ladies, "We are all volunteers. We come just hoping to help you learn the truth about Falun Gong." Touched by her sincerity, the lady's eyes moistened. She nodded to Ms. Li and thanked her. Both ladies decided to quit the CCP.
Quite a few more Chinese people also quit the Party and its affilitates after talking with practitioners. Two students who just arrived in Canada a month prior said, "We did not know there are so many Falun Gong practitioners outside China." They took a lots of pictures to send back home.
Mao, a mother of two, came watching the parade with her two children. "I moved from Chengdu, Sichuan Province, to Canada several years ago. I am so happy to see such a big Chinese group in the parade." She was very excited and took lots of pictures and videos.
Ms. Li said she often goes to tourist sites in Toronto every weekend to talk to Chinese tourists about Falun Gong. "It is a great environment here today," she said, "Many Chinese woke up from the influence of CCP's propaganda and made good decisions for their future."