Practitioners' Parade Performance Spreads Health and Joy in Malaysia (Photos)
October 04, 2014
|
By a Falun Gong practitioner in Malaysia
(Minghui.org) The "Journey of Peace" Parade marking the International Day of Peace was held in Taiping in Perak State, Malaysia on September 21, 2014. The celebration is fitting because the name Taiping means the City of Peace.
Falun Gong practitioners participated in the parade with a large lineup featuring the Divine Land Marching Band, the Lantern Team, graceful "celestial maiden" dancers, practitioners demonstrating Falun Gong exercises, energetic dragon dancers, and joyous waist drummers.
They were warmly received by local residents and awarded a Certificate of Appreciation by Michelle Gyles-McDonnough, United Nations Resident Coordinator for Malaysia.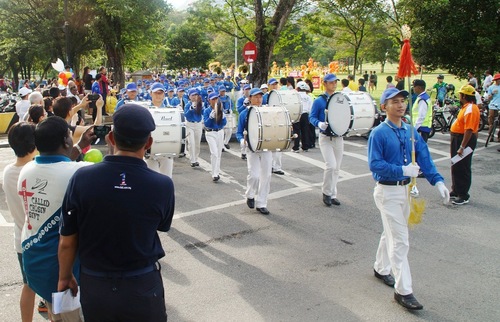 The Divine Land Marching Band leads the Falun Gong contingent in the Journey of Peace Parade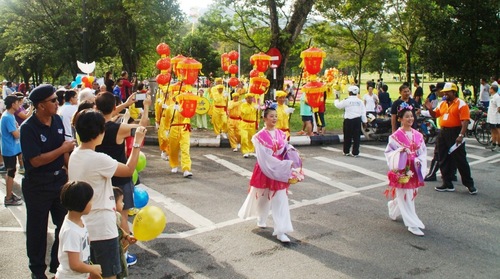 Lantern Team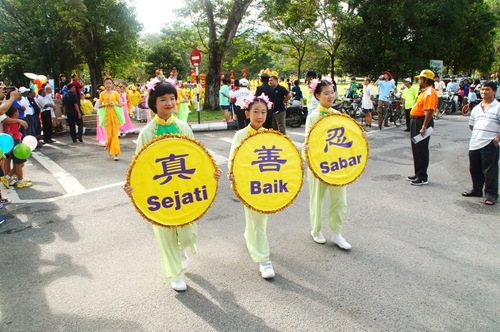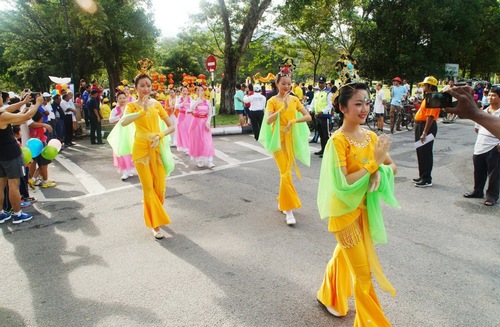 Graceful "celestial maiden" dancers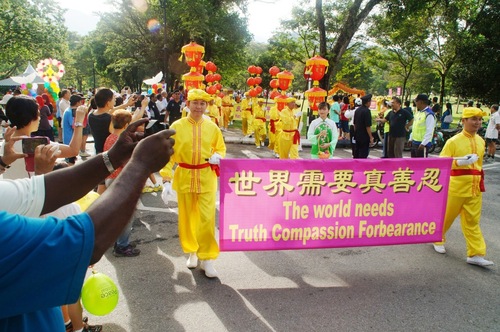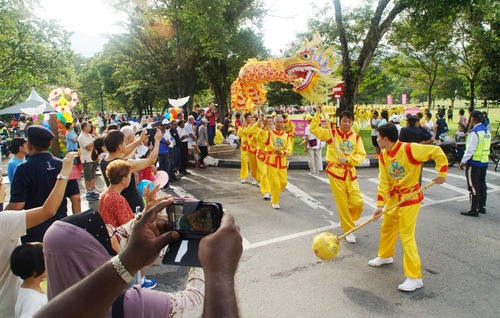 Dragon Dance Team performs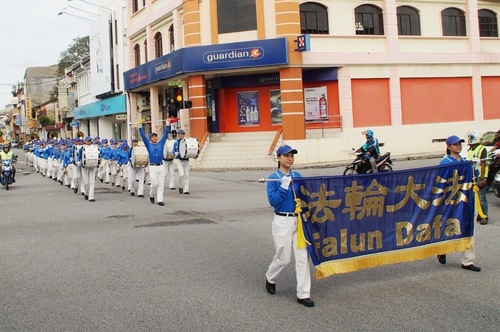 The Divine Land Marching Band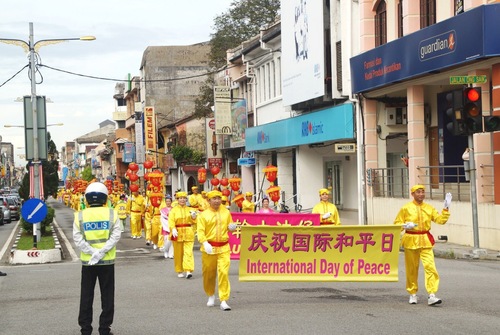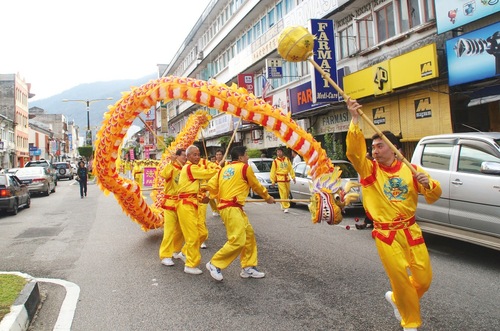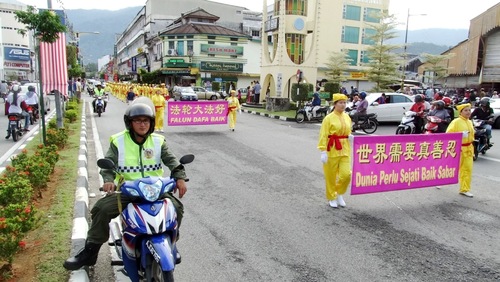 Practitioners paraded through the entire town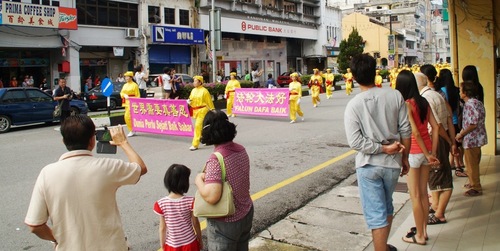 Local residents took photos of practitioners in the parade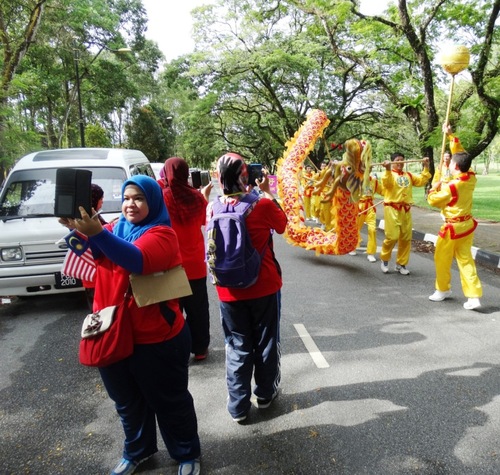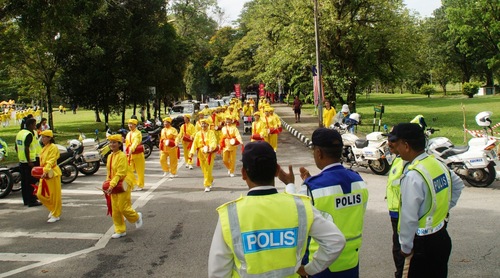 Police officers applaud as practitioners pass by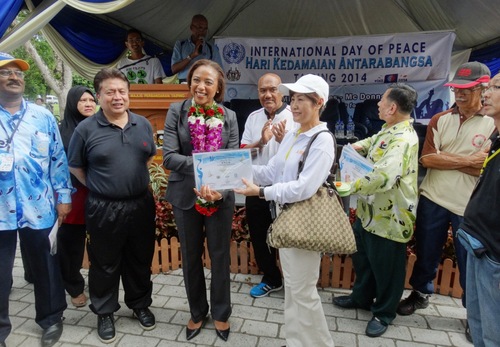 Falun Gong representative accepts a Certificate of Appreciation from the UN Resident Coordinator for Malaysia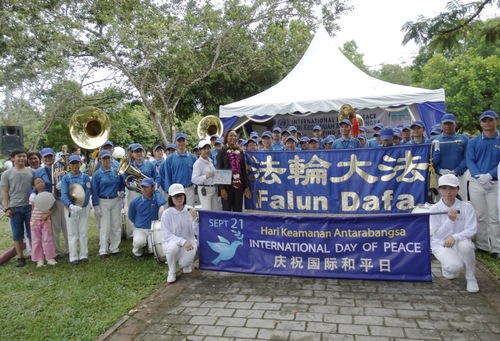 The UN Resident Coordinator for Malaysia (middle) has her photo taken with Members of the Divine Land Marching Band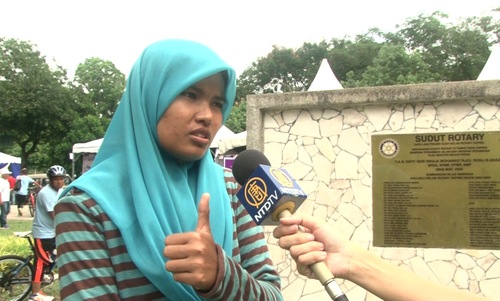 "Falun Dafa is the best!" exclaimed spectator Ain Halummi
More than 30 groups participated in the parade organized by Partners for Peace Malaysia, including the local government, schools, non-governmental organizations from across the country, and other social groups.
Master of Ceremonies: Falun Dafa is Great!
"Falun Dafa [also known as Falun Gong] is great! Falun Dafa is today's largest entry, composed of more than a hundred people, including the young and the old, and their costumes are beautiful and rich in color," praised the Master of Ceremonies.
A volunteer for a local charitable organization especially thanked practitioners for their participation and support. "It's amazing! You brought the entire event an enormous joy, and I'm so glad to see you here! We are grateful for your support," he remarked.
"Thank You for Spreading Health and Joy in Malaysia"
Ain Halummi, a 26-year-old student at the Geomatic Science Department at a Malaysian university was deeply impressed by the practitioners' high spirits and joy.
"Everyone in this entry was cheerful and friendly. They looked so happy all throughout the several miles' parade route," she said.
"Falun Dafa is the best! I'll share my experience with my friends and the Malay people," she exclaimed.
Ms. Halummi said that she had come out to buy some medicine because she felt sick. But "seeing this group of people in high spirits, especially their waist drummers who were the most energetic and joyful, my illness disappeared. I seemed to be in a fairy tale," she said.
She had a photo taken with the waist drummers and thanked them, "Your joy and smiles touched me, and I've become happy, too. I don't need to buy that medicine anymore. You're terrific! Thank you!"
Practitioners gave her some informational materials describing the persecution of Falun Gong in China. Shortly after parting, Ms. Halummi sent a text message to a practitioner and said she was reading the materials and has learned about the Chinese Communist Party's (CCP) brutality.
She told practitioners,"I hope you can seize the opportunity to spread the news to more students. Whoever refuses to extend help or opposes the signature collection effort to end the CCP's state-sanctioned forced organ harvesting crime, this person must be just as cruel as the CCP. I hope Falun Gong practitioners will be protected in China."
Head Nurse: "Stop Killing Innocent People"
Meheswarikasi is a head nurse with 25 years of experience in Hospital Taiping, the second largest in the state. The hospital participated in the event to promote their organ donation project, and she was one of those in charge of the organ donation activities.
She was sad when she learned that the CCP is systematically harvesting organs from living Falun Gong practitioners and selling them to wealthy patients for profit. She said she knew that some patients had been to China for organ transplants and promised to advise patients not to do so.
Ms. Meheswarikasi said that she will continue her efforts to promote organ donation in Malaysia so that patients won't need to go abroad to receive organs from unknown sources and risk being an "accomplice to murder."