(Minghui.org) "He was free when he was bad, but arrested and jailed when he turned good. How could this happen? What kind of a country is this, where the good are punished and the bad are free to go?" lamented the 80-year-old mother about her son, Mr. Bai Jingzhi, who was in prison. Firmly believing in his innocence, she waited four years for his release, only to learn that he had died five months earlier.
Mr. Bai died in Gongzhuling Prison in late May 2014, four years after he was sentenced to eight years for practicing Falun Gong. His family was not told of his death until five months later. Details about his death are yet to be known.
Torture Intensified
Mr. Bai was taken to Gongzhuling Prison in late 2010. He was forced to attend brainwashing sessions on a daily basis, where he had to sit on an undersized stool for long hours.
It is known that his health deteriorated. Noticing his feeble condition, guard Li Wei had him transferred to a hospital in case he died, but he was taken back to the prison the same day by an inmate in charge of hospitalized prisoners, according to Chen Junyi, an inmate assigned to monitor him. Chen suggested that Li should transfer Mr. Bai to another section as soon as possible, because his condition could worsen. He was transferred to the recovery section, where he was again tortured.
From May to August 2012, 16 determined practitioners, including Mr. Bai, were subjected to intense torture for refusing to sign the "five statements" (similar to the three statements) to renounce Falun Gong. They were taken to the second floor of the "re-education" building.
They were hung up, beaten, shocked with electrical batons, and deprived of sleep. They were confined in four-meter-square cages and forced to sit on iron bars for a long time, resulting in excruciating pain. They were beaten and shocked with five electric batons simultaneously.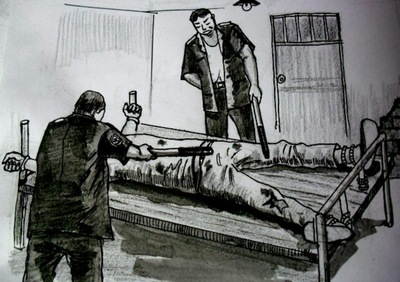 Torture illustration: Shocked with electric batons
Niu Guoshen, the prison warden; Liu Xiangwu, chief of the reformation section; Li Wanjiang, chief of the re-education section; Shen Xuebin, deputy chief of the re-education section; guards Lu Chuanbao, Li Jingyang, and Wang; and five inmates carried out the torture. Niu and Liu offered a 3,000yuan-reward for "transforming" a practitioner.
Arrested and Sentenced
Mr. Bai was previously sentenced to three years of forced labor at Jilin Forced Labor Camp, not long after the persecution of Falun Gong began in July 1999. He was tortured and his right ribs were broken, but he refused to renounce Falun Gong.
Mr. Bai's was again arrested on January 11, 2010, for distributing Falun Gong informational materials. He was held in the Huadian Detention Center. When his mother, certain of his innocence, went daily to those in charge of his case to ask for him to be released, she was mistreated.
Mr. Bai's family hired a lawyer, but officers from the Huadian Domestic Security Group accosted him. The police fabricated false evidence against Mr. Bai by placing Falun Gong materials at the door of a Toudaogou villager and filming it, claiming they had been placed there by Mr. Bai.
Without the presence of the defendants' lawyers or their families, Mr. Bai and three other Falun Gong practitioners were tried secretly in the Huadian court on May 25 and 26, 2010, on orders from the Burundian and Jilin 610 Office. Mr. Bai was sentenced to an eight-year prison term. His younger sister learned about the trial on May 25.
Mr. Bai's two younger sisters went to the courthouse on the 25th, but guards from the local Domestic Group and 610 Office stopped them outside the building. Unable to answer their inquiries, the guards called about 20 police officers who arrested them. They ransacked the sisters' homes and confiscated their personal belongings. One of the sisters was released that night, while the other was taken to the Hongshi Detention Center.
After the sentencing, Mr. Bai was taken to a prison that refused to admit him because of his poor health. He was then taken to the Huadian Detention Center. He remained there until he was transferred to Gongzhuling Prison.
Irresponsible Person Changed by Falun Gong
Mr. Bai, from Hongshi Town, Huadian City, Jilin Province, worked at the Huadian Forestry Bureau. He used to be very irresponsible.
He resented being poor and dreamed of becoming a millionaire. He borrowed a large sum of money from his siblings and invested it in a business. It was not profitable, and he soon lost everything. He refused to work. He went into a rage when his siblings reminded him of his debt. He mistreated his wife, and his family lived in misery because of him.
People were surprised when Mr. Bai went back to work in 1997. He didn't mind hard work and his family became harmonious. To clear his debt, he resigned from his job and used his early retirement money to repay his siblings. He opened a breakfast deli with his wife.
He changed for the better as a result of practicing Falun Gong. He lived by the principles of Truthfulness-Compassion-Forbearance and considered others' needs before his own needs.
Name: Bai Jingzhi (白晶志)Gender: MaleAge: UnknownAddress: Hongshi Town, Huadian City, Jilin ProvinceOccupation: Huadian Forestry Bureau employeeDate of Death: May 2014Date of Most Recent Arrest: January 11, 2010Most Recent Place of Detention: Gongzhuling Prison (公主岭监狱)City: HuadianProvince: JilinPersecution Suffered: Electric shock, sleep deprivation, forced labor, brainwashing, illegal sentencing, beatings, hung up, imprisonment, torture, detention
Earlier Reports:
610 Office Holds Practitioners Who Were Refused by a Prison Due to Their Poor Health Condition
Arrest of a Practitioner Repentant for His Behavior Prior to Cultivating