Organ Harvesting in China "A Hugely Important Issue," Says Canadian Minister Jason Kenney
October 25, 2014
|
By Minghui correspondent Ying Zi
(Minghui.org) At a recent forum at the City of Ottawa Archives, David Matas, an internationally renowned human rights lawyer, suggested that Canada should strengthen medical ethics, establish legislation to bar organ trades, condemn organ harvesting in China, and resist ideological infiltration from the Chinese regime's Confucius Institutes.
Rabbi Dr. Reuven Bulka hosted the forum about the state-sanctioned organ harvesting in China, including from living Falun Gong practitioners imprisoned for their beliefs. He said that the issue was urgent and that "people are dying as we speak."
Jason Kenney, Canada's Minister for Multiculturalism and Minister of Employment and Social Development, voiced his support at the event.
"I think this is a hugely important issue. Canada, of course, speaks up for human rights around the world, including in China. We have raised concerns before about the harvesting of organs from prisoners, and similar practices which we condemn in the strongest possible terms," Mr. Kenney said.
"I have done this before in China with the highest authorities. In fact, I raised these issues very aggressively with the former Minister of Public Security who's now in prison himself. I met with Zhou Yongkang in 2012 in Beijing and raised these concerns about organ harvesting as well as other questions about human rights abuses," Mr. Kenney continued.
Three guests spoke at the October 20 forum: journalist Ethan Gutmann, Damon Noto, representative of DAFOH (Doctors against Force Organ Harvesting), and David Matas.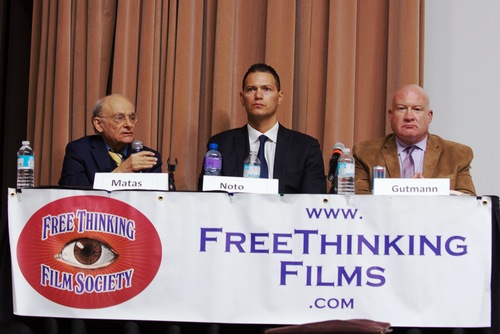 Three speakers at the forum: David Matas, Damon Noto and Ethan Gutmann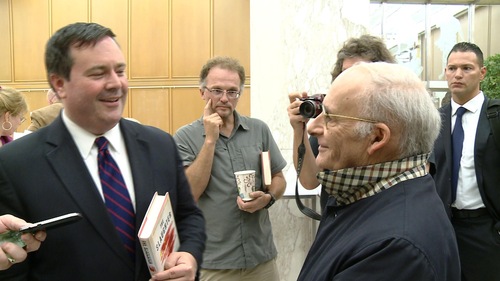 Jason Kenney (left) and David Matas (right)
Mr. Emile Therien, an advocate for organ and tissue donation, asserted that killing a minority group simply seeking freedom of belief is unacceptable. He said that the Canadian government has the responsibility to inform Canadians not to receive organ transplants in China, and at the same time increase domestic organ donations.
Law Professor Melanie Adrian at Carleton University echoed Mr. Matas' suggestions. She identified the issue of organ harvesting as "a destructive global human rights issue" and justify uniformed global actions to end it.
Mr. Sun, a Chinese immigrant, was also in the audience. He said, "We should find those culprits in China one by one and bring them to justice. Only by doing so can we protect good people."