Winnipeg Residents Gain Deeper Understanding of Falun Gong through Art Exhibition (Photos)
October 25, 2014
|
By a Falun Gong practitioner in Canada
(Minghui.org) The Art of Zhen-Shan-Ren (Truth-Compassion-Tolerance) International Exhibition was held in Winnipeg on September 13-20, 2014, as part of "Peace Days," celebrating the opening of the Canadian Museum for Human Rights. It drew a large audience, including government officials and people from all walks of life.
Held in the downtown campus of Red River College, the 8-day art exhibition also played host to a large number of students and professors. They gained a better understanding of the brutality of the persecution of Falun Gong through art.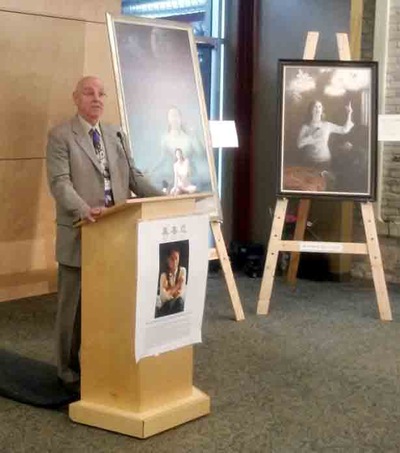 David Newman, renowned lawyer, politician, human rights activist and representative of the Peace Days organizing committee
David Newman, co-founder and co-chair of Rotary World Peace Partners and Peace Days organizing committee, thanked Falun Gong practitioners in his speech at the exhibition's opening ceremony.
He said that Falun Gong practitioners, as spiritual soldiers who uphold peace, have remained steadfast in their belief in Truthfulness-Compassion-Forbearance amidst persecution, as made evident by the exhibition's artwork.
"These paintings embody peace, beauty, courage and uprightness, and deeply touched our hearts," he said.
He said he will endeavor to continue cooperating with the practitioners until Falun Gong obtains freedom, justice and peace.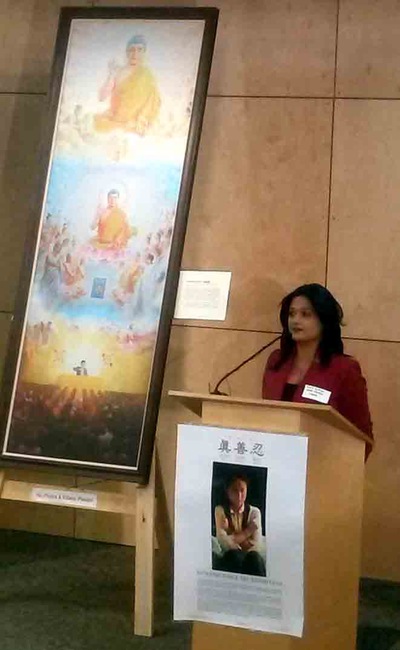 Rana Bokhari, leader of the Manitoba Liberal Party
Rana Bokhari, leader of the Manitoba Liberal Party, commented on the art exhibition, saying that it perfectly portrays individual persons who endure abuse and torture, making the persecution of Falun Gong no longer an abstract term.
Ron Schuler, a member of the Manitoba Legislature, said that live organ harvesting is the most intolerable atrocity in the persecution of Falun Gong, calling it an "absolute disgrace." He called upon everyone to spread the word about the atrocity and work together to stop the persecution.
The chief editor of Prairie Fire, an online newspaper for artists, cried when she saw the painting "An Orphan's Sorrow." She said that the paintings made her realize that for these souls who lost their lives for their belief, their strength and power are growing and will change the world.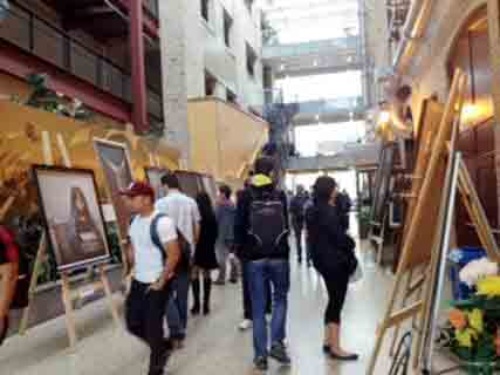 The art exhibition was held on the downtown campus of Red River College in Winnipeg
Another artist also cried in front of the painting "An Orphan's Sorrow." He called the painting a masterpiece of realistic art.
Several visitors were shocked after learning about the story behind the painting "Live Organ Harvesting Crime." They brought their friends to the exhibition and explained to them about the ongoing genocide in China.
Some professors brought their whole class to view the exhibition or gave a lecture beside the exhibition hall. Several students used "live organ harvesting" as the subject of their homework.
Special Affinity with Falun Dafa
Sara, who majors in Business Management at Red River College, came to the art exhibition several times. "I don't know why, I just want to come. I feel comfortable and great when I'm here." She said.
Sara stood at the entrance, and called her classmates and teachers to come appreciate the paintings. She also explained to visitors about the persecution of Falun Gong.
She came daily over the following week, and had long conversations with Falun Gong practitioners and visitors. She brought her father with her one day. She stayed until 7:00 p.m. on the last day (Saturday).
"The art exhibition is over, I don't know what I should do." She said. A practitioner suggested, "Come practice Falun Gong with us!"