(Minghui.org) Mr. Jia Zhijiang is a well-known chef in Huailai County, Hebei Province, who practices Falun Gong. To rescue fellow practitioners who were illegally detained in Zhengding County due to the CCP's persecution, he actively participated in a petition drive, during which more than 700 citizens affixed their fingerprints to show support. Mr. Jia was arrested by police from Zhengding County on August 13, 2012. He was tortured so badly during the police interrogation that two of his toenails fell off.
Prior to his arrest, Mr. Jia's wife used to do odd jobs and take care of their son in Shijiazhuang City. During his 450-plus-day detention, his wife and other family members devoted themselves to saving him. They talked to officials in the provincial, municipal, and county governments, requesting his release and demanding punishment for the police officers who carried out the torture.
Mr. Jia Zhijiang and the "700 Fingerprints" Case
Then-deputy head of the Chinese Communist Party, Xi Jinping, invited the U.S. Governor of Iowa, Mr. Terry Branstad, to visit a village in Zhengding County in June 2012. There, police arrested Falun Gong practitioner Mr. Li Lankui for so-called "security reasons." Mr. Li Lankui was a well-recognized figure in the community, and more than 700 citizens from that county signed the petition urging his release.

Signatures and fingerprints from more than 700 people appealing for the release of Falun Gong practitioner Li Lankui
This incident created a stir both inside and outside of China. Despite opposing public opinion and international condemnation, the authorities sentenced Mr. Li Lankui to fifteen months in a forced labor camp. As part of the CCP's retaliation, police arrested sixteen Falun Gong practitioners and family members whom they believed to have participated in the petition. The violent arrests even caused one practitioner's death due to a fall from a building.
Mr. Jia Zhijiang was one of the sixteen practitioners arrested. Upon hearing the news of her son's arrest, Mr. Jia Zhijiang's mother fainted.
Mr. Jia's Wife Interrogated and Tortured
Mr. Jia's wife, Ms. Li Rongmei, was also arrested, in late August 2012, leaving no one to care for their son, who was suspended from school and had to return to their village. The pressure led the boy to develop suicidal thoughts. He wrote in his diary at the time, "My parents are good people. They were repeatedly arrested only because they didn't give up their beliefs. I don't know where they are now. When they were arrested, they only had summer clothes. I have learned traditional Chinese culture. As their child, I can't be filial to them and can't even take them clothes. This makes me really sad."
Ms. Li Rongmei was arrested by a group of police officers including Gao Guo and Meng Qingkun (deputy heads of Zhengding County Police Department), Liu Jinjiang (head of the National Security Division), and others. She was detained at the Shijiazhuang No. 1 Detention Center in a secret training facility, where she was interrogated. It was also learned that there is an organ transplant research organization in the Shijiazhuang No. 1 Detention Center.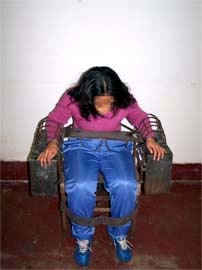 Torture re-enactment: Iron chair
Officers cuffed Ms. Li Rongmei's hands and feet to the iron chair, forced her to wear a black hood, deprived her of sleep, threatened her son, and even threatened to harvest her organs if she refused to confess. They also injected unknown drugs into her. When she fainted, the doctor there gave her another injection to wake her up, and the officers continued torturing her. She was later moved to the No. 2 Detention Center in Shijiazhuang City and detained there for one month.
After Ms. Li Rongmei was released, she hired a lawyer for her husband Mr. Jia Zhijiang. Only then could she visit him at the Zhengding County Detention Center.
Torture Suffered by Mr. Jia Zhijiang
1. Sleep deprivation for over ten days. Guards covered his head with a black hood. If he dozed off, they beat him severely.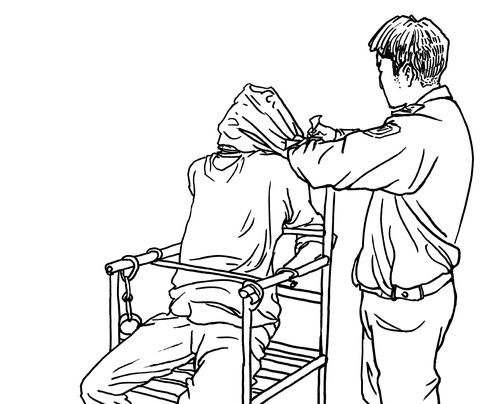 Torture re-enactment: Suffocation
2. Beatings. Guards hit his head and mouth with a rope normally used for slaughtering pigs. Guard Meng Liuzhang stomped on his feet causing two of his toenails to peel off.
3. Pulling on his beard and fumigating him with smoke
4. Cuffing with shackles. Mr. Jia Zhijiang was forced to wear shackles from August 13 to August 29. His feet became swollen, and he was unable to walk.
5. Beating by auxiliary officers
6. Forced to sit on the iron chair from August 13 to August 29 except when using the bathroom.
7. Hitting his feet, hands, back, etc. with wooden sticks and slapping his face.
His lawyer observed in person Mr. Jia's injuries and missing toenails. Even three months after the torture was inflicted, the wounds' appearance was still shocking.
610 Office Orders Courts to Ignore Appeals
Ms. Li Rongmei and Mr. Jia's lawyer submitted an appeal to the Zhengding County Procuratorate, requesting an investigation into (1) Mr. Jia's trial outside of the Detention Center, (2) the torture used on Mr. Jia, and (3) the perpetrators who had participated in the torture. She repeatedly went to the Procuratorate to appeal for her husband. Some officers there expressed sympathy for her and admitted that Mr. Jia had been wronged, but section head Zheng from the Procuratorate ignored her appeals for over six months before finally issuing a notice indicating that the court refused to hear the case.
Ms. Li Rongmei, along with her relatives and friends, continued to appeal her husband's case. Despite receiving scoldings and other difficulties, they visited People's Congress bodies at the provincial, municipal, and county levels. They also visited the Discipline Inspection Commission, the police department, the Procuratorate, the court, the Political and Judiciary Committee, the 610 Office, and other governmental units. They firmly believed in the kind natures underlying the people who staffed those offices and clarified the facts about Falun Gong to them. Many people they met with were moved, and understood that imprisoned Falun Gong practitioners are innocent, and that Mr. Jia was wronged. Some of them gave helpful advice. However, no one dared to really do anything, citing that the case was sensitive because it related to Falun Gong.
The staff at the Appellant Reception Center told Ms. Li Rongmei that they had been instructed not to receive appeals for Mr. Jia Zhijiang's case.
Lawyers Walk Out of Court in Protest
Among the sixteen practitioners arrested after the "700 Fingerprints" incident, one died from persecution, and three were sentenced to forced labor. Jia Zhijiang, Gao Suzhen, and her husband Zhang Tianqi were detained.
The Zhengding County Court opened its trial of Mr. Jia Zhijiang and Ms. Gao Suzhen on August 8, 2013. In court, Mr. Jia exposed the torture he had suffered and presented the two toenails that had detached as a result of police abuse.
The lawyers pointed out that since the court was aware that Mr. Jia had been illegally detained and tortured, it should remove the illegally collected "evidence" from the trial. The chief judge denied the lawyer's request, continued the trial, and began pronouncing sentences against the defendants. Indicating that continuing the trial was equivalent to helping the police commit crimes, the lawyers left the court as a means of protest.
Appealing for Justice
In the past year, his family lost financial support because of Mr. Jia's arrest. To make things worse, his mother-in-law was hospitalized. His son now has to do odd jobs after school, and his wife Ms. Li Rongmei, has to work and take care of their parents. Meanwhile, she and the lawyers continue to appeal to government offices at different levels for Mr. Jia's release, hoping to meet an upright official who can help them. She also condemns and demands punishment for those who tortured her husband, and who illegally arrested and sentenced him.
Ms. Li Rongmei and her relatives and friends who have helped her in the process believe that their unremitting efforts will eventually awaken people's consciences and help bring the perpetrators to justice. They hope that the people who have lost their consciences and courage will quickly wake up.
Major perpetrators' phone numbers: Heibei Province, Zhengding County Police Department: #23 Hengzhounan Street, Zhengding County, Shijiazhuang City, Heibei Province, 050800 Tel: +86-311-88018864, 8021717, 88021274 Phone numbers for case report: +86-311-88022062, 88015662, 88024288, 88025181 Sun Xinfang (孙新房), deputy head of the 610 Office in Zhengding County: +86-13832160486 Zhang Qingshan (张青山), chief prosecutor of the Zhengding County Procuratorate: +86-311-88028999 (O), +86-13323213688 (C) Zhao Suhua (赵素华), chief justice of the Zhengding County Court: +86-311-88017699 (O), +86-15533665969 (C) Wang Apeng (王阿鹏), public prosecutor of Mr. Jia Zhijiang's case: +86-15097310698
Please refer to the original Chinese article for more people and offices involved in this case of persecution.