(Minghui.org) The Divine Land Marching Band delighted locals and tourists in the famous city of Malacca in Malaysia on Christmas day.
The band members, all Falun Gong practitioners, performed on a double-decker bus that toured the major streets and sites of the city. The band spread holiday joy and the beauty of Falun Gong in a very innovative way.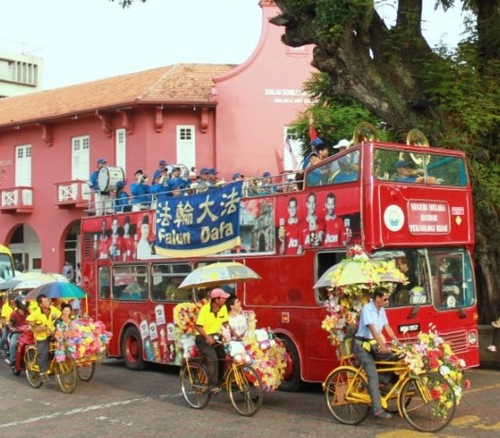 The bus passing by The Stadthuys, or Red Building, a landmark in Malacca City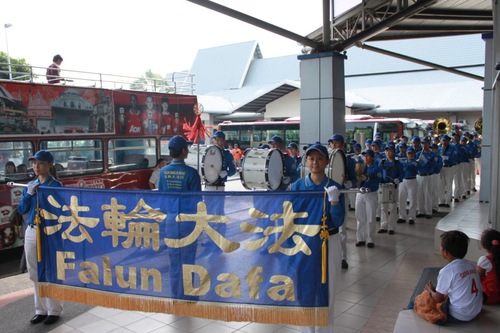 The Divine Land Marching Band performs at the Malacca Central Terminal.
For two and a half hours, the Divine Land Marching Band played one piece after another, non-stop. People stopped what they were doing to listen to the music. Even shoppers and retail workers left their stores to look and listen. People on the street waved to the band or gave them a thumbs up.
The double-decker bus with "Falun Dafa" (another name for Falun Gong) banners on either side departed from the Malacca Central Terminal and passed Hang Tuah Mall, the town's oldest mosque, Jonker Street ("Culture Street"), the Royal Malaysian Navy Museum, the Stadthuys or Red Building, and so on. The bus made a short stop at the Stadthuys or Red Building, a major city landmark.