Underage Girls Not Spared from Slave Labor in Heilongjiang Women's Prison
January 28, 2014
|
By a Minghui Correspondent in Heilongjiang Province, China
(Minghui.org) For the past 14 years, many Falun Gong practitioners have been incarcerated in Heilongjiang Women's Prison. Even young girls and elderly women are not spared from the abuse.
Coupled with torture and brainwashing, slave labor is used to further weaken the practitioners' willpower, with the ultimate goal of forcing them to abandon their belief in Falun Gong. The experiences of 17-year-old Ms. Xu Zi'ao and 16-year-old Ms. Sun Ruyan are typical examples of kids being ripped away from their families because of their spiritual beliefs.
17-Year-Old Sentenced to Three Years in Prison
Ms. Xu Zi'ao was tried at the Daoli District Court in Harbin City in March 2004. She was sentenced to three years and transferred to Heilongjiang Women's Prison. She was then 17 years old.
She was forced to work intensively for an extended period of time each day, often shouldering a workload expected of adult men.
Prior to prison, Ms. Xu and her mother were arrested on November 21, 2001 and detained at a detention center for 28 days. She was tortured for 50 days in a row at the end of 2001 (she was 14 at the time) in a brainwashing center set up in the hotel affiliated with the Petrochemical Company in Tianjin.
At 15, she was arrested and taken to the brainwashing center in Banqiao Women's Forced Labor Camp. When she was released, her mother had already been sentenced to 10 years in prison. She left Tianjin and went to Harbin, where she was arrested in March 2003.
16-Year-Old Tortured and Sentenced to Prison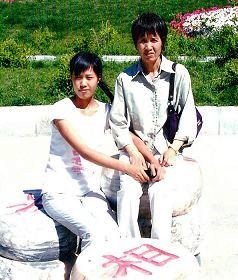 Ms. Sun Ruyan (left) and her mother Ms. Hu Qili
Sixteen-year-old Falun Gong practitioner Ms. Sun Ruyan from Shuangyashan City served her term in the same prison in 2003. Prior to that, Ms. Sun was living by herself because her father Mr. Sun Hui and mother Ms. Hu Qili were serving forced labor terms for practicing Falun Gong. Her mother was detained in Jiamusi Labor Camp, and her father in Suihua Labor Camp.
Ruyan was staying with another practitioner in April 2003, when local police broke in and arrested both of them. Interrogators slapped Ms. Sun in the face and threatened and cursed her. She was later transferred to the Shuangyashan City Detention Center.
The director of the center, Bai Shuwen, beat her with a plastic tube and tied her to a metal chair for four days. In July 2003, Ruyan was sentenced to three years and taken to Heilongjiang Women's Prison.
Slave Labor
The prison runs a clothing factory and a toothpick factory, where Falun Gong practitioners are forced to do the heaviest labor.
Regular inmates are ordered to cut the cloth, and Falun Gong practitioners have to carry rolls of cloth weighing more than 100 pounds. Sometimes, up to four practitioners are teamed up to carry metal cabinets filled with documents up and down the stairs.
Everyday, they load and unload trucks with 80-pound boxes, with no relief for the elderly, the young, or those who are menstruating.
Below are pictures of toothpicks made in the dark, dirty factory in Heilongjiang Women's Prison. The toothpicks are exported to Korea.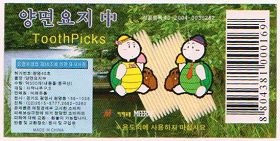 One brand manufactured in Heilongjiang Women's Prison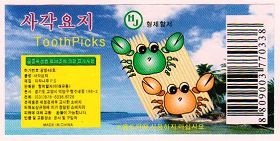 Another brand manufactured in Heilongjiang Women's Prison