(Minghui.org) Shen Yun Performing Arts graced the stage in five major cities in North America this week, including Washington DC and Toronto. Those in the audience included leaders from government agencies and the private sector.
In addition to the typical compliments about Shen Yun's artistic and spiritual values, some discerning audience members raved about great renewal of Chinese traditions and Shen Yun's presentation of a pure Chinese culture without Communist influence.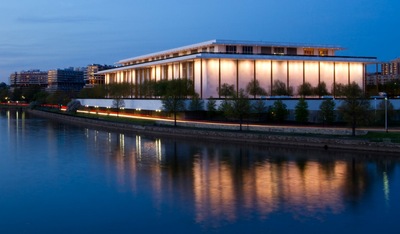 The Kennedy Center has hosted Shen Yun performances in Washington DC since 2009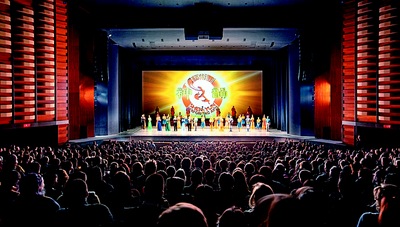 Shen Yun performance at the Sony Centre for the Performing Arts in Toronto on January 23
"I Just Feel Like a Child Again"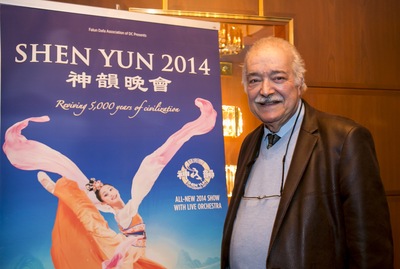 Mr. Rich Massabny, a veteran theater and restaurant critic in the Washington DC metropolitan area.
Recognized as an integral part of the arts and cultural industries and having seen many productions, Rich Massabny considered Shen Yun very special: "This is so different. It's uplifting, it's ethereal, and I almost felt I could fly like a bird when I saw the performances... I don't want to leave the theater. I am just reliving the wonderful sensations, it's amazing... It was that wonderful."
He acknowledged the pure Chinese culture Shen Yun presents: "Somebody said to me earlier, who knew I was coming to this thing, they said 'Oh I didn't know you go to communist shows.' I said, 'Communist? This is the farthest thing from being communist. This is not.' And this is why I feel so supportive of what you're doing. And seeing this beautiful culture that has not let the communism touch at all. It's pure, beautiful Chinese. What more does anybody want?"
"The whole thing's inspirational! That's why I said I could soar like a bird... I saw the words. That too fits the music, fits the program. It reaches your heart and your head. I should be more sophisticated after doing this for 30 years, being a critic. I couldn't help but feel this was so special, so special, that I should act more sophisticated but I can't, I just feel like a child again."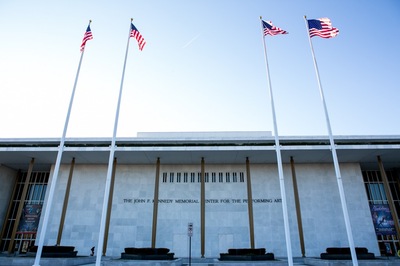 Exterior of the Kennedy Center
"A Great Renewal"
Charles Taku, an international lawyer, attached to many international criminal tribunals, thinks that Shen Yun represents a great renewal of Chinese traditional culture.
"The performance is simply marvelous. It tells me that China could actually be better than we know. Because this is an aspect of China that the world did not know. It's a wonderful gift."
The dignity and renewal of Chinese traditional culture stood out for him: "After the cultural revolution, [the traditional culture] was lost, China was lost. We never heard about the great tradition of China again. This is a great renewal. This is a great event. It brings China to a rightful place in the world. Culturally, and also from the perspective of civilization, I think the dignity that this tradition has brought shows that Chinese people have certain values that the rest of the world can learn from."
"Two Thumbs Up"
Veteran broadcasting executive Denise Donlon shared her thoughts on Shen Yun Performing Arts after taking in the opening night performance at the Sony Centre on January 23: "I would give it a two thumbs-up."
Veteran broadcasting executive Denise Donlon has received an impressive list of awards and accolades throughout her long and successful career in television. But it was her turn to sit in the audience's seat on Thursday, as she took in Shen Yun Performing Arts.
She was awed by the cultural and spiritual expression of the performance, she said after the January 23 opening night at Sony Centre for the Performing Arts.
"The idea that you can express so much about human compassion and the human condition—also the beauty of what we can be—all expressed on that stage, it's a big awakening for me in many ways and I'm thrilled to be here."
Former president of Sony Music Canada and executive director of CBC Radio, Ms. Donlon currently co-hosts the current affairs program The Zoomer with media mogul Conrad Black, and has received multiple awards throughout her career, including two Geminis and the Order of Canada.
Ms. Donlon was drawn into the myths and legends of Shen Yun's story-based classical Chinese dance.
"The choreography is fascinating but most of all I love the stories," she said. "I'm learning so much about Chinese cultural history, and my favorite part was the [traditional values] truth, honesty, and compassion."
She also appreciated the variety of the stories, which span China's dynasties and ethnic regions, right up to today.
"They're all lovely, they're all different... The transitions are very quick for those of us with short attention spans, and I love the fact that there is an underlying message all the way through it," said Ms. Donlon. "It touched my heart."
"I think the show is top-notch in terms of presentation and performance, the dancers are fantastic," she said. "I would give it a two thumbs-up."
Political Leaders Praise the Beauty of Shen Yun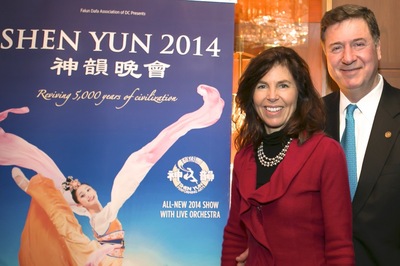 Mrs. Susan Brown Allen and her husband, Mr. George Allen, were inspired by Shen Yun Performing Arts at the Kennedy Center Opera House, January 22.
Mr. George Allen, former Governor of Virginia, who presently serves on the Reagan Ranch Board of Governors for Young America's Foundation as a Reagan Ranch Presidential Scholar, saw Shen Yun Performing Arts on January 22. His wife, Mrs. Susan Brown Allen, joined him at the Kennedy Center Opera House, a venue that has hosted the Shen Yun performances for years.
"We both thoroughly enjoyed the show. It was interesting, educational, inspirational and beautiful," said Mr. Allen.
Mr. Allen said, "This was really a wonderful performance. We wish our kids were with us, our children could enjoy it as well. There will be future performances we look forward to seeing."
Mrs. Allen agreed and said, "The classical dance was beautiful to watch and so unique. In fact, I look forward to finding out more about all of the steps. It was just beautifully portrayed, and very well done."
Thinking of the blend of instruments, Mr. Allen said "I loved that. It was great … with the violin and the Chinese instrument, [erhu] which is a fascinating instrument, there was one solo with it, and it was perfect. It really was. It blended beautifully."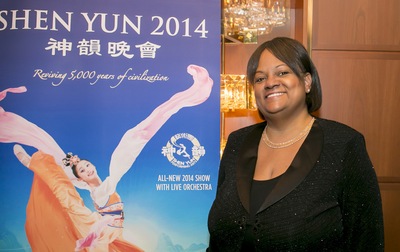 Dr. Regina Benjamin, Surgeon General of the United States from 2009-2013
As Surgeon General of the United States from 2009-2013, Dr. Regina Benjamin dedicated her life to protecting the health of Americans. As America's former doctor, it's no wonder she can detect the healthy values of Shen Yun Performing Arts.
"I love it! I love it!" she said. Dr. Benjamin had attended Shen Yun in the past, but noted that the January 23 evening performance at the Kennedy Center Opera House was "even better."
"It's just absolutely overwhelmingly beautiful, and the story is a good story," She said. From the performance Dr. Benjamin understood something about Chinese traditional culture, that "no matter what, the spirit lives."
MPP Glen Murray saw Shen Yun Performing Arts for the fourth time on January 23, 2014, and said the performance was "truly beautiful, artistic. It's really brilliant."
Glen Murray, Ontario Minister of Transportation and Minister of Infrastructure, saw Shen Yun Performing Arts for the fourth time in Toronto.
"There's nothing like it you will ever see on stage in Canada—it's truly beautiful, artistic, it's really brilliant," he said on the night of January 23. "Truly one of the greatest shows that anyone can see."
"This is global arts and global culture, but it's also a global movement for human rights. And that, as a Canadian, is something I'm very proud to support."
Shen Yun Performing Arts will conclude its 2014 performances in Washington, DC, Toronto and Vancouver this weekend. For more information about Shen Yun, including all 2014 tour dates and locations, please visit ShenYunPerformingArts.org.